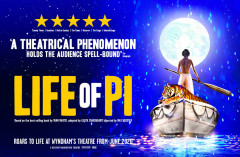 You're keen to experience the magic of Life of Pi before it ends. This is great news for people like you. Thanks to phenomenal ongoing demand the show has extended yet again, this time until 4th September 2022. The puppetry inspires sheer awe. The acting is extraordinary. And the plot is one of the most fascinating and unusual of our times.
Who's involved in Life Of Pi?
A total of nine nominations for Olivier Awards says it all. Life of Pi has well and truly landed, with another extension to its run announced. As the show's Producer Simon Friend said: ''We are absolutely thrilled to announce that we will once again be extending public booking for Life of Pi, and that audiences continue to flock to this unique show. We are also delighted to have been nominated for nine prestigious Olivier Awards, including the first in history to recognise puppeteers - and when you see them in action you'll see why!"
Olivier Best New Play and Best Actor nominations for Hiran Abeysekera
Best Director nomination for Max Webster
Best Set Design nomination for Tim Hatley, Nick Barnes and Finn Caldwell
Best Lighting nomination for Tim Lutkin and Andrzej Goulding
Best Sound Design nomination for Carolyn Downing
Best Original Score nomination for Andrew T Mackay
Best Choreographer nomination for Finn Caldwell
Best Supporting Actor nomination for the Tiger Puppeteers Fred Davis, Daisy Franks, Romina Hytten, Tom Larkin, Tom Stacy, Scarlet Wilderink and Habib Nasib Nader
Yann Martel - Original Author
Lolita Chakrabarti - Adaptation
Max Webster - Director
Finn Caldwell - Puppet and Movement Director
Tim Hatley - Set and Costume Designer
Tim Lutkin - Lighting Designer
Carolyn Downing - Sound Designer
Andrew T Mackay - Composer
Andrzej Goulding - Video Projection Designer
Finn Caldwell and Nick Barnes are the Puppet Designers
Polly Jerrold handled the original casting
Hiran Abeysekera takes the central role of Pi
Mina Anwar plays Ma and Nicholas Khan is Father
Payal Mistry plays Rani
Tom Espiner plays Father Martin and Commander Grant-Jones
Raj Ghatak plays Mamaji and Pandit-Ji
Syreeta Kumar is Mrs Biology Kumar and Zaida Khan
David K.S. Tse is Mr Okamoto
Kirsten Foster plays Lulu Chen
Habib Nasib Nader is the Cook and the Voice of Tiger
The rest of the stunning cast comprises Fred Davis (Tiger Head), Daisy Franks (Tiger Heart), Romina Hytten (Tiger Heart), Tom Larkin (Tiger Head), Tom Stacy (Tiger Hind) and Scarlet Wilderink (Tiger Heart)
Nuwan Hugh Perera plays Pi at some performances
The understudies are Alex Chang and Deeivya Meir
Directed by Max Webster
Set and Costume design by Tim Hatley
Puppet and Movement Direction by Finn Caldwell
Puppet Design by Nick Barnes and Finn Caldwell
Video Design by Andrzej Goulding
Lighting Design by Tim Lutkin
Sound Design by Carolyn Downing
The Composer is Andrew T Mackay
Dramaturgy is by Jack Bradley
The Casting Director is Polly Jerrold
The Associate Director is Hannah Banister
The Associate Set Designer is Ross Edwards
The Costume Supervisor is Sabrina Cuniberto
The Props Supervisor is Ryan O'Connor
Buy Life Of Pi Tickets
Buy your Life Of Pi tickets online with us and choose the best seats with our essential Wyndhams Theatre seating plan. Then we'll send E-tickets direct to your email address for you to show at the door on the day.
About Wyndhams Theatre
Wyndhams Theatre is home to three bars, all in the Grand Circle. Dating back to 1899, it opened with a revival of the play David Garrick by T W Robertson. The venue's owner Charles Wyndham and his future wife, Mary Moore, both appeared in the production. Past shows at Wyndhams Theatre include No Man's Land, The Kite Runner, and Don Juan in Soho.