32-36 Charing Cross Road, London, WC2H 0DA GB
Quick Facts
Largest Ticket Inventory
in the West End
Real time
seat availability
Choose
your seats
Your booking is processed directly into the box office reservation system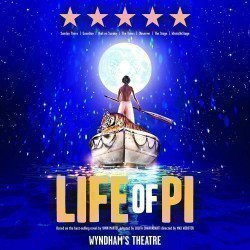 The Life of Pi
Tickets
Opens: Sunday, 14 November 2021
Booking until: Sunday, 27 February 2022
Tickets from £30.00
Book tickets
About The Life of Pi
Performance Times
Opens: Sunday, 14 November 2021
Booking until: Sunday, 27 February 2022
The Life of Pi description
Life of Pi – Meet Richard Parker the tiger
Lolita Chakrabarti's new stage adaptation has already enjoyed a critically and commercially successful world premiere in Sheffield. So it's fantastic to hear that her extraordinary stage version of Life of Pi will be transferring to the West End. The play is based on the outstanding Man Booker-winning book about a cargo ship that sinks in the Pacific Ocean leaving a hyena, a zebra, an orangutan, a 16 year-old boy and a Bengal tiger to survive together in a lifeboat. The original book is by Yann Martel and the play is directed by Max Webster.
WhatsOnStage described Life of Pi as 'a spectacular on-stage experience', and they're right thanks to designs by Tim Hatley and Finn Caldwell of Gyre and Gimble in collaboration with Nick Barnes who designed the puppets. Lighting is from Tim Lutkin, composition by Andrew Mackay, sound by Carolyn Downing, video by Andrzej Goulding and original casting by Polly Jerrold. The talented Finn Caldwell plays the tiger, manipulating the amazing puppet to perfection. It actually looks real. Amazing!
Wyndham's is set to be 'specially reconfigured' for the play, reinventing the auditorium in a creative way to change the levels, extend the stage over the stalls for a thrillingly surreal environment, and generally add to the sheer, magical intensity of the action.
The young boy who survives the shipwreck is called Pi. The Bengal tiger is called Richard Parker. The boy and the beast must learn to coexist on a lifeboat as they battle the seas and try to survive. The on-stage action is just as compelling as the movie, which was directed by Ang Lee and starred Suraj Sharma, a film that was nominated for nine Academy Awards and won four.
Why is the tiger called Richard Parker? It's complicated. Richard Parker was a character in Edgar Allan Poe's book The Narrative of Arthur Gordon Pym of Nantucket. Richard Parker was the name of a boy who was cannibalised after a shipwreck in 1884, and there was a third Richard Parker, who drowned during the sinking of the Francis Spaight in 1846. The author, Yann Martel, enjoyed the coincidence and felt that so many unfortunate Richard Parkers must have a meaning.
The Guardian's five-star review said this play is 'an extraordinary journey'. The Telegraph called it a 'worthy successor to War Horse'. It is nothing if not astonishing, breathtaking and thrilling. Don't miss it.
Who is this show for?
Life of Pi is recommended for people aged eight or more.
Next Performances for The Life of Pi at Wyndham's Theatre
Monday
15th Nov 2021
7:30pm
Wednesday
17th Nov 2021
7:30pm
Thursday
18th Nov 2021
7:30pm
Friday
19th Nov 2021
7:30pm
Saturday
20th Nov 2021
2:30pm
Saturday
20th Nov 2021
7:30pm
13

Oct
2021

Life of Pi - West End Premiere cast announced
by London Box Office | Wednesday, October 13 2021, 12:56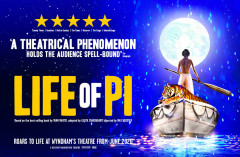 The amazing show inspired by Yann Martel's magical Man-Booker prize winning book is finally due on stage in the West End. Welcome to Life Of Pi, a story so strange, so magical and so unexpected that you'll be glued to your seat. The drama kicks off on 15th November 2021 and you'll adore this epic journey of endurance and hope. The special effects are quite simply spectacular, and the full cast has just been announced.
Life of Pi - West End Premiere cast announced
13

Jan
2020

6 of the Best 2020 Shows You Should Book in Advance: 4. THE LIFE OF PI
by Phil Willmott | Monday, January 13 2020, 15:58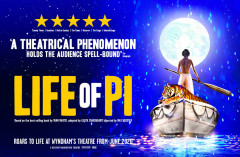 There are certain shows that you know will sell out fast either because of the title or the creative team and stars. In a series of 6 articles we report on the likely box-office smashes of the forth coming year so you can book in advance and not miss out. Use our search engine at the top of the page to find the perfect performance to suit you and get booking!
6 of the Best 2020 Shows You Should Book in Advance: 4. THE LIFE OF PI
14

Oct
2019

The Life of Pi Comes to London
by Phil Willmott | Monday, October 14 2019, 09:36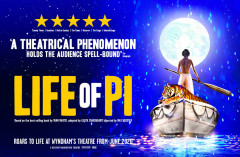 Here's some exciting news. The new, highly acclaimed, stage adaptation of the THE LIFE OF PI, the Man Booker prize winning tale of a boy and a tiger is coming to London.
The Life of Pi Comes to London