Quick Facts
Largest Ticket Inventory
in the West End
Real time
seat availability
Choose
your seats
Your booking is processed directly into the box office reservation system
This show is now closed.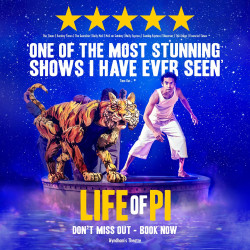 Life of Pi
Tickets
4.8/5
-

based on

180

reviews

from

180

verified reviews
Tickets refunded if your event is cancelled
Real time seat availability
Largest ticket inventory in the West End
Secure online booking
This show is now closed.
Keep me informed
Let me know when tickets for Life of Pi are on sale!
Information
Cheap Tickets
Reviews
News
About Life of Pi Tickets
Life of Pi description
Life of Pi – Meet Richard Parker the tiger
Lolita Chakrabarti's new stage adaptation has already enjoyed a critically and commercially successful world premiere in Sheffield. So it's fantastic to hear that her extraordinary stage version of Life of Pi will be transferring to the West End. The play is based on the outstanding Man Booker-winning book about a cargo ship that sinks in the Pacific Ocean leaving a hyena, a zebra, an orangutan, a 16 year-old boy and a Bengal tiger to survive together in a lifeboat. The original book is by Yann Martel and the play is directed by Max Webster.
WhatsOnStage described Life of Pi as 'a spectacular on-stage experience', and they're right thanks to designs by Tim Hatley and Finn Caldwell of Gyre and Gimble in collaboration with Nick Barnes who designed the puppets. Lighting is from Tim Lutkin, composition by Andrew Mackay, sound by Carolyn Downing, video by Andrzej Goulding and original casting by Polly Jerrold. The talented Finn Caldwell plays the tiger, manipulating the amazing puppet to perfection. It actually looks real. Amazing!
Wyndham's is set to be 'specially reconfigured' for the play, reinventing the auditorium in a creative way to change the levels, extend the stage over the stalls for a thrillingly surreal environment, and generally add to the sheer, magical intensity of the action.
The young boy who survives the shipwreck is called Pi. The Bengal tiger is called Richard Parker. The boy and the beast must learn to coexist on a lifeboat as they battle the seas and try to survive. The on-stage action is just as compelling as the movie, which was directed by Ang Lee and starred Suraj Sharma, a film that was nominated for nine Academy Awards and won four.
Why is the tiger called Richard Parker? It's complicated. Richard Parker was a character in Edgar Allan Poe's book The Narrative of Arthur Gordon Pym of Nantucket. Richard Parker was the name of a boy who was cannibalised after a shipwreck in 1884, and there was a third Richard Parker, who drowned during the sinking of the Francis Spaight in 1846. The author, Yann Martel, enjoyed the coincidence and felt that so many unfortunate Richard Parkers must have a meaning.
The Guardian's five-star review said this play is 'an extraordinary journey'. The Telegraph called it a 'worthy successor to War Horse'. It is nothing if not astonishing, breathtaking and thrilling. Don't miss it.
Who is this show for?
Life of Pi is recommended for people aged eight or more.
Life of Pi cheap tickets
We have a great selection of cheap Life of Pi tickets. We can help you save up to 70% on Life of Pi tickets! If you're looking for discount theatre tickets have a look below for our latest offers for Life of Pi at Wyndham's Theatre.
There are no special offers available at the moment but we still have great ticket prices for Life of Pi at Wyndham's Theatre.
Life of Pi reviews
4.8 out of 5
based on

180

reviews
What to expect:
Acting
Music
Costumes
Story
Lighting
Recommended for:

Anyone (86%)

Families (89%)

Teenagers (93%)

Couples (94%)

Theatregoers (97%)
Latest customer reviews
brilliant
original.clever.deep
Reviewed on 15 January 2023 by Barbara, London, United Kingdom
thought-provoking
Reviewed on 09 January 2023 by Thomas, St. Ingbert, Germany
Incredible.
Spectacular show! Stunning puppetry, artistic interpretation, costumes & set design. Wonderful acting.
Reviewed on 08 January 2023 by Natalie, Godalming, United Kingdom
Adapted with creative skill
I was so curious as to how the book would be interpreted and represented as a play. Done with inspiration. Puppets amazing and sets and scenes done so cleverly.
Reviewed on 31 December 2022 by Mary, Surrey, United Kingdom
Excellent production
Incredibly imaginative stage design - transforming a bare hospital room into a lively colourful Indian zoo, a cargo ship in a storm, a life boat on the open sea. Brilliant puppertry that brought the animals to life.
Reviewed on 25 December 2022 by Deborah, London, United Kingdom
Incredible
Reviewed on 24 December 2022 by Hannah, London, United Kingdom
Thoroughly enjoyable
Did not disappoint. Lead actor excellent ad brilliant puppetry. Enjoyable for any age group. Brilliant set design.
Reviewed on 23 December 2022 by Ann, Aylesbury, United Kingdom
Superb
Superb effects and acting
Reviewed on 20 December 2022 by Kim, Bishop's Stortford, United Kingdom
Heartwarming pure joy
Reviewed on 19 December 2022 by Karen, London, United Kingdom
Very disappointing, 10 out 10 for effort however found very difficult to follow
Reviewed on 13 December 2022 by Gary, Leeds, United Kingdom
Live theatre at its best!
An excellent show in all respects. The agility of the players was remarkable, particularly the animal activators. The animal models were fantastic! Bring binoculars to get close up to the action and see the detail on the tiger. Must see!,
Reviewed on 10 December 2022 by Alan, Robin Hoods Bay, United Kingdom
Pure creativity and excellence in action!!
Reviewed on 08 December 2022 by Sonia, Benalmadena, Spain
Average
Reviewed on 05 December 2022 by Wellesley, Barnstable, United States Of America
Great show
Reviewed on 03 December 2022 by Sara, London, United Kingdom
Adventurous opportunities
Reviewed on 29 November 2022 by Annick, London, United Kingdom
Excellent portrayal of the story
Reviewed on 29 November 2022 by Jane, Lowestoft, United Kingdom
Amazing
Reviewed on 28 November 2022 by Jörg, Zollikon, Switzerland
Extraordinary adaptation
Fantastic story that was brilliantly adapted for the stage from the book.
Reviewed on 26 November 2022 by David, Overijse, Belgium
Inspirational
This show is the best I have seen in a long,long time! Everything about it was amazing,the staging, the costumes, the puppetry, the latest technology and of course the wonderful wonderful storytelling. I have never before seen actors and puppeteers so intertwined all skillfully taking on the role of both actor and puppeteer. The whole production was truly dazzling and inspirational, I would love to see it all again!
Reviewed on 17 November 2022 by Rosemarie, Birchington-on-sea, United Kingdom
Magical experience
Acting, puppetry, story-line and effects all first class in the magical atmosphere of an intimate theatre. Loved it.
Reviewed on 17 November 2022 by Robert, Skibbereen, Ireland
A heartwarming performance with depth and emotion. Pi's character was endearing and inspirational. The props and special effects were truly top class. A wonderfully entertaining evening in the company of true professionals, thank you!
Reviewed on 11 November 2022 by Michelle, Purley, United Kingdom
Choreographic brilliant, spellbinding.
We knew the story and I was sceptical about it being convincing....but I was soon drawn into the magical way it was performed. Simplicity in places was so apt. All over too soon as far as we were concerned. Tube strike made our journeys terrible but we were pleased the show was more than worth it. Actors seemed to enjoy themselves too. Don't miss it!
Reviewed on 11 November 2022 by Jackie, London, United Kingdom
Fantastic
Reviewed on 06 November 2022 by Victor, Halifax, United Kingdom
A very enjobale show with excellent animations
Reviewed on 05 November 2022 by Charles Edward, White, United Kingdom
Fantastic puppetry
Absolutely beautiful from start to finish. We loved the set and puppetry especially.
Reviewed on 30 October 2022 by Elspeth, Richmond, United Kingdom
Life Of Pi is amazing!
This is an absolute must see show. The actors work hard to tell the story and to stay true to the book. The puppetry is just wonderful - for this alone the show rates 5 stars. And the staging is just immense. I am in awe of the whole production - full of colour, vibrancy, surprises and hope, beautifully presented by a fine cast and crew.
Reviewed on 29 October 2022 by Alan, Halifax, United Kingdom
perfect
Deep, had broken story.
Reviewed on 25 October 2022 by Dainora, London, United Kingdom
Special effects masterclass
Everyone knows in advance about the puppetry but the superlative stage design and lighting effects were also unbelievably good. I especially liked the sea and fishes.
Reviewed on 23 October 2022 by Richard, Southampton, United Kingdom
Entertaining
This production was brilliantly done - great acting, creative choreography,clever special effects and heartfelt telling of a story. We would definitely recommend others to go and enjoy the play.
Reviewed on 23 October 2022 by Emma, Hythe, United Kingdom
Imaginative
The animations, Props etc we're all fantastic, so real, I'd love to know how it was created. So very enjoyable.
Reviewed on 17 October 2022 by Helen, Maryborough, Australia
Absolutely Brilliant
One of, if not the best stage show I have had the pleasure to watch
Reviewed on 16 October 2022 by Dave, Preston, United Kingdom
We've just had our minds blown away by the stage version of 'The Life of Pi'. Acting, lighting, effects and puppetry were all outstanding. Yet again this story moves, intrigues, and inspires. we've read the book, seen the film and now watched the play. And each version has uncovered the strory's beautiful truths a little more. The play was utterly incredible. I even felt empathy for the animals. If you get the chance to see it, DO SO! It's one of those life stories and one of those plays you will never forget - it will stay with you and remind you of the human strengths of facing your fears, doing what you feel is right for you - and never giving up in the face of adversity. It's also about so much more. ❤️
Reviewed on 15 October 2022 by Julie, Poole, United Kingdom
Wonderful! Set,stage, costumes were out of this world!
Reviewed on 09 October 2022 by Daryl, Craigavon, United Kingdom
Breath Taking
Wonderful story telling and a feast for the senses
Reviewed on 26 September 2022 by Cally, Bedford, United Kingdom
Amazing, spectacular, beautiful.
Reviewed on 24 September 2022 by Alma, Newbury, United Kingdom
Captivating
The best show I have seen in years. Truly captivating
Reviewed on 19 September 2022 by Elizabeth, Tonbridge, United Kingdom
Entertaining
Very enjoyable show.
Reviewed on 17 September 2022 by Cherriel, London, United Kingdom
Wonderful,imaginative show
I love puppets and the ones in this show are spectacular especially the tiger of course. Not really suitable for young children because of scary content. The actor playing Pi gave his all in a very demanding,physical role.
Reviewed on 13 September 2022 by Deborah, Bromley, United Kingdom
Transporting
The show truly was transporting and magical. Definitely recommend watching from the H row of seats, its very high up but felt like the perfect view!
Reviewed on 10 September 2022 by Lowri, London, United Kingdom
Must see!
Reviewed on 09 September 2022 by Zuzanna, Piła, Poland
amazing atmosphere
Reviewed on 08 September 2022 by Tan Tat, Croydon, United Kingdom
Wonderful puppetry and superb acting.
Very colourful. Lifelike puppets that were made very well. Excellent acting. Pi was brilliant and so natural.
Reviewed on 04 September 2022 by Andrew, East Leake, United Kingdom
Great play
Great story as well as amazing acts from the performers. A must see for anyone interested in theatre.
Reviewed on 30 August 2022 by Renneth, Mansfield, United Kingdom
Life of Pi - theater version
Incredible staging and acting. The philosophical nature of the written story is lost in the masterful puppetry and gripping momentum of this 2-hour theater show, but it's nevertheless thoroughly enjoyable.
Reviewed on 18 August 2022 by Scott, Portland, United States Of America
Pi and the tiger were incredible
Absolutely amazing performance!!! Pi and Richard Parker were incredible
Reviewed on 17 August 2022 by Christianne, Wigginton, United Kingdom
Brilliant!!!!
Reviewed on 15 August 2022 by Fahreen, Nakuru, Kenya
Reviewed on 15 August 2022 by Francois, Issy Les Moulineaux, France
Poetic et enthralling ??❣️
Reviewed on 12 August 2022 by Van Chi, Paris, France
Enjoyable intertaining show
Reviewed on 11 August 2022 by Ali, Worksop, United Kingdom
Mesmerising, absolutely awesome.
My advice to everyone is BOOK, you really don't want to miss this show, the costumes are amazing, the cast are brilliant, the show is just superb.
Reviewed on 06 August 2022 by Martin, Grantham, United Kingdom
Excellent
Reviewed on 04 August 2022 by Priscilla, London, United Kingdom
Impressive, great staging, engaging
Very impressive and enjoyable
Reviewed on 04 August 2022 by Claire, London, United Kingdom
Majestic puppetry & performance! Highly recommended for young children and adults. Tickled all emotions.
Reviewed on 31 July 2022 by Shilpi, London, United Kingdom
Creative and Imaginative
Imaginative use of space, objects and puppetry to create fantastical scenes with animals and boats
Reviewed on 30 July 2022 by Jing, Hong Kong, Hong Kong
spectacular
The show was well worth watching. The puppetry was excellent and the special effects excellent. Loved the humour too.
Reviewed on 26 July 2022 by Kiran, Chadwell Heath, United Kingdom
Fabulous West End show
Totally captivated by Life of Pi - we actually cried at the end. Awesome production and the actor who played Pi was outstanding.
Reviewed on 25 July 2022 by Tania, Poole, United Kingdom
Excellent show
Well acted, especially the actor playing Pi. Loved the animals.
Reviewed on 22 July 2022 by Irene, Hayes, United Kingdom
Very creative production
The animals were so well done that the puppet masters were mostly invisible. They worked hard at making all movements very lifelike. The technology of the projections, the lighting and the sound effects totally engulfed you into the action of the story.
Reviewed on 16 July 2022 by Linnea, Minnetonka, United States Of America
Creative and spectacular
Very enjoyable, engaging throughout. Unexpectedly humorous. Suitable for families but not young children - some scenes with the "animals" could be upsetting. Great animation/puppetry.
Reviewed on 15 July 2022 by Helen, Rawdon, United Kingdom
Awesome
Main character really strong so the rest of the cast and the puppeteers…
Reviewed on 11 July 2022 by Sergio, Atizapan, Mexico
Beautifully adapted .
I enjoyed the original book and film . The show did not disappoint. My friend was not aware of 'Life of Pi' but throughly enjoyed the story and theatre experience .
Reviewed on 10 July 2022 by Mel, Reading, United Kingdom
The animals are amazing
Reviewed on 09 July 2022 by Donald, Sarasota, United States Of America
Unbelievable
Absolutely fantastic.
Reviewed on 07 July 2022 by Imogen, Bristol, United Kingdom
Very engaging
Had a fantastic time watching the play. It had me engaged the whole time and though it was a sad story loved the comedy element in it. The theatre experience was very informal. Would have been nice to know how long the intermission was. Aside from that it uplifted my mood and made a great day out.
Reviewed on 04 July 2022 by Helga, Tunbridge Wells, United Kingdom
Feast for your eyes and heart
Reviewed on 03 July 2022 by Smita, London, United Kingdom
Brilliant
We loved it , thank you all for such great entertainment!£
Reviewed on 01 July 2022 by Sheila, Dartmouth, United Kingdom
Animated, humour, and creative
The theatre was a bit humid. It is a small theatre with cramped seats do definitely need to be cooler.
Reviewed on 28 June 2022 by Kajsha, Croydon, United Kingdom
Amazing night out
Wonderful acting V vivid Thought I would get wet! Lovely story Loved the puppetry Lead actor brillant
Reviewed on 23 June 2022 by Dawn, Greenhithe, United Kingdom
Fabulous
Absolutely excellent in every way. Great cast, story told really well. So glad we went.
Reviewed on 14 June 2022 by Helen, Wirral, United Kingdom
it was incredible. So much energy and action. Pi was brilliant the changes of set were mesmerising the animals were portrayed with immense skill I was overwhelmed
Reviewed on 12 June 2022 by Fiona, Baldock, United Kingdom
Highly recommend!
I loved the book and the movie, but the West End play Life of Pi is another level altogether. Amazing puppetry, lighting, music and acting brings to life the story of a boy and tiger learning to coexist on a lifeboat adrift at sea. So moving!
Reviewed on 11 June 2022 by Dale, Petersham, Australia
Fun but serious play
Reviewed on 05 June 2022 by Anush, North Bay Village, United States Of America
Amazing visual effects and brilliant acting
Reviewed on 03 June 2022 by Sally, Coventry, United Kingdom
Awesome
A fantastic creative and stunning performance
Reviewed on 02 June 2022 by Elizabeth, Hull, United Kingdom
Amazing theatrical experience
Reviewed on 30 May 2022 by Guy, Flimwell, United Kingdom
Very good!
Reviewed on 29 May 2022 by Marieke, Reeuwijk, Netherlands
Amazing sets and lighting, wonderfully skilled puppetry
This is a wonderful theatrical experience, I am a huge theatre fan and attend performances at least twice a month. The 'Life of Pi' sets are amazing, clever and inventive enhanced by incredibly skilled lighting and visuals. It is always hard to translate an iconic book like 'Life of Pi'across to theatre, television or cinema and something is bound to be lost in the process. By enlarge this was a successful transfer, what was lost in the narrative was compensated for by the enormity of the vision and the total success of the sets and puppetry. At times the acting was somewhat wooden and stilted, I am not a fan of 'blind casting' and for me the insertion of white actors as Indians was jarring and unnecessary, however that aside it is certainly a production that I am very glad I did not miss.
Reviewed on 10 May 2022 by Deborah, Nr St Austell, United Kingdom
Amazing
Such a wonderful show
Reviewed on 08 May 2022 by Malcolm, Hemel Hempstead, United Kingdom
Best theatre I have seen in decades
Truly mesmerising. Pi is outstanding and the puppetry masterful. Lighting, set and special effects creative genius. Pure brilliance at every level.
Reviewed on 02 May 2022 by Carol, Twickenham, United Kingdom
Amazing
Reviewed on 27 April 2022 by Gerlinde, London, United Kingdom
Amazing Rendition of an Amazing Story
I read the book. I saw the film. But, this performance truly brought this wonderful story to life. The actors were uniformly excellent but the puppets and puppeteers were awesome!
Reviewed on 23 April 2022 by Leslie, Bethesda, United States Of America
Amazing acting and props
A delight absolute gem will bring my daughter next time. Very meaningful and great acting and props in a beautiful theatre.
Reviewed on 23 April 2022 by Dulani, Didsbury, United Kingdom
Amazing show!
Reviewed on 21 April 2022 by Ildikó, Budapest Xiv., Hungary
Unusual and absorbing. Very well done
Reviewed on 20 April 2022 by David, New York, United Kingdom
A beautiful tempest of colour and imagery
A faithful and, (if not somewhat thematically biased) visually stunning adaptation of the book. The costume, prop and stage design perfectly convey the thematic importance of Pi's account at sea, which like the direction, bring a new perspective to an audience with prior knowledge (or in retrospection), if not slightly limiting further interpretations.
Reviewed on 19 April 2022 by Che Harry, London, United Kingdom
Astonishing!
Reviewed on 19 April 2022 by Charles-henry, London, United Kingdom
Excellent acting, puppetry and stage sets
Reviewed on 19 April 2022 by Ljiljana, Basingstoke, United Kingdom
A theatrical feast
A glorious paean for man versus nature, this performance had everything great in as far as you were watching a man, (an extremely amusing one), on a boat with a tiger in the middle of an ocean. Add the beauty of night stars, a vulnerable wilderness and incredibly skilled direction and animal puppetry. Can you tell I loved it?!
Reviewed on 16 April 2022 by Paul, Sheffield, United Kingdom
Absolutely outstanding performance
This show was simply brilliant. A must see for all age groups.
Reviewed on 04 April 2022 by Mary, Chichester, United Kingdom
Terrible, don't bother.
Not good, felt very dumbed down. Didn't get the hype.
Reviewed on 03 April 2022 by Evie, Enfield, United Kingdom
Fabulous. Great effects, gripping to watch
Main character excellent. Sets marvellous. Animals animated with great skill.
Reviewed on 31 March 2022 by Lesley, Edinburgh, United Kingdom
Evocative and unique
Reviewed on 30 March 2022 by Tatiana, Torino, Italy
Fabulous show
Reviewed on 25 March 2022 by Alexander, London, United Kingdom
Magical
Reviewed on 23 March 2022 by Jo, Bristol, United Kingdom
Excellent production.
Reviewed on 17 March 2022 by Candy, London, United Kingdom
GREAT adaptaion. GREAT show.
Reviewed on 14 March 2022 by Anna, London, United Kingdom
don't miss!
this was real theatre, a real show. Full of colour, wonderful effects and of course, the animal puppets. A visual feast, Maybe not for children under 12 as there are scenes of death and killing, but otherwise a fantastic couple of hours of pure entertainment. My only quibble was that the some of the actors seemed to be shouting rather than projecting and this jarred a little.
Reviewed on 12 March 2022 by Arianne, Eastbourne, United Kingdom
Unforgettable
A wonderful book and film and the stage version doesn't disappoint in any way. This is an extraordinary technical and artistic achievement. The lighting effects are outstanding. Lose yourself in a wonderful theatre experience.
Reviewed on 10 March 2022 by Julie, Yelverton, United Kingdom
Life of Pi
Exceptionally enjoyable.
Reviewed on 04 March 2022 by Susie, London, United Kingdom
A touching, engaging story creatively told
Reviewed on 28 February 2022 by Lawrence, Pacific Palisades, United States Of America