32-36 Charing Cross Road, London, WC2H 0DA GB
Quick Facts
Largest Ticket Inventory
in the West End
Real time
seat availability
Choose
your seats
Your booking is processed directly into the box office reservation system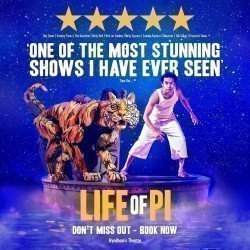 The Life of Pi
Tickets
4.5/5
-

based on

24

reviews
Booking until: Sunday, 29 May 2022
Tickets from £18.00
Book tickets
Information
Cheap Tickets
Reviews
News
About The Life of Pi
Performance Times
Booking until: Sunday, 29 May 2022
The Life of Pi description
Life of Pi – Meet Richard Parker the tiger
Lolita Chakrabarti's new stage adaptation has already enjoyed a critically and commercially successful world premiere in Sheffield. So it's fantastic to hear that her extraordinary stage version of Life of Pi will be transferring to the West End. The play is based on the outstanding Man Booker-winning book about a cargo ship that sinks in the Pacific Ocean leaving a hyena, a zebra, an orangutan, a 16 year-old boy and a Bengal tiger to survive together in a lifeboat. The original book is by Yann Martel and the play is directed by Max Webster.
WhatsOnStage described Life of Pi as 'a spectacular on-stage experience', and they're right thanks to designs by Tim Hatley and Finn Caldwell of Gyre and Gimble in collaboration with Nick Barnes who designed the puppets. Lighting is from Tim Lutkin, composition by Andrew Mackay, sound by Carolyn Downing, video by Andrzej Goulding and original casting by Polly Jerrold. The talented Finn Caldwell plays the tiger, manipulating the amazing puppet to perfection. It actually looks real. Amazing!
Wyndham's is set to be 'specially reconfigured' for the play, reinventing the auditorium in a creative way to change the levels, extend the stage over the stalls for a thrillingly surreal environment, and generally add to the sheer, magical intensity of the action.
The young boy who survives the shipwreck is called Pi. The Bengal tiger is called Richard Parker. The boy and the beast must learn to coexist on a lifeboat as they battle the seas and try to survive. The on-stage action is just as compelling as the movie, which was directed by Ang Lee and starred Suraj Sharma, a film that was nominated for nine Academy Awards and won four.
Why is the tiger called Richard Parker? It's complicated. Richard Parker was a character in Edgar Allan Poe's book The Narrative of Arthur Gordon Pym of Nantucket. Richard Parker was the name of a boy who was cannibalised after a shipwreck in 1884, and there was a third Richard Parker, who drowned during the sinking of the Francis Spaight in 1846. The author, Yann Martel, enjoyed the coincidence and felt that so many unfortunate Richard Parkers must have a meaning.
The Guardian's five-star review said this play is 'an extraordinary journey'. The Telegraph called it a 'worthy successor to War Horse'. It is nothing if not astonishing, breathtaking and thrilling. Don't miss it.
Who is this show for?
Life of Pi is recommended for people aged eight or more.
Next Performances for The Life of Pi at Wyndham's Theatre
today
22nd Jan 2022
7:30pm
tomorrow
23rd Jan 2022
3:00pm
Monday
24th Jan 2022
7:30pm
Wednesday
26th Jan 2022
7:30pm
Thursday
27th Jan 2022
2:30pm
Thursday
27th Jan 2022
7:30pm
The Life of Pi cheap tickets
We have a great selection of cheap The Life of Pi tickets. We can help you save up to 70% on The Life of Pi tickets! If you're looking for discount theatre tickets have a look below for our latest offers for The Life of Pi at Wyndham's Theatre.
-9%
Was £27.50
Now £25.00
Valid Mon-Fri until 4 Mar. Book by 6 Feb 2022.
-9%
Was £27.50
Now £25.00
Valid Mon-Fri until 4 Mar. Book by 6 Feb 2022.
The Life of Pi reviews
4.5 out of 5
based on

24

reviews
What to expect:
Acting
Music
Costumes
Story
Lighting
Recommended for:
Anyone (83%)
Families (83%)
Teenagers (92%)
Couples (92%)
Theatregoers (83%)
Latest customer reviews

A must see!
It was absolutely amazing! (and I'm quite a critic when it comes to plays etc) I'm quite interested in scenery, props, special effects etc and I was really impressed with how they managed to portray the different parts, eg projecting the sea upon the stage, the puppetry. Very original and mesmerising. I'd actually like to see it again! One of the best plays I've ever seen and I go to the theatre a lot!
Reviewed on 16 January 2022 by Michelle, Palmers Green, United Kingdom

Spectacular. An absolute must see!
Excellent acting and very creative use of the stage and lighting. Will certainly be recommending this show to our friends and family.
Reviewed on 16 January 2022 by Gemma, Kimberley, United Kingdom

very creative
Did I find that sound/volume should be a bit higher
Reviewed on 14 January 2022 by Parvinder, Braintree, United Kingdom

Technologically brilliant
From the Grand4 Circle the lighting effects are superb, giving the viewer a distinct feeling of being at sea. The main character was well cast, but a bit screechy. The animal operators were skilful to the point they went unnoticed.
Reviewed on 04 January 2022 by Ian, Dorking, United Kingdom

Wonderful show
Better animation than the Lion king
Reviewed on 02 January 2022 by Jonathan, Norwich, United Kingdom

Must See
Fantastic show, totally captivating and not too long. The puppetry was excellent.
Reviewed on 01 January 2022 by Pat, London, United Kingdom

too poor fro the money
too poor
Reviewed on 31 December 2021 by Simona, London, United Kingdom

Amazing
The best I've seen so far
Reviewed on 28 December 2021 by Hiten, Solihull, United Kingdom

Magical
Enjoyable in every way.
Reviewed on 23 December 2021 by Fiona, Dorset, United Kingdom

Puppets were amazing.
Reviewed on 23 December 2021 by Mary, London, United Kingdom

A beautiful story, creatively told
Reviewed on 21 December 2021 by Chris, Felsted, United Kingdom

A different must see.
Reviewed on 18 December 2021 by Brenda, Robertsbridge, United Kingdom

Whole performance was excellent, everything from the acting, lighting, SFX and puppets. The story was fantastic and the duration was just the right length for a show. Only dislike was the slight discomfort of seating and space.
Reviewed on 17 December 2021 by Stephanie, Eastleigh, United Kingdom

One of the Best shows in London!
Having been going to the Theatre here and all over the world for the last 60 years! This production is up there with the greats.Hiran Abeysekera should win best actor of the year and the whole cast should be offered a Christmas box each from the finest food shops in London.
Reviewed on 17 December 2021 by Roger, Wedhampton, United Kingdom

show was great shame about the public
no masks in sign, of course everyone took the mask off as soon as they sat down, and no, not everyone was eating/drinking. There were no checks, all stewards were just standing there doing nothing, no spaces between people, it was very hot inside and generally not Covid safe. Emails were confirming how much Covid safe the place is and no, it was not. False advert. Please refrain from these messages when you simply do not even attempt to enforce the rule.
Reviewed on 06 December 2021 by Dita, London, United Kingdom

Superb
Reviewed on 04 December 2021 by Tamar, Shoreham, United Kingdom

Absolutely spellbinding
Took my parents and we absolutely loved it. Just such a beautiful production, and the puppetry was incredible. Pi was loveable and engaging. Just loved the whole thing!
Reviewed on 29 November 2021 by Jo, London, United Kingdom

What good theatre is about!
Reviewed on 25 November 2021 by Amanda, Gibraltar, Gibraltar

Brilliant, amazing piece of theatre.
It is possibly best to have the read the book but as this is a great piece of theatre it is very much worth seeing. However not for children under 10.
Reviewed on 21 November 2021 by Susan, Perth, United Kingdom