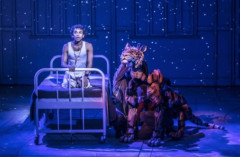 Now adapted for the stage, Yann Martel's Life of Pi will be transferring to London's West End this summer.
In the wake of its five-star reception in Sheffield last year, Lolita Chakrabarti's (Red Velvet) adaptation of Yann Martel's Booker Prize-winning novel Life of Pi will be transferring to London this summer. Running at The Wyndham's Theatre from the 28thJune-4th October 2020, the production marks an historic event. In order to fully accommodate the play's mesmerising scenic elements, the theatre is due to undergo an unprecedented reconfiguration.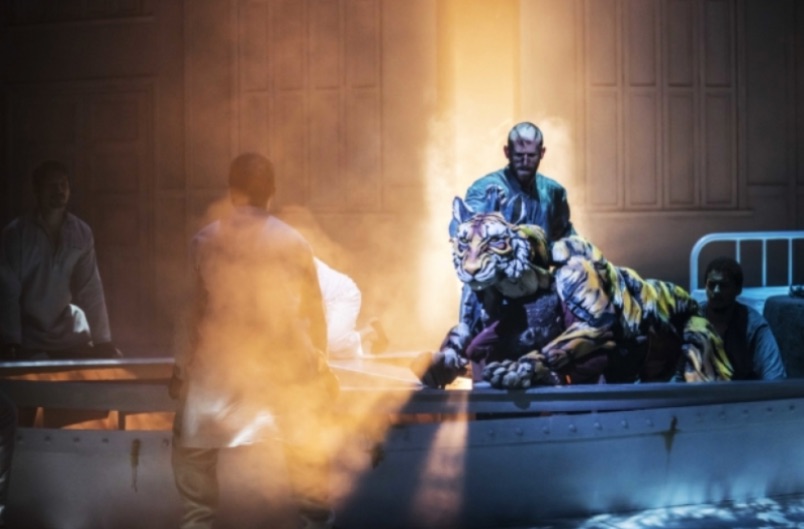 Owain Gwynn and Richard Parker the tiger in Life of Pi. Image: Johan Persson
The technical skill of the creative team has been heralded, without exception. Max Webster's (Fanny and Alexander, Dr. Seuss's The Lorax) direction, along with the fabled dexterity of Puppet & Movement Director Finn Caldwell (whose credits include the international phenomenon War Horse, and as Artistic Director of Gyre & Gimble, The Hartlepool Monkey andThe Elephantom), work to bring Martel's renowned tale to life. Elements both animal and human are carefully reimagined, right down to Pi's navigation of the Pacific Ocean; the seething, storming waves that he must weather after the cargo ship on which himself, his immediate family and occupants of his family-run zoo, sinks.
Told from Pi's bedside at a general hospital, the narrative uses this space as its framework, recounting his adventures retrospectively. Stranded on a lifeboat in the company of five other survivors: a hyena, a zebra, an orangutan, a sixteen-year-old boy and Richard Parker – a 450-pound Royal Bengal tiger – Life Of Pi is a tale of survival. Hiran Abeysekera will be reprising his universally acclaimed role as Pi, and will be joined by a stellar cast, including: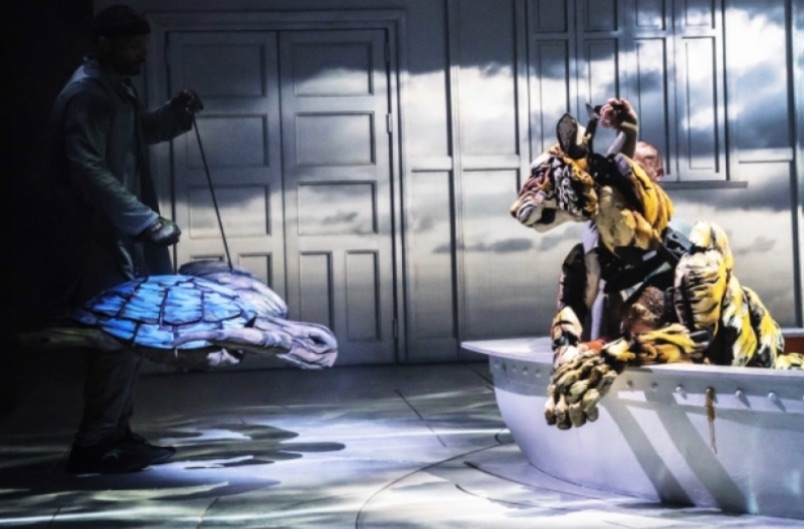 The Company of Life of Pi. Image: Johan Persson
Mina Anwar (Everybody's Talking About Jamie, Apollo theatre and Sheffield Crucible), Sagar Arya (Casualty), Alex Chang (Golden Shield, Soho Theatre and Yellow Earth Theatre), Fred Davis (Ocean at the end of the Lane, National Theatre), Tom Espiner(Berberian Sound Studio, Donmar Warehouse), Kirsten Foster (Much Ado About Nothing, New English Shakespeare Company and Dubai Opera House), Daisy Franks (The Gruesome Twosome, The Place), Raj Ghatak (The Kite Runner, Best Actor Winner, UK Tour), Nuwan Hugh Perera (Side Show, Southwark Playhouse), Romina Hytten (The Lorax, The Old Vic and The Royal Alexander Theatre, Toronto), Sarah Kameela Impey (Much Ado About Nothing, Northern Broadsides), Tom Larkin (Bury the Dead, Finborough Theatre), David K.S. Tse (Chimerica, Almeida & Harold Pinter Theatre), Syreeta Kumar (Equus, English Touring Theatre), Deeivya Meir (Warlords & Tyrants, Rada Festival and Fireraisers), Habib Nasib Nader (Downtown Paradise, Welsh Fargo Theatre Company) and Scarlet Wilderink (Treasure Island, Stephen Joseph Theatre).
A singular theatrical experience, Life of Pi is set to be a magical event. Do not miss it.
Tickets available to book now, from just £29.50