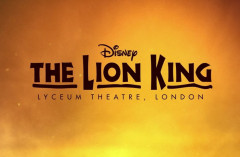 Update for The Lion King at the Lyceum Theatre
The magical, unforgettable West End production of Disney's The Lion King is due to welcome 14 new members to its cast of more than fifty 50 actors, singers and dancers. The news makes the show's post-covid re-opening this summer extra special, even though it's already a multi-award-winning landmark musical seen by over 16 million people at the Lyceum Theatre alone over the past two decades.
Who's involved in The Lion King?
The existing cast includes the brilliant George Asprey as Scar, David Blake as Banzai, Janique Charles as Nala, Gugwana Dlamini as Rafiki, Shaun Escoffery as Mufasa, Gary Jordan as Zazu, Jamie McGregor as Timon, Melone M'Kenzy as Shenzi and Mark Roper as Pumbaa. The new cast members are:
Kayi Ushe as Simba – who has also thrilled us in The Book of Mormon, Motown The Musical, Crazy For You, and Kinky Boots
Phil Adèle – who makes his West End debut in the role of Ed
The new ensemble cast members come from seven countries: Gesztenye Botos, Reece Darlington-Delaire (who has played Young Simba in the past), Shak Gabbidon-Williams (who has also played Young Simba before), Ryesha Higgs, Candice Holdford, Angela Marie Hurst (who has played Young Nala in the past), Duane Lamonte, Jane Carla Leynes, Deja Linton (whose past roles include Young Nala), Jonathan Lutwyche, Kearabetswe Mogotsi, and Taela Yeomans-Brown
Buy The Lion King Tickets
Book your Disney's Lion King tickets online through us and enjoy your ideal seats thanks to our clear, useful Lyceum Theatre seating plan. We'll send the E-tickets by email so you can present them on the day of the performance.
About the Lyceum Theatre
You'll find the Lyceum Theatre on Wellington Street, just off The Strand in the City of Westminster. The Lion King has played at the venue non-stop since autumn 1999, apart from a break for lockdown. Before that, past shows at the Lyceum included Jesus Christ Superstar and Oklahoma.