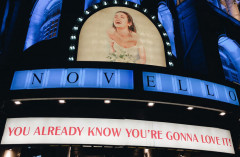 The producers of Mamma Mia, the hit juke box musical featuring the music of ABBA, have put a rather clever sign up above the entrance to their theatre.
Successful both as an advertisement and a welcome to audiences it says "you already know you're gonna love it" and I don't think many people would dispute that.
The soft rock pop songs by the Swedish group who first skyrocketed to mega stardom when they won the Eurovision Song Competition seem to have been the sound track to all our lives. Even if songs like Dancing Queen, Mamma Mia and Waterloo aren't to your personal taste you'll still have heard them played regularly on the radio or in public spaces. They make most of us feel great. And the appeal is cross generational too, you're just as likely to see teenagers enjoying the catchy tunes as you are their parents and grandparents.
Clever playwright Catherine Johnson must have noted this before she began work on the script for Mamma Mia the ABBA musical. She constructed a plot in which a young bride-to-be tries to find out who her absent father is and through doing this she reconnects emotionally with her mother and gets a clearer perspective on their muddled life on a Greek Island.
This is a stroke of genius as young women see it as a story about transitioning to adulthood, and older women as a tale about the mother/daughter bond. You'll see plenty of both in the audience for this stage show and plenty of men too.
Other canny plotting decisions include keeping us guessing as to which of the three possible fathers invited to the wedding is the actual dad and the Greek Island setting not only reflects the sunniness of many of the ABBA songs, plus it keeps the audience in a summer holiday mood.
The show is also of course the basis of a successful Hollywood film starring Meryl Streep and a sequel, and the composers are also developing a dining and clubbing experience based on the original show!
I saw it last Monday for the first time in years because I've worked with several members of the current cast. Seeing the show again also felt like bumping into an old friend.
I'm delighted to report that there's no sign of tiredness in this long running production. It still feels really fresh and joyful even though the performers have played it many times before. The singing, dancing and acting are all first class.
I have no hesitation in recommending it as a West End treat, a text book example of how to create a show with a broad appeal, and the perfect cure for the winter blues.