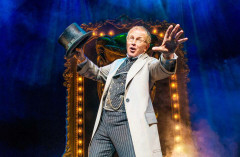 The well-loved actor and TV presenter Mark Curry is back to delight us in Wicked, playing the Wizard from 18th October 2022. The wonderful Gary Wilmot will make his final performance in the role on Sunday 16th October. As Mark Curry said, "I'm thrilled to be returning to Oz after 5 years away and to have this opportunity to play The Wizard again in the incredible Wicked". The rest of the cast remains the same.
Mark Curry in Wicked
Billed as one of the most successful musicals of all time by BBC News, Wicked recently welcomed its 11 millionth audience member to the West End's Apollo Victoria Theatre. This global sensation has already won more than 100 awards including three Tony Awards, two Olivier Awards, and a Grammy. Here's what you need to know about the marvellous Mark Curry:
Actor, broadcaster, and former Blue Peter presenter Mark Curry previously played The Wizard as part of the 10th Anniversary London cast of Wicked in 2016 and 2017
In a career spanning more than five decades, Mark first scored a hit in Yorkshire Television's Junior Showtime in 1969. He stayed with the show for six years
Mark played Oscar DeVelt in Alan Parker's film Bugsy Malone as well as in numerous variety shows and pantomimes
Following three years with the Harrogate Theatre Company and a budding career as a television presenter, he joined the BBC's Blue Peter in 1986 as the show's fifteenth presenter
Mark's acting career includes work in theatres across the UK, most notably and frequently in the plays and comedies of Alan Ayckbourn. In 2018, he starred as Philip Markham in the 50th anniversary production of Ray Cooney & John Chapman's comedy Move Over Mrs Markham, directed by Ray Cooney
Mark's London credits include Talent, written and directed by Victoria Wood, and Susan Hill's The Woman in Black, directed by Robin Herford
Buy Wicked Tickets
Buy Wicked tickets from us for top customer service and a ticket seller you can trust. Pick the best views using our detailed Apollo Victoria Theatre seating plan. Then show your etickets at the door on the day.
About the Apollo Victoria Theatre
The Greek god Apollo has many faces. He's been the god of archery, music and dance, truth and prophecy, healing and diseases, the Sun and light, poetry and more. It's a great name since the Apollo Victoria Theatre, originally built as a cinema in 1930, is known for an eqully wide variety of remarkable shows, including gigs by world-class musicians as well as plays and musicals. Past shows at the Apollo Victoria Theatre include Starlight Express, The Sound of Music, and the disco classic Saturday Night Fever.