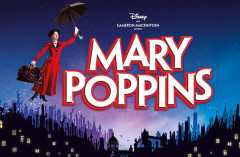 Mary Poppins is now booking up until 10th July 2022, a treat for your children that's also loved by adults who remember the wonderful original movie, a classic with Julie Andrews in the starring role. The story? Roll back time to the late 1800s. Two neglected children's lives are changed when their dad employs a magical nanny, Mary Poppins, to fill their days with excitement, adventure, and music. Welcome to Cherry Tree Lane.
Who's involved in Mary Poppins?
Based on the stories of P.L. Travers and the original Walt Disney film, Cameron Mackintosh and Disney has announced an extension to booking for this popular Olivier award-winning production. There's a star-studded cast including the legendary darling of the British pop charts, Petula Clark, and it's being billed as a show rich in dazzling choreography, incredible effects and unforgettable songs.
Zizi Strallen plays Mary Poppins
Charlie Stemp plays Bert
Charlie Anson is George Banks
Amy Griffiths is Winifred Banks
Petula Clark plays Bird Woman
Liz Robertson is Miss Andrew
Claire Machin is Mrs Brill
Jack North plays Robertson Ay
Paul F. Monaghan plays Admiral Boom and the Bank Chairman
Katie Cox, Rose Dawson, Megan Donovan, Megan Judge, Shayla McCormack and Maddison Thew currently alternate the role of Jane Banks
Logan Clark, George Hamblin, Charlie Murphy, Gabriel Payne, Noah Swer-Fox and Frankie Treadaway alternate the role of Michael Banks
The ensemble comprises Yves Adang, Angeline Bell, Lydia Boulton, Alison Connell, Adam Davidson, Danielle Delys, Joseph Dockree, Charlie Donnelly, Stan Doughty, Glen Facey, Davide Fienauri, Harry Francis, Lyndsey Gardiner, Ian Gareth-Jones, Maria Garrett, Mark Goldthorp, Jacqueline Hughes, Emma Hunter, Jason Kajdi, Sam Lathwood, Jordan Livesey, Tania Mathurin, Laura Medforth, Alex Pinder, Ben Redfern, Clare Rickard, Lucie-Mae Sumner, Scott Waugh and Monique Young
Buy Mary Poppins Tickets
Book your Mary Poppins tickets online with us and choose the best seats with our Prince Edward Theatre seating plan. We'll send E-tickets direct to your email address for you to show them at the door on the day.
About the Prince Edward Theatre
Dating back to 1930, the Prince Edward Theatre was home to several appearances by the legendary Josephine Baker, billed as 'the Idol of Europe'. She was the first black woman to star in a major motion picture, the 1927 silent film Siren of the Tropics. Past shows at the Prince Edward Theatre include West Side Story, Mamma Mia!, Jersey Boys, Miss Saigon, and Aladdin.