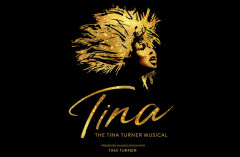 We're slowly learning more about a previously announced new West End musical based on the life of Tina Turner.
It's been confirmed that it will run at the West End's Aldwych Theatre next year. What we don't know yet is who will playing Tina.
They'll need to have a phenomenal singing voice that's as tough as leather in order to belt out hits like Private Dancer and What's Love Got To Do With It for 8 performances a week. Perhaps there will be several performers alternating the role as with Dreamgirls at the Savoy Theatre which also has a lead female role that's vocally too demanding for anyone to play night after night.
The creative team is as follows.
Authors: Katori Hall with Frank Ketelaar and Kees Prinse. Design: Mark Thompson (set), Bruno Poet (lighting), Kevin Steinberg (sound) Choreographer: Anthony van Laast. Orchestrations: Ethan Popp, Nicholas Skilbeck (musical supervision). Producers: Stage Entertainment, Joop van den Ende and Tali Pelman, in association with Tina Turner.
But the big news is that it will be directed by Phyllida Lloyd who staged the phenomenally successful Abba musical Mamma Mia! for theatre and film.
It's tricky to get these juke box shows right, integrating pre-existing hits seamlessly into a narrative. With Mamma Mia Lloyd proved it can be done with wit and style. I've no doubt she'll be equally successful at adding Turner's best loved songs into a dramatisation of her life.
The show's press release claims that "The show will explore her early years, progressing through to the start of her career and eventually moving on to decades at the top of her game, when she released classic record after classic record. Along the way we will hear many of her hits as talented performers belt out her classics"
"Suffice to say" it continues "for Tina Turner fans, this will be an unmissable treat"
We shall see! A lot will depend on the casting!