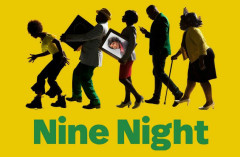 When our critic NASTAZJA DOMARADZKA reviewed the National Theatre's production of NINE NIGHT back in May she gave it five stars remarking that it was -
"beautiful and harrowing, yet full of lightness and humour that examines grief, family relationships and immigration"
The piece, as described by the National Theatre, "follows a grieving family, preparing for a traditional Jamaican Nine Night wake, reuniting at a London home"
I was sorry not to see it myself so I'm delighted that it will be transfering to the West End this December for a run at Trafalgar Studios from 1 December 2018 to 9 February 2019.
It's writer Natasha Gordon's first play and Nastazja described it as "An extraordinary debut from Gordon; her writing full of honesty and warmth lures the audiences from the very beginning of the play. Gordon possesses the ability to create relationships that are vivid, yet she never overstates or over-explains herself, or the protagonists of the play. The use of patois is unapologetic in its realness and finally the Dorfman auditorium is full of people who have yearned to see themselves on stage for years. The spirit of the Windrush generation, omnipresent in both the writing and directing, hangs in the air reminding us of the hardship of the choices the first generation had to make, and the complexity of life that the second generation always endures.
She had paise to for the cast descibing them as "absolutely flawless" and for rising director Roy Alexander Weise who she delared "lifts Gordon's words off the page with his attention to detail but does so without killing the spontaneity of the plays spirit"
Nine Night first premiered at the Dorfman, the National Theatre's smallest auditorium in April. The show was design by Rajha Shakiry, with lighting design by Paule Constable, sound design by George Dennis and movement direction by Shelley Maxwell and it starred Franc Ashman, Cecilia Noble, Ricky Fearon and Oliver Alvin-Wilson.
Casting for the West End transfer is to be announced.
I'll let Nastazja have the last word -
"There is so much beauty and humanity in this mesmerising debut but what's more NINE NIGHT is a production full of theatrical magic. Do not miss."