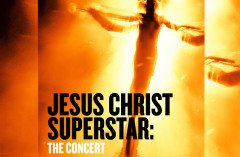 Two months ago things were looking bleak at London's premiere alfresco venue. Back in May, and in response to the Covid crisis, the management announced it was postponing its entire summer season to 2021.
But since then government regulations regarding outdoor theatre have relaxed and the team there have been able to salvage a mini-season that should give Londoner's plenty to smile about.
There will be stand-up comedy, including appearances from Rob Beckett, Russell Brand, Jimmy Carr, Kerry Godliman, Suzi Ruffell and Sindhu Vee, and the big news is that there will be a concert staging of JESUS CHRIST SUPERSTAR, a big hit for the venue and it's Artistic Director, Tim Sheader back in 2016, later transferring to the Barbican.
Sheader said: "It has been, and continues to be, an incredibly challenging time for everyone working in the theatre industry. While the arts sector awaits details of how the government's support package will be disseminated, I'm heartened that we have been able to start work again with a number of our colleagues and to employ over 140 people, including 70 performers and freelancers, at least for a brief period this summer."
Don't worry too much about the fact its advertised as "a concert staging". That's become a widely used term when producers don't want you to expect elaborate scenery. On this occasion the production will have to be pulled together quickly so it's quite understandable that there's no time to build a big set. In practice everything invariably looks great on these occasions, especially when lit beautifully, and Sheader's original production had a strong rock concert vibe anyway.
For this six-week run of Tim Rice and Andrew Lloyd Webber's classic musical, the theatre's operations have been tailored, as you'd expect, to make sure everyone is shielded from infection.
The seating will be reconfigured to host audiences of up to 390 (30% of its usual capacity). Performers will be socially distanced, the performance will run without an interval and there will be one-way systems in place. Other safety measures include mandatory face coverings, temperature checks and paperless ticketing.
JESUS CHRIST SUPERSTAR opens on 14 August.