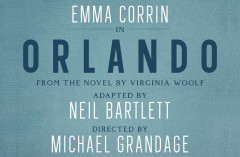 The Michael Grandage Company is delighted to announce that Emma Corrin will return to the London stage as the title role in Orlando, in the novel by Virginia Woolf. This is a brand a new version by Neil Bartlett. The production will debut in the West End in late autumn 2022. The dates and the venue will be announced before long, so keep your eyes open.
Who's involved in Orlando?
As Michael Grandage said, Neil Bartlett's joyous new adaptation of Virginia Woolf's Orlando dances through time and gender, challenging us to remember that nothing really matters except the courage to be yourself. It is one of the most surprising stories in the English language, and with its inspiring vision of all bodies having equal rights to love. He is delighted that MGC is returning to the West End with Emma Corrin to bring this timely story to a whole new audience.
The original novel is by Virginia Woolf
Emma Corrin returns to the stage after an Olivier Award nominated performance in Anna X at the Harold Pinter Theatre
Michael Grandage directs. He is Artistic Director of the Michael Grandage Company (MGC) where he most recently directed the film My Policeman (2022) starring Harry Styles, Emma Corrin, Gina McKee, Linus Roache, David Dawson and Rupert Everett
Adapted by Neil Bartlett, whose vivid theatrical adaptations, translations and plays have been widely staged around the UK. From 1994 to 2005 he was Artistic Director of the Lyric Hammersmith, where he earned an OBE and a nomination for an Olivier Award for Outstanding Theatrical Achievement. In 2008 he was awarded an honorary degree by Brookes University Oxford
Buy Orlando Tickets
Buy cheap Orlando tickets online via our site for exceptional service. Pick great views using our detailed West End Theatre seating plans. Then simply show your etickets at the door on the day of the performance.