Harold Pinter Theatre
6 Panton Street, London, SW1Y 4DN GB
Now showing at
the Harold Pinter Theatre
Harold Pinter Theatre
4.4/5
-

based on

5

reviews - (Read reviews)
4.4

5

reviews
Tickets from £65.00
Lyonesse – A dazzling new play by Penelope Skinner
In Arthurian legend, Lyonesse was a kingdom consisting of a long strand of land stretching from Land's End at the South West tip of Cornwall to the Isles of Scilly in the Celtic Sea, part of the Atlantic Ocean. As the story goes, the kingdom was swallowed up by the sea overnight. It's also a brilliant new play of the same name by Penelope Skinner, starring the legendary Kristin Scott Thomas and Lily James, directed by Ian Rickson, and on stage at the Harold Pinter Theatre from October 17th to December 23rd 2023.
Booking until: Saturday, 23 December 2023
Running time: 2h 50m (incl. interval)
Starring: Kristin Scott Thomas, Lily James
Lyonesse tickets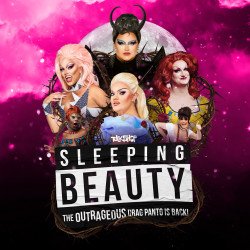 Opens 27 Dec 2023
Opens 27 December 2023
Sleeping Beauty
Harold Pinter Theatre
Tickets from £30.00
TuckShop are BACK for their THIRD West End season of their hilarious all-drag panto!
Opens: Wednesday, 27 December 2023
Booking until: Sunday, 31 December 2023
Sleeping Beauty tickets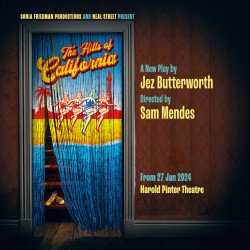 Opens 27 Jan 2024
Opens 27 January 2024
The Hills of California
Harold Pinter Theatre
Tickets from £18.00
Blackpool, 1976. The driest summer in 200 years. The beaches are packed. The hotels are heaving. In the sweltering backstreets, far from the choc ices and donkey rides, the Webb Sisters are returning to their mother's run-down guest house, as she lies dying upstairs.
Opens: Saturday, 27 January 2024
Booking until: Saturday, 15 June 2024
The Hills of California tickets
Harold Pinter Theatre Facilities
Air conditioned
Bar
Disabled toilets
Infrared hearing loop
Member of Q-Park scheme
Toilets
Wheelchair/scooter access
Harold Pinter Theatre Access Tickets
Disabled theatregoers and their carers can get discount tickets. Please phone the Harold Pinter Theatre access line on 0333 009 5399.
Harold Pinter Theatre Location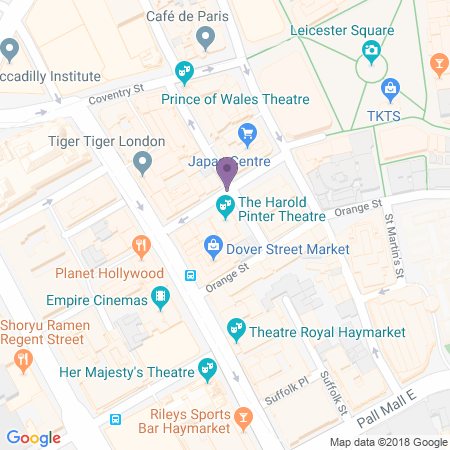 Directions
Travel Information
Nearest Tube station
Piccadilly Circus

Leicester Square
Nearest Rail Station
Tube lines
Bakerloo
Piccadilly
Northern
Day buses
(Haymarket) 3, 6, 12, 13, 19, 23, 38, 88, 139; (Piccadilly Circus) 14, 22, 94
Night buses
(Haymarket) 6, 12, 23, 139, 88, N3, N13, N18, N19, N38, N97, N136, N550, N551; (Piccadilly Circus) 14, 94, N22
Harold Pinter Theatre history
From the outside
Magnificent from the outside with its ornate pale frontage and wreath motifs, The Harold Pinter theatre's splendid interior, dating back to 1881, is one London's oldest and loveliest. You'll enjoy a wealth of original features despite the theatre being unsympathetically restored in 1954. Its Renaissance-style wood panels, beautiful gold ceiling, golden wallpaper and original brass ceiling sun-burner make for a traditional theatre experience to remember.
Harold Pinter Theatre architecture and history
The Harold Pinter Theatre was originally called The Royal Comedy Theatre, becoming the Harold Pinter in 2011. First opening its doors way back in 1881, it was designed by Thomas Verity and built incredibly quickly, taking just six months. In the middle of the 1950s it was refurbished, re-opening in 1955. Thankfully they left the auditorium alone and today it's still an exercise in 1880s splendour, with its gorgeous three tiered horseshoe balconies.
The famous operetta Falka premiered in 1883, and Erminie premiered in 1885. Charles Blake Cochran and André Charlot presented their famous revues throughout the First World War, which made the theatre's name as a must-visit destination.
The theatre's orchestra pit is original, dating back to 1881, but these days it's rarely used. The last time was in 2009, the first time an orchestra had played from the pit in a quarter of a century.
In 1956 the theatre played a starring role in overturning the outdated stage censorship set in place by the 1843 Theatres Act, which was finally repealed in 1968. Setting up the New Watergate Club under producer Anthony Field meant they could legally stage plays that had been banned because of bad language or frowned-upon story lines. Without their actions Arthur Miller's A View from the Bridge, Robert Anderson's Tea and Sympathy and Tennessee Williams' Cat on a Hot Tin Roof might never have been staged in the West End.
Today the Harold Pinter Theatre is part of the Ambassador Theatre Group.
Past shows at the Harold Pinter Theatre
This historic venue has seen countless smash hits, wowing theatre audiences with Journey's End, The Old Masters and Whose Life is it Anyway? Audiences have raised the rafters for shows like The Home Place, The Caesar Twins, Steptoe and Son, Donkeys' Years and classic good-time audience participation show The Rocky Horror Show, which had its debut at the Harold Pinter in 1979.
Stockard Channing appeared in Six Degrees of Separation, which won best play at the 1993 Olivier Awards, and Maureen Lipman starred in Peggy For You. The theatre's biggest hits, however, were the 2000 performance of The Caretaker, with Michael Gambon, plus a remarkable eight week sell out of Little Malcolm and his Struggle Against the Eunuchs in 1999, starring Ewan McGregor.
Harold Pinter Theatre access
The Box Office and foyer are at street level, and the easiest access is to the Dress Circle, which provides four wheelchair spaces or space for small scooters.
Harold Pinter Theatre tickets
We're your number one destination for a wide variety of seat types and prices, with excellent availability on the full range of Harold Pinter Theatre tickets.