Harold Pinter Theatre
6 Panton Street, London, SW1Y 4DN GB
Now showing at
the Harold Pinter Theatre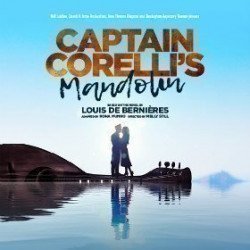 Captain Corelli's Mandolin
Harold Pinter Theatre
5/5
-

based on

2

reviews - (Read reviews)
5

2

reviews
Tickets from £17.75
Following a critically acclaimed UK tour, the brand-new stage adaptation of Captain Corelli's Mandolin transfers to the West End for a strictly limited nine-week season.
Cephalonia 1941. Captain Corelli, an enigmatic young Italian officer, is posted to the idyllic Greek island as part of the occupying forces. The Captain is soon thrown together with Dr Iannis' strong-willed and beautiful daughter Pelagia, who discovers all of the complexities of love, and how it can blossom in the most unexpected and profound way.
Booking until: Saturday, 31 August 2019
Running time: 2 hours 40 minutes
Captain Corelli's Mandolin tickets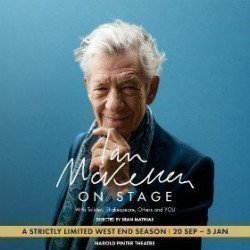 Ian McKellen on Stage: Tolkien, Shakespeare and You!
Harold Pinter Theatre
Tickets from £11.75
At aged 80, Ian McKellen is still on stage... and he's taking his new solo show to more than eighty theatres around Britain, delighting audiences at every venue. As the great man himself admits, this is a "joyful birthday present to myself." He has played many of the theatres throughout his career, and the London leg of the journey kicks off at the Harold Pinter theatre for a limited season. Not to be missed!
Booking from: Friday, 20 September 2019
Booking until: Sunday, 5 January 2020
Starring: Ian McKellen
Ian McKellen on Stage: Tolkien, Shakespeare and You! tickets
Harold Pinter Theatre Facilities
Air conditioned
Bar
Disabled toilets
Infrared hearing loop
Member of Q-Park scheme
Toilets
Wheelchair/scooter access
Harold Pinter Theatre Location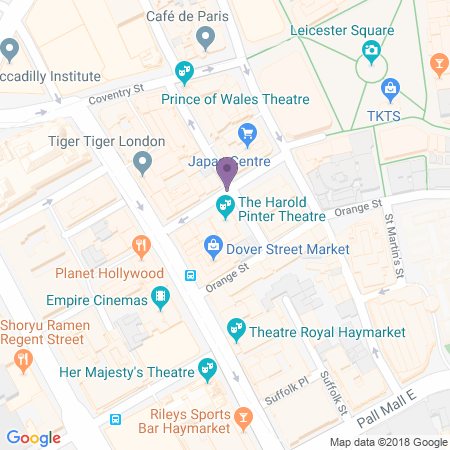 Directions
Travel Information
Nearest Tube station
Piccadilly Circus

Leicester Square
Nearest Rail Station
Tube lines
Bakerloo
Piccadilly
Northern
Day buses
(Haymarket) 3, 6, 12, 13, 19, 23, 38, 88, 139; (Piccadilly Circus) 14, 22, 94
Night buses
(Haymarket) 6, 12, 23, 139, 88, N3, N13, N18, N19, N38, N97, N136, N550, N551; (Piccadilly Circus) 14, 94, N22
Harold Pinter Theatre history
From the outside
Magnificent from the outside with its ornate pale frontage and wreath motifs, The Harold Pinter theatre's splendid interior, dating back to 1881, is one London's oldest and loveliest. You'll enjoy a wealth of original features despite the theatre being unsympathetically restored in 1954. Its Renaissance-style wood panels, beautiful gold ceiling, golden wallpaper and original brass ceiling sun-burner make for a traditional theatre experience to remember.
Harold Pinter Theatre architecture and history
The Harold Pinter Theatre was originally called The Royal Comedy Theatre, becoming the Harold Pinter in 2011. First opening its doors way back in 1881, it was designed by Thomas Verity and built incredibly quickly, taking just six months. In the middle of the 1950s it was refurbished, re-opening in 1955. Thankfully they left the auditorium alone and today it's still an exercise in 1880s splendour, with its gorgeous three tiered horseshoe balconies.
The famous operetta Falka premiered in 1883, and Erminie premiered in 1885. Charles Blake Cochran and André Charlot presented their famous revues throughout the First World War, which made the theatre's name as a must-visit destination.
The theatre's orchestra pit is original, dating back to 1881, but these days it's rarely used. The last time was in 2009, the first time an orchestra had played from the pit in a quarter of a century.
In 1956 the theatre played a starring role in overturning the outdated stage censorship set in place by the 1843 Theatres Act, which was finally repealed in 1968. Setting up the New Watergate Club under producer Anthony Field meant they could legally stage plays that had been banned because of bad language or frowned-upon story lines. Without their actions Arthur Miller's A View from the Bridge, Robert Anderson's Tea and Sympathy and Tennessee Williams' Cat on a Hot Tin Roof might never have been staged in the West End.
Today the Harold Pinter Theatre is part of the Ambassador Theatre Group.
Past shows at the Harold Pinter Theatre
This historic venue has seen countless smash hits, wowing theatre audiences with Journey's End, The Old Masters and Whose Life is it Anyway? Audiences have raised the rafters for shows like The Home Place, The Caesar Twins, Steptoe and Son, Donkeys' Years and classic good-time audience participation show The Rocky Horror Show, which had its debut at the Harold Pinter in 1979.
Stockard Channing appeared in Six Degrees of Separation, which won best play at the 1993 Olivier Awards, and Maureen Lipman starred in Peggy For You. The theatre's biggest hits, however, were the 2000 performance of The Caretaker, with Michael Gambon, plus a remarkable eight week sell out of Little Malcolm and his Struggle Against the Eunuchs in 1999, starring Ewan McGregor.
Harold Pinter Theatre access
The Box Office and foyer are at street level, and the easiest access is to the Dress Circle, which provides four wheelchair spaces or space for small scooters.
Harold Pinter Theatre tickets
We're your number one destination for a wide variety of seat types and prices, with excellent availability on the full range of Harold Pinter Theatre tickets.