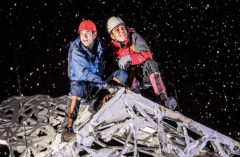 David Grieg's chilling drama Touching The Void is still leaving audiences cold. Here's why this book-based adaptation is worth booking:
Photo: Tristam Kenton
Adapted by David Greig, Touching The Void – based on Joe Simpson's 1988 memoir of the same name – is a truly remarkable tale. Its pages recount a near-fatal mountaineering expedition undertaken by Simpson and Simon Yates three years previously: an effort the reach the summit of the then untouched west face of Siula Grande in the Peruvian Andes. Reaching 6,344-metres, the adventure was set to be thrilling, but perilous. It was upon successfully completing their ascent, with which they experienced delays due to poor weather conditions, that the pair were confronted with further symptoms of a storm.
Having already run out fuel for their stove, Simpson (played by Josh Williams) and Yates (Edward Hayter) were without means of devising safe drinking water. It was imperative that they make their descent as quickly as possible, with plans to reach a glacier almost 3,000 feet below. In the process, Simpson slipped and fell – breaking his right leg and crushing his tibia into his knee joint. It was up to Yates to lower Simpson off the North Ridge, but with darkness falling, inadvertently let him down from a cliff. Because of Yates' vantage point though, he was unable to communicate with Simpson; they were now in mortal danger.
Being tied together, it was clear that Yate's belay seat would give way imminently. In order to save his own life, Yates made the terrifying decision to sever the rope. Suffering from hypothermia and unimaginably exhausted, Yates continued his descent, sure that his best friend had died. Simpson however, was still alive. Despite having just plummeted 150 feet into a deep crevasse (in addition to his other injuries and ailments), he was forced to do the impossible in order to survive.
Touching The Void premiered in 2018, at the Bristol Old Vic. Now running at the Duke of York's Theatre until the 29th of February 2020, Greig's production has received wide critical acclaim. Framed through the lens of Simpson's wake, the play is motored by the voice of his sister (Fiona Hampton). A means of maximising the hallucinatory state Simpson reaches in the latter stage of his solo journey back to base camp, his siblings' encouragement helps him to keep going. Also, Ti Green's design has been heralded for its inventiveness, particularly in his ability to craft the sheer might and textures inherent to the Siula Grande. A wildly unique and adrenalin-inducing drama, Touching The Void is not to be missed.
Read our review of Touching The Void, here.