Quick Facts
Largest Ticket Inventory
in the West End
Real time
seat availability
Choose
your seats
Your booking is processed directly into the box office reservation system
This show is now closed.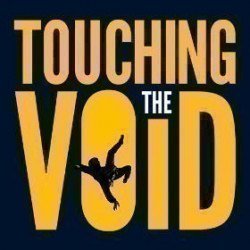 Touching The Void
Tickets
4.4/5
-

based on

44

reviews
About Touching The Void
Performance Times
Touching The Void description
Touching the Void – Adapted from Joe Simpson's terrifying book
When the World Premiere of this splendid play from the Royal Lyceum Theatre Edinburgh, Bristol Old Vic, Royal & Derngate & Fuel was first staged it caused a stir. Now Touching the Void, based on Joe Simpson's fantastic book and adapted by David Greig, is heading for the Duke of York's theatre in late 2019.
Joe Simpson's memoir is called Touching the Void, and it's an international bestseller. The film won a BAFTA. So what's the story? Life can deal you an amazing hand. When it happens to you, do you play it slow and steady, bluff like mad and hope for the best, or just go for it? When you look death right in the face, do you have the strength it takes to choose life? This fantastic piece of stage entertainment charts Joe's massive struggle for survival on the terrifying Siula Grande mountain in the Peruvian Andes, way back in 1985, and it's an incredible tale.
If you think you'll enjoy a complex, intelligent exploration of one man's mental battle as he teeters on the edge of death, this is for you. If you love a story where hope triumphs over despair, here you are. This is what happens when one man finds himself trapped in a crevasse from which he can't escape. But there's more. Joe isn't alone. Simon Yates, his friend, is also out there, balancing on a lethally unstable snow cliff, being thrown around by massive winds and totally desperate to rescue his mate.
While Joe Simpson dangles from a rope far below their strength fails, the risk of falling to their deaths steadily increases, and a massive storm threatens their lives. Simon has to decide whether to cut the rope and risk Joe's life. Does he do it?
This fantastic adaptation is down to the Lyceum theatre's Artistic Director David Greig, an award-winning writer in his own right. This is the first stage adaptation of this super-tense adventure, a play that's really rich in psychodrama and a masterpiece of sheer, tense suspense. And the Artistic Director of the Bristol Old Vic, Tom Morris, directs in his usual visionary way. Result!

The cast includes Fiona Hampton as Sarah, Edward Hayter as Simon, Patrick McNamee as Richard and Josh Williams as Joe, and the creative team comprises the Designer Ti Green, Lighting Designer Chris Davey, the Composer & Sound Designer Jon Nicholls, the Movement Director Sasha Milavic Davies and the Casting and the Assistant Director Evan Lordan.
Who is this show for?
Because it contains frequent strong language and depictions of injury and death, this show is for adults only. We recommend it for people aged 15 or more.
Touching The Void reviews
4.4 out of 5
based on

44

reviews
What to expect:
Acting
Music
Costumes
Story
Lighting
Recommended for:
Anyone (55%)
Families (61%)
Teenagers (66%)
Couples (75%)
Theatregoers (82%)
Latest customer reviews

Uplifting
Based on Joe Simpson's book, I had wondered how this might work as a theatrical piece, but work it most certainly did. Superb acting by all 4 actors, and brilliant writing and theatrical craft turned what had been a monologue in the book into a vivid theatrical event, as Joe's thoughts and inner demons were acted out, along with re-creating the action on that fateful mountain side and deep crevasse. Gripping , heart-and gut-wrenching at times, but ultimately uplifting. A tale of the triumph of the human sprit. You don't have to be a climber or mountaineer to get a lot from this production, but if you are, it will give you added insight. Some strong language - absolutely in keeping - means this isn't for the young, but otherwise I'd recommend it to all.
Reviewed on 01 March 2020 by David, Maldon, United Kingdom

See this show while you can!
A truly extraordinary show. A real life story of unbelievable human courage.
Reviewed on 24 February 2020 by Andrew, London, United Kingdom

Touched by the Void
The show was almost ruined by been sold seats that were restricted view. They really were zero view. I ended up having to pay additional to be moved to seats that had a view. After the move, me and my wife totally enjoyed the show, which helped by knowing the story and references to other climbing stories throughout the early 20th century right through to the actual story. A really good show
Reviewed on 23 February 2020 by Russell, Eastbourne, United Kingdom

A shaky start, improves close to the interval
Reviewed on 20 February 2020 by Garrie, London, United Kingdom

Disappointing overall
Disappointing overall
Reviewed on 20 February 2020 by Steve, Middleton In Teesdale, United Kingdom

Just wonderful! Gripping, touching and great entertainment
What a fantastic show and brilliant athletic acting! So pleased we got to see it, and to hear John Martyn's 'May you Never' over and over again just divine!!
Reviewed on 19 February 2020 by Sally, Brentwood, United Kingdom

excellent production
Reviewed on 13 February 2020 by Hilary Jane, Sevenoaks, United Kingdom

Very well done - so atmospheric
Really enjoyed the show. The lighting was brilliant and helped to capture the atmosphere of what would have been going on. Got goosebumps a couple of times and a couple of tears! Loved the humour as well! Stuck well to the true story - as written in Joes book.
Reviewed on 12 February 2020 by Phillipa, Derby, United Kingdom

Be prepared for incessant bad language.
Reviewed on 06 February 2020 by Francesca, London, United Kingdom

a clever staging of a challenging subject
A complex true story cleverly played and told in a form and style that did not undermine the facts.
Reviewed on 29 January 2020 by Charles, Liverpool, United Kingdom

An impossible production brought to life
A brilliant production that gives stage life to an impossible story
Reviewed on 22 January 2020 by Keith, West Byfleet, South Africa

Fantastic theatre
Fantastic theatre and inspirational concerning the human spirit
Reviewed on 18 January 2020 by Michelle, Tunbridge Wells, United Kingdom

Great adaptation onto stage. Very clever and well put together.
Reviewed on 16 January 2020 by Matthew, Earlsfield, United Kingdom

Recommended
Reviewed on 15 January 2020 by Julia, Upminster, United Kingdom

Brilliant on-stage dramatisation of the story.
Reviewed on 13 January 2020 by Finlay R, Basildon, United Kingdom

No conflict
Any play should have human interaction and tension at its core but the story of how a climber cut the rope to his climbing partner to save himself (he had little choice or suffer a pointless death himself) avoided the main question and concentrated on the story of how the abandoned climber made it back to camp. Why no confrontation between the two men at any point. Admirable as the acting was especially showing Joe Simpson's superhuman effort to reach safety, the outcome is so well known by now that the way home seemed interminable for this member of the audience. By sticking so closely to the facts of the real life story any potential true drama was lost and the play became a trial of endurance for both actor and this member of the audience whose eyes closed more than once over the two hours. This is an example of how a dramatic set and excellent acting does not a play make. A less than gripping afternoon in this pretty uncomfortable theatre.
Reviewed on 09 January 2020 by Graham, Hampton, United Kingdom

well worth travelling from Ireland to see!
Read the book, saw the movie and was intrigued as to how it could be staged. Excellent and realistic production, you just have to imagine that you are there and accept it for what it is. Embrace it.
Reviewed on 09 January 2020 by Fenton, Drogheda, Ireland

Long and laboured story of a climbing accident
Far too long
Reviewed on 04 January 2020 by Tohun, London, United Kingdom

Gripping
Reviewed on 03 January 2020 by Andrew, West Bridgford, United Kingdom

Imaginative adaptation
Reviewed on 01 January 2020 by Jackie, London, United Kingdom

A challenging story to put onto a stage, but they did it very well!!
Very well planned and though out theatre production. It is a joy to see if you are a climber and know about the book it is based on or if you are no climber and the story is new to you. Very unbiased representation of an at the time very debated subject. Well done and a great night out! Very recommended!
Reviewed on 30 December 2019 by Carolina, Sidcup, United Kingdom

Good but could be so much better
Worth seeing for the story but there are a few odd scenes
Reviewed on 28 December 2019 by Clara, London, United Kingdom

Good story
Over all we enjoyed it and thought the mountain scenes were good. From our seats in the stalls we struggled to see the action on the stage. We thought there was a great deal of swearing - it must have been a lot for two 21year olds to actually comment on it!
Reviewed on 24 December 2019 by Juliet, Chalfont St Giles, United Kingdom

Sheer heroism.
An innovative set and a superbly acted piece portraying an unlikely feat of heroism which miraculously ended in triumph.
Reviewed on 23 December 2019 by Edward, London, United Kingdom

Highly theatrical rendition of Joe Simpson's epic story
The visitor is transported to the Andes to experience Simon's rope/cutting dilemma first hand. The set was very evocative of the unforgiving terrain. Tension was interspersed with humour. Well acted by actors can climb!
Reviewed on 22 December 2019 by Carol, Paddock Wood, United Kingdom

Did not live up to the review hype
Interesting interpretation and it most certainly did have some memorable moments but they were few. in essence, it was a little disappointing.
Reviewed on 14 December 2019 by Barbara, Witsloot, United Kingdom

Amazing story, amazing effects
Though knowing the story,through the book and film,this production still had many moments of great tension. The only jarring moments for myself were of the screaming sister. A bit too much of a theatrical conceit.
Reviewed on 01 December 2019 by Sandra, London, United Kingdom

Inventive
Outstanding narration of an epictale of survival. It sucks you in and makes you feel like you can also touch the void.
Reviewed on 30 November 2019 by Michael, Dublin, Ireland

Holding back the emotions
The quality of the acting is astounding, the creation of the set inspirational and at the end of the show the ability to get up and walk out is nigh impossible. A
Reviewed on 25 November 2019 by Susie, Bournemouth, United Kingdom

Experience the full emotion of an extraordinary tale
I was wondering how this story would translate and come alive as theatre. Boy how it worked! Very imaginative use of theatre set, narrative and wonderful acting to really draw the audience in . You trully experience the full emotion of this extraordinary tale of courage and endurance.
Reviewed on 24 November 2019 by Alison, Nottingham, United Kingdom

TOUCHING THE VOID is an amazing true story of Mountain, the human spirit and of people facing enormous life challenges and I know it well. I was interested to see how on earth they could tell it on a very small stage! The introduction used Joe Simpsons(real or imaginary)unpleasant sister to carry the story and to explain the "why and how" of the pair being on the Mountain in the first place + an analysis of "Climbers" and their psyche!! It was disconnected and confusing to find the opening set was at Joes funeral- when he wrote the book when he got back and gives Inspirational talks to this day!- so we know he is still very much alive! That was explained later as the play progressed. I was pleased to see the play acknowledged how Simon SAVED Joes life by his actions on the "hill" and how Joe also saved his own life by his own determined will and action.The construction of the mountain and the climbing on the stage was good and quite cleverly done. All in all a good evening.
Reviewed on 24 November 2019 by Lindsay, Cambridge, United Kingdom

great show
Reviewed on 18 November 2019 by Stephen, Essex, United Kingdom

Extraordinary story
Reviewed on 17 November 2019 by Howard, London, United Kingdom

Very exciting and stylish
Reviewed on 16 November 2019 by Harriet, Eye, United Kingdom
27

Feb
2020

Exciting Things To Come At The Duke Of York's Theatre
by Josephine Balfour-Oatts | Thursday, February 27 2020, 09:26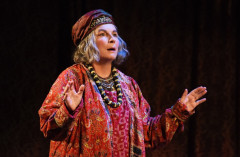 Jennifer Saunders is set to take the West End by storm in less than two weeks time. Starring in Blithe Spirit, the production is just one of three sensational shows to be staged at the Duke Of York's over the coming months.
Exciting Things To Come At The Duke Of York's Theatre
06

Jan
2020

From Page to Stage: TOUCHING THE VOID
by Josephine Balfour-Oatts | Monday, January 6 2020, 09:04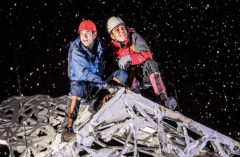 David Grieg's chilling drama Touching The Void is still leaving audiences cold. Here's why this book-based adaptation is worth booking:
Photo: Tristam Kenton
From Page to Stage: TOUCHING THE VOID