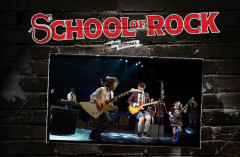 Andrew Lloyd Webber just released a fully immersive 360° youtube video for "You're in the Band", one of the songs featured in his new Broadway musical, School of Rock – The Musical. The Youtube video allows you to navigate all angles of the classroom for an immersive experience of the song.
We've seen this technology used in sports videos but this is the first time it is applied to a musical number.
Andrew Lloyd Webber said, "I am proud that School of Rock is not just the first musical to take this leap into the future, but that this video of "You're in the Band" is the first time anyone has used the 360 degree medium in this way. It could open a lot of doors."
Watch the video below. You can navigate the video using your mouse on your desktop or your fingers on your mobile or tablet.