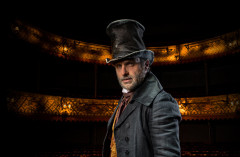 The Old Vic theatre had us all guessing when they teased they had signed up a major star to play Scrooge in their highly acclaimed production of A Christmas Carol. It's already played to a quarter of a million people, with different lead actors, in London and New York over the last three Christmases and this year it will be broadcast on line.
All has been revealed and the actor in question is Andrew Lincoln best known for starring in 7 seasons of the US TV hit THE WALKING DEAD.
Director Matthew Warchus says –
We made a pledge last spring that we would still present it, in some form or other, even in this most challenging of years. I am delighted to announce that Andrew Lincoln has joined us in what must surely be one of the most ambitious and complex pieces of live-streamed theatre attempted in the pandemic so far. In doing a project of this size we don't expect to be able to make any profit for the theatre but rather we will be continuing our mission of staying connected to audiences of all ages, providing much-needed work and income for dozens of freelancers, and generally celebrating the important role live theatre has always played in bringing us together to share amazing stories. I hope you can join us.
Meanwhile at the Charing Cross Theatre they've just announced that West End stars Gina Beck and Neil McDermott will write and star in the world première of THE ELF WHO WAS SCARED OF CHRISTMAS.
Here's what they're saying –
Meet Figgy and Cupcake, two of Santa's Christmas elves. For 11 months of the year, Cupcake is a bright and bubbly bundle of joy. But come December 1st, all that changes - because Cupcake is The Elf Who Was Scared of Christmas. Come and join Figgy in an original Christmas story as he tries to help Cupcake overcome her fear of Christmas. Using the power of imagination, and with a little help from you, will he be able to remind her of the importance and magic of Christmas? A journey of self-discovery, friendship and Christmas cheer, ending in an all-singing, all-dancing musical celebration featuring some of your favourite Christmas songs.
Neil McDermott and Gina Beck met over 20 years ago performing with the National Youth Music Theatre. Unbelievably, their career paths haven't crossed since! They now live in the same village with their families and decided to come together during these unprecedented times to create an original theatre show for young people that could be performed under the current restrictions. With two children each, they really wanted to make something for small people and their families to ensure that Christmas this year is as magical as ever.
Gina's West End leading roles include: Miss Honey in 'Matilda The Musical', Magnolia Hawks in 'Show Boat', Glinda in 'Wicked', Christine Daaé in 'The Phantom Of The Opera' and Cosette in 'Les Misérables'. Neil is best known for playing Ryan Malloy in 'EastEnders'. His West End leading roles include: Philip Stuckey in 'Pretty Woman', Lord Farquaad in 'Shrek The Musical', Chief Weasel in 'The Wind In The Willows' and Captain Von Trapp in 'The Sound Of Music'.
THE ELF WHO WAS SCARED OF CHRISTMAS. runs at Charing Cross Theatre from Tuesday 8th - Wednesday 23rd December.
There's more Elf fun in West London too where over at Riverside studios in Hammersmith you can see DEAR SANTA LIVE.
Here's their low down –
From the author of the well-loved children's book Dear Zoo, Rod Campbell, comes Dear Santa and it's LIVE! Santa is determined to deliver the most fantastic Christmas present to Sarah, but he doesn't get it right straight away! With the help of his cheeky Elf, he finally settles on something 'perfect', just in time for Christmas Eve.
Rod Campbell is a Scottish writer and illustrator of children's books. Best known for his classic lift-the-flap title Dear Zoo, which has sold over 2 million copies worldwide, he is also the creator of the much-loved preschool character Buster. His credits include ABC Zoo, Oh Dear!, It's Mine!, I'm Hungry!, I Won't Bite!, Baby's Busy Book, My Presents, Noisy Farm, Farm Babies, Here's Buster, But Where's Teddy and Buster Gets Dressed.
Dear Santa Live is recommended for audiences between 2 and 6 years old and you can see it at Riverside Studios 2– 24 December 2020