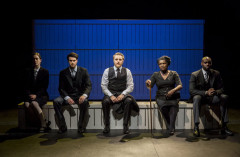 Today, on Shakespeare's birthday, Cheek by Jowl, my favourite Theatre company, offers a free livestream of their production of my favourite of his plays, Measure for Measure, on YouTube for 30 days. It's Directed by Declan Donnellan who has inspired me more then any other director.
On this occasion he's working with Moscow's Pushkin Drama Theatre, so it'll be in Russian with subtitles but despite this I'm confident you'll see the traits that I most admire. Basically he strips things back and back until you get an exhilaratingly clear production which means you discover new things, even about plays you know very well.
In Measure for Measure a devout young woman is offered the opportunity to save her brother from execution if she has sex with a powerful man.
You can imagine how immediate this story of corruption in government felt when it was staged in Moscow.
Here's some press quotes to entice you further:
"Vivid and uncommonly moving"
The New York Times
"With his unique brew of laughter and high seriousness, in Measure for Measure, Shakespeare dissects the nature of government, love, and justice - asking unsettling questions about how we are governed, exploring the complex relationships between those in power, and ordinary citizens"
Kristina Matvienko
"A shattering portrait of contemporary Russia"
Novaya Gazeta
"The production explodes as a real thriller, piercing the heart of the entire audience"
Mir 24
Measure for Measure is suitable for ages 16+
All performances can be accessed here - https://www.youtube.com/user/CheekbyJowl