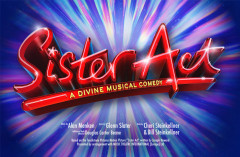 Sad but necessary. Jamie Wilson and Whoopi Goldberg, the producers of Sister Act – The Musical, have announced that thanks to Covid, the West End run of the brilliant Sister Act, due on stage at the Eventim Apollo, has been rescheduled. The new run starts on 19th July 2022 and ends 28th August 2022. This means the wonderful Whoopi Goldberg won't be on stage after all, although she's still involved as a producer.
As Whoopi Goldberg herself said, "Sister Act is near and dear to my heart and I'm disappointed that I will be unable to perform in this production under the circumstances. However, my producing partners and I will continue to work towards mounting a fantastic production, with an amazing new cast and we look forward to presenting it when it can be done safely for everyone onstage, behind the scenes and in the audience."
What happens if you've already bought tickets for the 2021 run? Not a problem. You won't need new tickets. The dates and times of the current shows will be changed automatically and we'll transfer your tickets to the new dates.
About the show – The joy of Sister Act!
Welcome to the Broadway and UK smash-hit musical Sister Act - in London for 2022 at the Hammersmith Apollo Theatre. The original plot has been updated so the action takes place in the present, and it remains a dazzling, awesomely funny on-stage treat.
This is a brilliant tribute to the incredible power of friendship, sisterhood and music, weaving the hilarious tale of a dodgy disco diva, Deloris, who witnesses a murder that changes her life forever.
Safely disguised, under protective custody in a convent and surrounded by nuns, Deloris soon falls foul of the stern Mother Superior. But when she joins the choir, everything changes.
The show is rich in gorgeous soul, disco and Motown-inspired tunes by the Tony award and 8-time Oscar winner Alan Menken, who thrilled us with his work on Disney's Aladdin and Enchanted. The result is a joyful and very funny romp you'll remember for years. Definitely not to be missed.
Fellow Producer Jamie Wilson said "This new version of Sister Act - The Musical has been in development for several years now and both Whoopi and I are committed to launching this celebratory, joyous and life affirming production with audiences in the UK. We can't wait for everyone involved in the show to get back to doing what they love. We are now in the process of putting together a star-studded cast and will be able to share this news with you soon. We look forward to us all supporting and celebrating theatre when we return to the stage. It will be worth the wait".