2 Queen Caroline Street, London, W6 9QH GB
Quick Facts
Largest Ticket Inventory
in the West End
Real time
seat availability
Choose
your seats
Your booking is processed directly into the box office reservation system
Sister Act
Tickets
Opens: Tuesday, 19 July 2022
Booking until: Sunday, 28 August 2022
Starring: Brenda Edwards, Jennifer Saunders
Tickets from £31.00
Book tickets
Information
Cheap Tickets
News
About Sister Act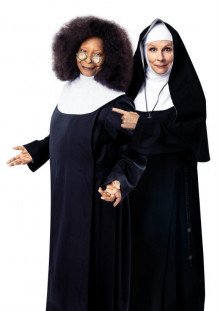 Performance Times
Opens: Tuesday, 19 July 2022
Booking until: Sunday, 28 August 2022
Starring:
Brenda Edwards, Jennifer Saunders
Sister Act description
Sister Act the Musical – Divine Comedy!
A regional premiere in 2006 in Pasadena, California, set this fantastic musical's reputation in stone. Sister Act the Musical has been on tour more or less ever since, alighting in London during 2009 at the Palladium, starring Patina Miller and produced by Stage Entertainment and Whoopi Goldberg. It has played Broadway, now it's back in Britain to thrill us all over again.
What's the story? When the quirky soul singer Deloris Van Cartier, originally played by Whoopi Goldberg in the film, sees her gangster lover Vince LaRocca, originally Harvey Keitel, murder someone, she goes into a witness protection programme disguised as a nun, sent to a convent in California. It's a calm and quiet place but Deloris soon changes that, and to keep her out of trouble she's sent to join the choir. But the mischief continues. Deloris transforms the choir into a soulful act that starts to draw attention...
This splendidly fresh new production comes from Jamie Wilson and the real Whoopi Goldberg – what a treat - is going to star in the London show, along with our very own Jennifer Saunders. It's the latest in a constant run of fun that has seen Sister Act play in numerous countries, translated into eight languages and enjoyed by more than six million theatregoers.
This time around Jamie Wilson and Whoopi Goldberg have changed the starring character, Deloris Van Cartier. In the past her age has been twenty three, but they wanted to make her older. The reason's a good one – changing the character means they've also been able to change the stakes, which are just as high but different, and also make Deloris more irreverent and even funnier.
At the end of the day this updated story is a tribute to the power of friendship, the strength of sisterhood, and the amazing songs that bring them together. You'll adore seeing the suspicious Mother Superior – Jennifer Saunders - observe as Deloris bonds with the choir members through the power of music and unexpectedly rediscovers her own voice at the same time.
The creative team is as hot as the players. The Tony winner and 8 times Oscar winner Alan Menken, loved for the scores of many smash hit shows including Disney's Aladdin and The Little Mermaid, is responsible for the music. Jamie Wilson took his rightful place in the list of the top 100 most influential people and partnerships in the theatre industry's The Stage magazine for 2019 and 2018. Whoopi Goldberg herself is the proud owner of an Emmy, Grammy, Oscar and Tony, a rare thing in itself. At one point she was the world's highest-paid actress. All of this, plus a venue that's simply magnificent, make up one of the most fun, funny and entertaining theatrical events of our times. Grab tickets when they're ready – there are just 39 performances on the cards!
Who is this show for?
Comedy-violence and low-key sexual innuendo mean this brilliant musical is recommended for people aged 10 or more.
Important Information
PLEASE NOTE: Brenda Edwards will be playing the role of Deloris Van Cartier at all Thursday matinee performances.
Next Performances for Sister Act at the Hammersmith Apollo (Eventim)
Tuesday
19th Jul 2022
7:30pm
Wednesday
20th Jul 2022
7:30pm
Thursday
21st Jul 2022
7:30pm
Friday
22nd Jul 2022
7:30pm
Saturday
23rd Jul 2022
2:30pm
Saturday
23rd Jul 2022
7:30pm
Sister Act cheap tickets
We have a great selection of cheap Sister Act tickets. We can help you save up to 70% on Sister Act tickets! If you're looking for discount theatre tickets have a look below for our latest offers for Sister Act at the Hammersmith Apollo (Eventim).
22

Feb
2021

Sister Act postponed until 2022!
by London Box Office | Monday, February 22 2021, 09:28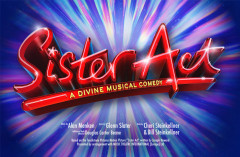 Sad but necessary. Jamie Wilson and Whoopi Goldberg, the producers of Sister Act – The Musical, have announced that thanks to Covid, the West End run of the brilliant Sister Act, due on stage at the Eventim Apollo, has been rescheduled. The new run starts on 19th July 2022 and ends 28th August 2022. This means the wonderful Whoopi Goldberg won't be on stage after all, although she's still involved as a producer.
Sister Act postponed until 2022!
24

Oct
2019

Sister Act, staring Whoopi Goldberg, Makes a Surprising return to the West End
by Phil Willmott | Thursday, October 24 2019, 09:00
The West End is abuzz this morning with the news that the hit musical SISTER ACT will return to the capital next year starring movie actress Whoopi Goldberg.
Sister Act, staring Whoopi Goldberg, Makes a Surprising return to the West End