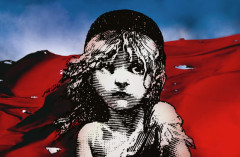 Need a post-betwixtmas boost? Fear not, we've the perfect antidote – an empowering selection of show tunes from some of the West End's most popular musicals. 2020 starts here.
Now the eighth-longest running musical on the West End, Mamma Mia! is based on Swedish pop-band, ABBA's sensational catalogue. Sophie has three potential fathers and one wedding to plan, which conversely is less of a Greek tragedy and more of a Grecian idyll.
The Winner Takes It All
Start your year on a high. Manifest its talk of victory. Embrace ABBA's poetry of chance, and find comfort in the chaos of things. Though, instead of pining after another, know that you are whole on your own. No 'better' half need complete you: you are number one.
Dancing Queen
You're rock-n-roll royalty – the greatest of groovers. Close your eyes, feel the beat from the tambourine and just let loose.
Now under the wing of Cameron Mackintosh, this phenomenal musical takes its shape from Victor Hugo's French historical novel of the same name. Now at the newly refurbished Sondheim Theatre (formally Queen's Theatre), experience Les Misérable as never before.
One Day More
Your Thursday theme-tune. Just one more day before the weekend. You've reached the barricades of freedom (or Friday). Don't lose faith, there's a new world for winning!
This multi-award-winning musical sees Roald Dahl's beloved story translated into song by Tim Minchin and Dennis Kelly. A true testament to the young talent of the UK.
Revolting Children
Don't be afraid to get messy this year. Go on - break the rules, be a little bit naughty. Success is born of failure.
Inspired by the original Disney animation, follow Simba on his journey to become King of the Pridelands. This theatrical phenomenon is quite simply, electrifying.
I Just Can't Wait To Be King
Take charge of your destiny. You are the author of your life – this is your year. Let 2020 be a marker of the time you didn't take no for an answer.
Based on Gregory Maguire's 1995 novel Wicked: The Life and Times of the Wicked Witch of the West, Wicked is an alternative reimagining of L. Frank Baum's famous The Wonderful Wizard of Oz. A tale of an unlikely friendship that makes for a musical experience like no other.
Defying Gravity
The perfect finale. Highly-charged and positively explosive in its delivery, this song welcomes change. Take Elphaba's lead; enter 2020 with a sense of adventure and don't be afraid to leap into the unknown.