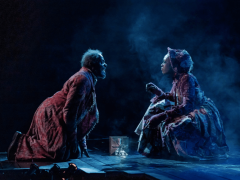 How being more Scrooge can inspire you to do good this winter, plus a selection of our favourite adaptations of A Christmas Carol - arguably, the nation's most beloved seasonal story.
Now firmly in the throes of the festive season, London's theatres have become festooned with Christmas shows. Its streets are sparkling – lit up and bustling with jubilant folk, made merry by steaming mugs of spiced wine. People parade in their droves, with hands weighed down by shopping, and hearts made heavy by the complexities of familial choreography. Amid their restlessness, the severity of their intent – the necessity of their to-do lists, can be heard the faint cries of those curled about their feet: "Spare any change please?" Says one, grey with cold. "Help the homeless" says another, arms laden with copies of The Big Issue.
Britain is currently experiencing a national crisis, with the numbers of homeless people in the capital hitting a record high this year. While the dangers of sleeping rough are insurmountable at the best of times, the continuing drop in temperature presents further health risks to vulnerable persons. Similar juxtapositions of the rich and poor were pivotal in inspiring Charles Dickens' seminal novella, A Christmas Carol. When the elderly, well-to-do miser Ebenezer Scrooge is visited by the ghost of his former business partner, Jacob Marley – in addition to a ghoulish Yuletide trio – his selfish demeanour is softened, and his character reformed.
Since its publication in 1843, A Christmas Carol has long been a hymn of wintertime Britain. Now, Dickens' tale seems more relevant than ever. Britain's homelessness epidemic is truly our Ghost of Christmas Present, so make like Scrooge – newly transformed – and be a champion of generosity and kindness this jolly season.
Here are our top three Scrooge's to see on stage this Christmas:
The Old Vic
Jack Thorne's adaptation of A Christmas Carol returns for the third year running, with Paterson Joseph in the title role. Decorated with critical acclaim, Thorne's evocative depiction of mid-Victorian London is not to be missed.
Wilton's Music Hall
Renowned children's author Piers Torday breathes new life into Dickens' classic, translating its themes into a more modern language of gender inequality. For the first time, its protagonist will be reimagined as a woman. Here lies Scrooge's sister, Fan (who, as Marley's widow has proceeded to inherit his moneylending business). This newfound responsibility brings with it a host of misanthropic, narcissistic personality traits – that is, until the winds of change ride in on the dark of night, seven years later.
Immersive LDN: Scrooge's Parlour, Mayfair
Pull up a chair with Ebenezer Scrooge as he plays host in this immersive adaptation. Now in its 9thyear, the production sees Hartshorn – Hook Productions team up with Flavourology to create an innovative dining experience. The result is a two-course feast, with ingenious twists on beloved Christmas classics (both in terms of its storytelling and its sumptuous cuisine).
Please see here for more information on helping the homeless this winter: https://www.crisis.org.uk/crisis-this-christmas/