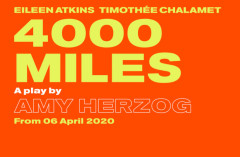 Julia Herzog's Pulitzer Prize nominated production 4000 Miles will be revived at London's Old Vic in April 2020, starring Timothée Chamalet and Eileen Atkins.
The Old Vic's 2020 Spring Season sees Amy Herzog's 4000 Miles brought to life by Eileen Atkins (The Crown) and Timothée Chalamet (Lady Bird; Call Me By Your Name) under the artistic eye of director Matthew Warchus. Nominated for a Pulitzer Prize for Drama in 2013 – for which it was also a finalist – this dramatic comedy first premiered Off-Broadway in 2011, before running again the following year.
4000 Miles takes as its subject the relationship between the character of Leo (Chamalet) and his Grandmother Vera (Atkins), when, after suffering a major loss while on an ill-fated cross-country cycling trip, he pitches up announced on her doorstep. Based in Greenwich Village, Manhattan, Vera's apartment becomes a place of solace for Leo. Fashioned from Herzog's own Grandmother, Leepee, Vera's image takes its shape from her history, mannerisms and turn of phrase. Feisty and positively electric in her political beliefs, she crackles as a member of the Communist Party. Leo's story also takes familial inspiration, with his grief influenced by the real-life experiences of Herzog's cousin.
The character of Vera has seen the stage in another life, having initially appeared in Herzog's critically acclaimed play After The Revolution. As something of a companion piece to her earlier work, 4000 Miles gives focus to the internal and external distances that stretch between Grandmother and Grandson – both are on the threshold of their lives, it's just that one is growing up, while the other is growing old. With seventy years between the pair, motifs surrounding age, death and family begin to make themselves known. The result is a delicate one, capturing – due to Herzog's skilful storytelling – both individuals as their opposing personalities collide, before coming together once more.
Running for just over six weeks, this revival is already billed as one of 2020's must-see productions. It's staging comes in close behind Jack Thorne's (Harry Potter and the Cursed Child, and more recently Philip Pullman's His Dark Materials for HBO) widely regarded adaptation of Dickens' A Christmas Carol, which returns to the Old Vic after its premiere in 2017 and a sell-out re-run in 2018. Starring Paterson Joseph as the iconic Ebenezer Scrooge, Thorne's reworking has received an enthusiastic critical response for the third year in a row.
4000 Miles however, directly follows on the heels of Endgame, Samuel Beckett's darkly comic tale of a family trapped in a bare, cold room in the aftermath of an unnamed apocalyptic disaster. Alan Cumming and Daniel Radcliffe head a cast of four as the infamous double-act, with the production presented alongside one of the playwright's lesser known shorts Rough for Theatre II. Tis clearly the season for tremendous theatre.