For the Southwark venue which has been used to presenting fun, quirky and thoroughly enjoyable productions, there has lately been something of a blip in proceedings, with Yeast Nation (which is playing in the large performance space) having been savaged by critics earlier in the week. But here, the effort by Richard Baker and Charlie Ryall possesses considerable charm and originality. Directed by Shelley Williams, each of the 6 main characters has their moment to shine, during which their humdrum problems and disappointments are examined and picked-over under the spotlight, often resulting in insightful and amusing observations presented from multiple viewpoints of the same event. The device jars a little initially, but once established, the rhythm of the approach serves the narrative well and allows individual perceptions to be effectively explored through subtle observational and situational humour. The temptation would be to overplay key elements for laughs, but in the main the players are disciplined enough to avoid the obvious, although there were moments which came perilously close.
Waitresses recount situations where customers tell them they should smile more, request ice in their Malbec, or most ridiculously of all, assert they love a sophisticated Chardonnay but are allergic to Chablis! These moments are brutally funny and surely the bête noire of sommeliers the world over. The wine bar owned and run by put-upon patron LJ (a confident opening turn from Nancy Zamit) is no exception. There's the painfully awkward love pairing of Maggie and Oliver (Charlie Ryall tackling her own material with Niall Ransome) which provides the piece with a burgeoning romance of toe-curling stiltedness, but theirs' are some of the best scenes. Stephen Hoo plays Joe an alcoholic patron who meets a surprisingly macabre end, Wendy Morgan is Ezster the seemingly timorous Eastern European chef worried for her son and Sam Kipling the larger-than-life, campy, good-hearted George.
Despite wonderful moments of humour, the audience will be elbowed out of their collective comfort zone with scenes involving bullying, xenophobia, physical violence and death — all crammed into a 24 hour period on Justin Williams' wine bar set composed of exposed brick, sleeper beams, and brightly coloured seating. The musical accompaniment is courtesy of Baker himself on keyboard together with Jeremy Barnett on percussion and Matt James on cello and whilst the tunes aren't Disney-hummable, there's certainly an air of Stephen Schwartz/early Sondheim style at key moments.
It's good to see Southwark Playhouse returning to form with this offering and that the team is still eager to take risks, despite some recent knock backs. The vibrancy and diversity of London's theatre scene depends on such houses and their appetite for diverse and adventurous storytelling.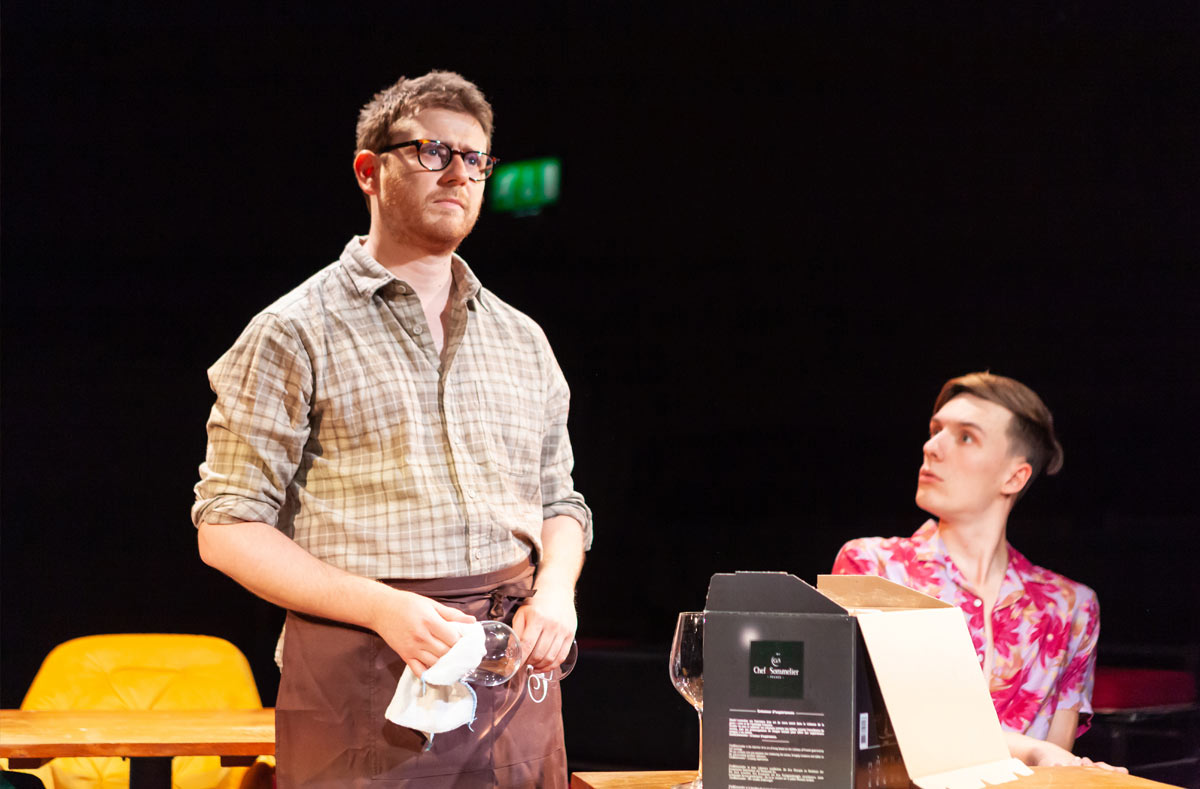 Niall Ransome and Sam Kipling in Tasting Notes. Photo Chris Marchant