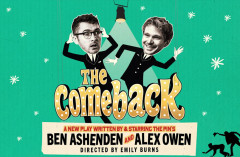 We haven't heard much from the producer Sonia Friedman over the last few months. Corona has made reopnening her mega international hit HARRY POTTER AND THE CURSED CHILD impossible for the time being.
But it's great to hear she's back and bringing a wonderful new comedy to the West End.
In a recent press release she's shared some of the issues she has faced -
Having shuttered 18 productions worldwide seven months ago, all of which remain suspended, I cannot fully – let alone profitably – re-open my shows. As well as government go-ahead (even just a date), we're still waiting for an insurance scheme to protect our profession in the months ahead. Producing shows this Christmas is a tightrope act, but The Comeback will go ahead – following approved Performing Arts working guidelines - and so long as government restrictions allow.
But also her excitement about the aptly titled THE COMEBACK -
- I am absolutely thrilled to be announcing The Comeback as SFP's return to the West End. I was excited about The Pin's debut play long before lockdown, but after the year we've had, it feels like the perfect tonic. More than ever, we need the laughter and emotional connection of communal experience – and frankly, nothing provides that like live theatre. The Comeback delivers all that and much more"
I haven't seen it but it sounds great. Here's how they're decribing what it's about:
Up-and-coming comics Alex and Ben have been booked in the warm-up spot for a beloved but fading double act's comeback tour. Neither duo are delighted to be playing to a sparse crowd in a sleepy, seaside town, but when it's revealed that a Hollywood director is in the audience, both acts glimpse a final chance for their big break. Cue sabotage, mistaken identity and full on farcical mayhem, as the performance descends into a desperate battle for the limelight. With the action alternating between offstage and on, and the tone between Noises Off and Morecambe and Wise's old-school charm, this is a warm-hearted, joyful, and dazzlingly funny new comedy.
And it's had some amazing reviews at other venues -
"One of the most dazzling comedy shows in Edinburgh" ★★★★ Guardian
"I had a knot in my stomach from laughing so much" ★★★★ Times
"A very classy, very funny show indeed" ★★★★ Telegraph
"Will simply make you laugh your socks off" ★★★★ Evening Standard
"This absurdist deconstruction of the sketch show is masterful" ★★★★ Sunday Times
"A bulletproof nugget of comic theatre" Guardian
I can't wait to see it at the Noel Coward Theatre where it will pay over Christmas from DECEMBER 8TH – JANUARY 3rd.