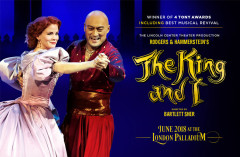 One of the shows I'm most excited about seeing this year is the London transfer of the last Broadway production of THE KING AND I.
I saw it at the Lincoln Centre and I promise you it's absolutely exquisite as directed by the rather brilliant Bartlet Sher. I know the piece really well having directed it myself and I was amazed at how Sher had made such absolute sense of it that many of the scenes in this production were a revelation.
It's a piece of hokum from the 1950s that's almost certainly not a realistic portrayal of the time and place where it's set, Thailand in the 1860s, but never the less it's hard to resist.
It's the story of how a recently widowed English governess travels with her young son to what was then known as Siam. Her job is to teach the King's children and almost everything begins as alien to her and very different to England. For a start the King has many wives and as a result many children. He's small minded and temperamental, in fact downright dangerous as he rants and dispenses death sentences. Never the less she manages to organise the palace, inspire the king to be a little more rational and as a result romance blossoms before tragedy strikes in the climactic scenes which will have you in floods of tears – in a good way.
The story is told with a host of glorious songs as you would expect from the songwriters of THE SOUND OF MUSIC, SOUTH PACIFIC, OKLAHOMA and CAROUSEL, Rodgers and Hammerstein.
So this show is the full package as a night out at the theatre. It has a romantic, exotic story, full of warmth humanity and adorable kids that was also quite radical at the time. Bear in mind that to portray an inter-racial love affair in 1951 in the US was very daring. It's a tribute to the appeal of this incredible show that that first conservative audience didn't take offence and it was and remains a massive hit.
The gorgeous songs include Getting to Know You, Hello, Young Lovers, I Have Dreamed, I Whistle a Happy Tune, Shall We Dance?, Something Wonderful and We Kiss in a Shadow.
Here's some additional information from the official press release -
"Ruthie Ann Miles will reprise her Tony Award winning and critically acclaimed Broadway role of Lady Thiang in the West End production of THE KING AND I, which opens at the London Palladium on 21 June (Press Night 3 July). She will join fellow Tony Award winner Kelli O'Hara (Anna) and Tony and Oscar nominee Ken Watanabe (The King) in the Broadway transfer of the multi award-winning production of Rodgers & Hammerstein's classic musical.
THE KING AND I has today also announced an extended booking period due to unprecedented demand for tickets until 8 September, which will now see the West End engagement of this classic love story run into the autumn.
Set in 1860s Bangkok, the musical tells the story of the unconventional and tempestuous relationship that develops between the King of Siam and Anna Leonowens, a British schoolteacher, whom the imperious King brings to Siam to tutor his many wives and children"
The US press have said -
"I'll doubt I'll ever see a better production in my lifetime." THE WALL STREET JOURNAL "Something wonderful indeed. Breathtaking. Exquisite. Remarkable." NEW YORK TIMES "Five stars. Grand and glorious." TIME OUT NEW YORK "A landmark production and a shot of purest rapture. I never wanted it to end." THE HOLLYWOOD REPORTER, and "Too beautiful to miss! An astonishing achievement." NEW YORK MAGAZINE
I couldn't agree more. Do book, I guarantee you a fantastic evening that will lift your heart.
It's at the LONDON PALLADIUM with previews from 21 June 2018