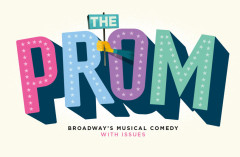 I had a particularly joyous Broadway evening last week when I the joined the New York casts from two current productions directed by Casey Nicholaw (ALADDIN & BOOK OF MORMON) on their night off, at the premiere of a third, THE PROM in previews at the Longacre Theatre, 44th Street.
This hilarious new show couldn't be more pertinent to these troubled times and is both a celebration of Broadway and a moving account of how much prejudice LGBT teenagers face in small town America.
It opens with four self-centred New York stars reeling from reviews of their disastrous opening night suggesting their narcissism is a big turn off for audiences and critics. They decide to publicly align themselves to a good cause to improve their profile and cynically conclude that supporting a lesbian in Indiana who's been banned from the school prom could be an easy option.
Cut to Indiana and we see how desperately isolated and miserable this young woman is. Just hoping life will quieten down, the last thing she wants is a bunch of Broadway attention seekers making matters worse.
Much hilarity ensues when the exuberant world of showbiz clashes with uptight small town morality.
Brooks Ashmanskas is gloriously camp as a New York leading man who can make any one liner or even a toss of the head irresistibly funny. Beth Leavel plays a diva who takes every opportunity to show everyone how she can stop a show with her incredible belt voice but struggles when she's not the centre of attention, Christopher Sieber is a strutting, vain thespian who's fond of reminding everyone he studied at Julliard and overestimates his charisma.
The three bicker and banter throughout, keeping the otherwise tragic tale bouncing along and the inevitable happy ending from being too mawkish.
In contrast Caitlin Kinnunen brings an irresistible quiet sincerity and dignity to the girl they try to help and the song she sings to her girlfriend "Dance with you" is destined to become a show-tune standard.
I was impressed with how everyone keeps the enemy town-folk sincere and Courtney Collins is given lots of stage time to put across her character's opposing point of view as chair of the PTA, a role that could have so easily been a caricatured villain.
Turn on the news and you'll see how deeply fractured the U.S.A currently is with its big city liberal intelligentsia worlds away from the baying disenfranchised at Trump rallies. This musical has the two sides of schizophrenic America collide head on and plays it for laughs, mocking, but not patronising either tribe in the smart, witty compassionate script by the author of THE DROWSY CHAPERONE, Bob Martin writing with clever lyricist Chad Beguelin.
The music by Matthew Sklar serves both worlds admirably whilst Casey Nicholaw, true to form, bolts big Broadway dance moments on to proceedings when ever he can.
The only criticism one could make is that the show doesn't know what to do about Trump. Based on a real life incident from before his presidency it's not clear when the musical is set. There's a reference of Trump clogging up social media and characters carry up-to-the-minute mobile phones but also wear costumes from the late 1980s. My guess is they're trying for a no-mans-land aesthetic that we can choose to date as we like.
The trouble is that Trump's such a presence in all our thinking that he can't just be mentioned in passing. He is the root of social division in today's America so to sideline him makes it feel like there's something missing and unaddressed at the heart of the musical.
One of things I loved about the evening was how many effeminate male teenagers there were loving the show. The type of guys who a few decades ago would have been bullied and ostracised were glowing with the chance to be unashamed, celebrated and fabulous amidst their couturiers of adoring class mates, taking selfies in the interval against the camp glittery back drops provided in the foyer for this purpose.
London and New York Theatre is buckling under the weight of so many current musicals about troubled teens winning the approval of their communities, such as the UK bound DEAR EVAN HANSEN, our own EVERYBODY'S TALKING ABOUT JAMIE and the forth coming BOY IN THE DRESS at the RSC and Styles and Drew's BECOMING NANCY, in development in New York. We're reaching saturation point but it's wonderful to think how empowering these shows must be to any sexually or gender conflicted youngster.
Shows and showtunes have always been an escape for gay teenagers. Come on Tump and Teressa May, change their lives, buy them all a ticket to a musical like THE PROM and make them feel loved.