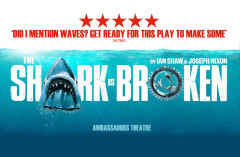 The Ambassadors Theatre used to be unavailable to producers whilst the percussive dance musical STOMP was in residence for years. Although that was a wonderful show it's good news for London theatre goers that they vacated the venue because if frees up one of the West Ends smallest venues for a series of fascinating and enticing productions that wouldn't be able to fill one of the bigger more expensive buildings.
It's just been announced that the comedy THE SHARK IS BROKEN will transfer from the Edinburgh Fringe. After years of producing very little of consequence that Scottish summer festival is currently proving a great starting point – first, the mega hit musical SIX moved south to take up residence in The Arts Theatre and now this tale of movie making mayhem looks to be equally as fun.
We're told the play imagines what happened behind the scenes on the blockbuster 1970's film JAWS, it transfers to the West End in May.
It should be authentic too as it's written by Ian Shaw (who is the son of original Jaws actor Robert Shaw) and Joseph Nixon, and stars the younger Shaw as his father alongside Demetri Goritsas as Roy Scheider (another of the original Jaws actors) and Liam Murray Scott as Richard Dreyfuss (the third lead).
The press release reveals that "the stage show follows the three actors as they sit on a boat and wait while their mechanical carnivorous co-star is fixed".
The piece runs from 11 May to 18 July, and has direction by Guy Masterson, set and costume by Duncan Henderson, lighting by Neil Austin and Jamie Platt, sound and music by Adam Cork and video by Nina Dunn.