Quick Facts
Largest Ticket Inventory
in the West End
Real time
seat availability
Choose
your seats
Your booking is processed directly into the box office reservation system
This show is now closed.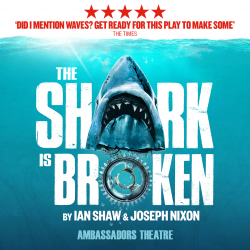 The Shark Is Broken
Tickets
4.6/5
-

based on

39

reviews

from

39

verified reviews
Tickets refunded if your event is cancelled
Real time seat availability
Largest ticket inventory in the West End
Secure online booking
This show is now closed.
Keep me informed
Let me know when tickets for The Shark Is Broken are on sale!
Information
Cheap Tickets
Reviews
News
About The Shark Is Broken Tickets
The Shark Is Broken description
This fantastically funny show is a sell-out, smash hit fresh from the 2019 Edinburgh Festival Fringe. It transfers to the West End for a strictly limited run and it covers the action behind the scenes at one of the world's best-loved horror movies, Jaws. If you were one of the millions of viewers who were scared to use the loo or have a bath for months after watching the film, you're going to love this!
What's the plot of The Shark Is Broken?
Written by Ian Shaw and Joseph Nixon and directed by Guy Masterson, The Shark Is Broken whisks you behind the scenes of the iconic horror movie that terrified a generation. The results is a very funny yet moving new play that imagines what took place on board the famous boat, The Orca, once the cameras stopped filming. Co-writer Ian Shaw plays his own dad, Robert Shaw, whose crazy character, the shark hunter Quint, more or less made the movie.
As Ian Shaw himself says, "I first watched 'Jaws' when I was about eight. I loved it, even though it terrified me! Like many others, sharks inhabited my dreams, and swimming was off the menu. Over forty years later, the prospect of playing my father in a play that Joseph and I wrote, and bringing to light the off-screen intrigue and comedy that went into the making of a masterpiece, is a unique and very special one."
Producer Sonia Freedman agrees: "Ian Shaw and Joseph Nixon deliver a hilarious and uniquely personal perspective on one of the most legendary moments in film history, bringing three Hollywood icons to life onstage. Hysterically funny and oddly profound, 'The Shark Is Broken' is the sort of unexpected gem you only find at the Edinburgh Fringe, and I cannot wait to share it with West End audiences - at last!"
Who is The Shark Is Broken for?
The Shark Is Broken is perfect for anyone old enough to enjoy adult humour, and absolutely brilliant fun for everyone who has seen and loved the 1975 film that made the book's author Peter Benchley so famous.
Buy tickets for The Shark Is Broken
Our website makes buying tickets for The Shark Is Broken simple and enjoyable. We'll email your tickets to you so you can simply present them at the door on the big day. We hope you enjoy this wonderful quirky play, packed with affectionate humour.
The Shark Is Broken cheap tickets
We have a great selection of cheap The Shark Is Broken tickets. We can help you save up to 70% on The Shark Is Broken tickets! If you're looking for discount theatre tickets have a look below for our latest offers for The Shark Is Broken at the Ambassadors Theatre.
There are no special offers available at the moment but we still have great ticket prices for The Shark Is Broken at the Ambassadors Theatre.
The Shark Is Broken reviews
4.6 out of 5
based on

39

reviews
What to expect:
Acting
Music
Costumes
Story
Lighting
Recommended for:

Couples (85%)

Theatregoers (90%)
Latest customer reviews
An excellent show
Very cleverly done, superb acting
Reviewed on 08 February 2022 by Neil, Milton Keynes, United Kingdom
Character portrayal is great
I love Jaws the movie and the actors reflected their characters very well- however I felt it was 10 minutes too long.
Reviewed on 03 February 2022 by Jane, Harrow, United Kingdom
Ian Shaw is amazing!!!
Reviewed on 24 January 2022 by Adam Jude, Beckenham, United Kingdom
A funny and engaging play
The set was really striking and the play was extremely witty and very well-acted. We're so pleased we got to see it.
Reviewed on 20 January 2022 by Elizabeth, London, United Kingdom
Different
I think the story was interesting take on how the actors we're together in between scenes under different circumstance's during filming. If you weren't aware of the film and the stories behind it you probably wouldn't have enjoyed it. I thought Ian shaw was excellent if is dad was looking down he would have been proud. The other actors were excellent as well. If your a jaws fan I would recommend watching it. But maybe do a bit of research first.
Reviewed on 15 January 2022 by Matthew, Blackpool, United Kingdom
Brilliant
Having grown up in Southern California around industry people, the behind the scenes stories were always the best. This show let's everyone in to that very private world of "behind the scenes".
Reviewed on 13 January 2022 by Gary, Firies, Ireland
I had read only good things about `The Shark is Broken' and it did not disappoint. Great for fans of both Jaws and 'the movies' but also an insightful(and very funny at times) dissection of fatherhood, family and fame. While all three actors were great, Ian Shaw has to be singled out for the portrayal of his father, Robert. Wholeheartedly recommended.
Reviewed on 13 January 2022 by Rachel, London, United Kingdom
Fabulous!
I am an avid Jaws fan, I cannot count the number of times I've seen it so I knew anything relating to it would be up my street. Brilliantly acted by the 3 on stage, and Ian's resemblance to his father as Quint is uncanny. An insightful and different perspective on this much loved film and I'd urge anyone who is familiar with Jaws to see it.
Reviewed on 08 January 2022 by Carly, London, United Kingdom
Beautifully written and acted.
Thoroughly enjoyed this original and inciteful play. It is so carefully observed and touching in its observation. The characterisation was enthralling. Shaw manages to keep the audience engaged in the hilarious and brutally honest exchanges on board the Orca. You don't need to know the history behind this story but if you don't you will definitely leave the performance wanting to know more. This is a masterpiece. I loved it.
Reviewed on 30 December 2021 by Ann, Alcester, United Kingdom
Exceptional
Reviewed on 23 December 2021 by Katherine, Mistley, United Kingdom
Boring
Terrible acting and boring story, I hated it
Reviewed on 22 December 2021 by Philip, London, United Kingdom
Brilliantly funny
Absolutely brilliant show, very funny and Will Harrison-Wallace played a blinder as understudy to Ian Shaw in his absence. Highly recommend.
Reviewed on 05 December 2021 by Julie, Wrexham, United Kingdom
Very entertaining and well acted,it helps to have a knowledge of the jaws film to fully appreciate this production, but not essential.
Reviewed on 04 December 2021 by Jon, Stevenage, United Kingdom
Bland not funny..but my wife enjoyed it.
Not funny, sometimes poignant, good actors but a bland script.
Reviewed on 30 November 2021 by Ed, Washington, United Kingdom
Rubbish
Reviewed on 29 November 2021 by Rachael, London, United Kingdom
Really enjoy the play. Amazed Jaws ever got finished.
Reviewed on 27 November 2021 by Andrew, Leicester, United Kingdom
Clever well written storyline
I thought this play was excellent. how clever to come up with this idea. Actors were great and Ian Shaw's representation of Robert Shaw was excellent. It brought back memories of other times I had seen him in the past. Scenery was awesome.
Reviewed on 26 November 2021 by Caroline, Great Yarmouth, United Kingdom
Amazing
Reviewed on 25 November 2021 by Steve, Portsmouth, United Kingdom
Jaw-some!
Really excellent play and superbly acted by the three leads
Reviewed on 22 November 2021 by Tom, London, United Kingdom
Excellent
If you love Jaws you will love it
Reviewed on 20 November 2021 by Ellie, London, United Kingdom
Brilliant
Any jaws fan needs to see this
Reviewed on 20 November 2021 by Kim, Basildon, United Kingdom
Nostalgic fun!
Good fun and great acting! If you're a fan of the movie "Jaws", this is a must see!!
Reviewed on 18 November 2021 by Gabrielle, Paris, France
A must for all Jaws fans
Loved it. Acting excellent. Script funny. A must for Jaws fans young and old. I know it's been said but as soon as Ian Shaw speaks you think of his father and you're transported back to 1975. Well done
Reviewed on 10 November 2021 by Lynn, Crayford, United Kingdom
A feast for theatre lovers
If you love theatre, and you love film, "The Shark is Broken" is, simply, flawless. Impeccable direction, performances and technologically perfect. An absolute treat from start to finish.
Reviewed on 06 November 2021 by Fraser, Northampton, United Kingdom
11/19
Brilliantly excellent production
Reviewed on 04 November 2021 by Michael, Ballyhaunis, Ireland
A comic yet sensitive portrayal of human relationships across the generational divide. Great atmosphere, lovely staff and clean theatre, great seats and acoustics.
Reviewed on 03 November 2021 by Sarah, Surrey, United Kingdom
Standing ovation
As regular theatre/cinema attendees this show ticked all the boxes. We actually stood up to applaud…. A rare occurrence, Funny, interesting and attention grabbing. The actors were superb. Actually going to get a group of friends together to go see this. Best thing we have seen in ages
Reviewed on 01 November 2021 by Marie, London, United Kingdom
Good, fun.
Didn't know what to expect, fun fast moving, and Shaw would make his dad so proud I'm sure.
Reviewed on 30 October 2021 by Angelo, Harlow, United Kingdom
Just see if your 40 ish
It was insightful, funny and great to watch ,engaging and entertaining. We went to our hotel and watched the movie
Reviewed on 30 October 2021 by Martin, Chesterfield, United Kingdom
Love jaws love this
A fantastic play. Superb cast superb writing superb set.
Reviewed on 26 October 2021 by Adrian, London, United Kingdom
A must see for jaws fans.
Brilliant story ,acting and casting , ian shaw is sensational as his dad. The two supporting actors are excellent as well . A great afternoon( we went to the matinee) was had by all.
Reviewed on 22 October 2021 by Michael, Bedfordshire, United Kingdom
Brilliant
Came across the show whilst looking for something different to see in the West End. Was not disappointed. Being a fan of Jaws I was intrigued to find how they would stage it and to see the dynamic between the three actors. I thought I was watching Robert Shaw. Excellent show. Would go again.
Reviewed on 20 October 2021 by Mike, Llanelli, United Kingdom
A worthwhile visit!
Very efficient informative staff ensuring we had a relatively strews free entry and seating in the theatre. Fantastic production with top notch believable actors holding our attention through comedy and drama for the whole 1.30 hrs. Thoroughly recommend it.
Reviewed on 19 October 2021 by Nicola, Hemel Hempstead, United Kingdom
It's got bite
Reviewed on 12 October 2021 by Simon, Stoke-sub-hamdon, United Kingdom