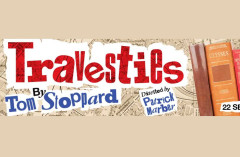 If you enjoy a knotty intellectual work out from an evening in the theatre then you can be very excited by the announcement that the Menier Chocolate Factory will be reviving TRAVESTIES by Tom Stoppard. Previous Menier productions have ended up in the West End and on Broadway and the calibre of those involved in this revival suggest this latest show will do the same.
It's not an easy plot to précis as the expressionism is as important as the narrative. Henry Carr, a minor British diplomat in Zurich 1917 ponders key figures from literature and philosophy including James Joyce, Tristan Tzara and Lenin along with Gwendolen and Cecily who wander in from THE IMPORTANCE OF BEING EARNEST prompting him to solve a mystery surrounding his appearance in an amateur production of Wilde's play.
That's a fictional guest list that would make an extraordinary fantasy dinner party!
TRAVESTIES is directed by Patrick Marber an acclaimed playwright himself who's previous work, including his mega-hit CLOSER, is much admired. Tom Stoppard is one of the most successful British playwright's of all time and his work has dominated international theatre and film for many decades leading to an Academy Award and four Tony Awards. He was knighted in 1997.
There are great actors too. Marber directs a cast including dream boat of the moment Freddie Fox, who recently stepped in to play Romeo for Kenneth Branagh's Company at the Garrick Theatre, and Tom Hollander takes the central role; he's much loved from numerous TV appearances including the lead role in ecclesiastical sit-com REV and in notable supporting roles in ABSOLUTELY FABULOUS and THE NIGHT MANAGER.
The full cast is Clare Foster (Cecily), (Tristan Tzara), (Henry Carr), Forbes Masson (Lenin), Peter McDonald (James Joyce), Amy Morgan (Gwendolen), Sarah Quist (Nadya) and Tim Wallers (Bennett).
There are very few tickets left for the initial run with performances from 22 September until 19 November so snap up any tickets which come your way especially since its already broken Menier box office records for a play.
The rest of us will have to wait until it transfers to the West End.
We'll let you know where and when as a further life for this classy production is announced.