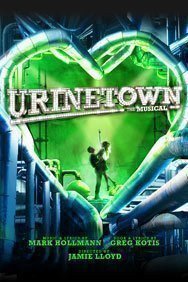 Jonathan Slinger and Jenna Russell will reprise their roles in the West End transfer of Urinetown. Jamie Lloyd's critically acclaimed production premiered at the St James Theatre earlier this year. However, the show's leading man, Richard Fleeshman, will not be returning to the role of Bobby.
Slinger and Russell will be joined by many of the original cast as they once again take on the parts of Officer Lockstock and Penelope Pennywise respectively.
Urinetown is a satiric take on the dangers of privatization and corporate greed that follows the young and dashing hero Bobby as he leads a revolt against the tyrannical Cladwell B. Cladwell and his sinister corporation that runs the city's toilet facilities.
The dark musical comedy, written by Greg Kotis and Mark Hollmann, is a parody of the musical theatre genre, referencing classics such as Les Misérables and the Threepenny Opera.
The ensemble cast includes, Marc Elliott, Cory English, Katie Bernstein, Madeleine Harland, Chris Bennett, Karis Jack, Rosanna Hyland, Joel Montague, Julie Jupp, Jeff Nicholson and Aaron Lee Lambert, with further casting still to be confirmed.
Urinetown is directed by Jamie Lloyd, designed by Soutra Gilmour and choreographed by Ann Yee. When Urinetown opens at the Apollo Theatre in September, it will be Lloyd's third production running in London's West End, joining the smash-hit The Commitments at the Palace Theatre and the newly opened Richard III starring Martin Freeman at the Trafalgar Studios.
Urinetown begins performances at the Apollo Theatre from 29 September 2014.
Casting for the roles of Caldwell B. Cladwell and Bobby Strong is yet to be announced.