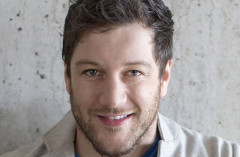 Producers are always looking for ways to refresh long running shows and the most tried and tested method is to cast performers who have public profile. Following this tradition two of the biggest shows in the West End at the moment PHANTOM OF THE OPERA and STRICTLY BALLROOM have announced newcomers to their cast who you may already have heard of.
Over at Her Majesty's Theatre they're about to welcome Tim Howar who'll take over the title role from September 3rd. He rose to fame in the pop group Mike and the Mechanics and you may have seen him in the recent West End production of CHESS in the West End, alongside Michael Ball or read the news story about him leaving the first performance half way through when his wife gave birth.
He's an unusual choice to play the Phantom as his is a predominantly a rock voice but producer Cameron Macintosh has commented "Tim Howar's exciting vocal take on the iconic score of the Phantom brings a contemporary fresh approach to this legendary role which blew us away at his audition."
Over at the Piccadilly Theatre producers of STRICTLY BALLROOM the Musical, based on Baz Luhrmann's acclaimed film, have replaced former talent show winner Will Young with X-Factor winner Matt Cardle in the role of band leader Wally Strand. This is predominantly a singing role so this makes a lot of sense although Cardle won much acclaim for his appearance in the musical MEMPHIS.
He says, of his new casting "I'm so excited to be returning to the West End and to be joining the cast of Strictly Ballroom to play the part of Wally Strand. It's so rare that a role comes around that you can put so much of your own stamp on. I have seen the show and it's absolutely incredible. Baz Luhrmann is an utter genius, as is Drew McOnie. To have the opportunity to sing all these huge songs every night is a real honour."
The show of course features over 30 classic hits including Time After Time, Let's Dance, I'm So Excited, Perhaps Perhaps Perhaps, I Wanna Dance With Somebody, Sway (Quien Sera), Mambo No. 5, Dancing With Myself, Sugar Sugar, It's the End of the World as We Know It, Teardrops, and Love is in the Air.