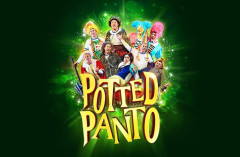 Following the recent announcement that the National Theatre will present DICK WHITTINGTON, an in the round pantomime (where the audience sit in a circle surrounding the action) comes news that the Olivier Award nominated POTTED PANTO is to be revived.
Performances take place at the Garrick Theatre from 5 December - 10 January.
I'm not sure we can really classify it as a real pantomime though, no matter how much producers want us to regard it as panto's return to the west end.
There'll be none of the lavish spectacle generally associated with the art form. Basically it's two former CBBC TV presenters, known as Dan and Jeff, doing a sort of cabaret for kids based on pantomime traditions, or as they describe it –
In a madcap ride through the biggest stories and best-loved characters from the wonderful world of pantomime, our dastardly double act dash from rubbing Aladdin's lamp to roaming the golden streets of Dick Whittington's London and making sure that Cinderella gets to the Ball. Not to mention the full-scale versions of Snow White and Sleeping Beauty which see Dan and Jeff trying to work out not only how two people can play 7 dwarves, but also which of them will make the prettiest princess!
There'll be Covid references too, if that's what your kids find funny. Writer and star Daniel Clarkson promises -
…a few Covid challenges to solve, how will we wake up Sleeping Beauty? How can the seven dwarves bubble together with the six-person rule? How will Jack be able to sell daisy the cow when her bottom has to be socially distanced 1 metre away from her head!
Apparently this kind of thing goes on for "70 hilarious minutes!"
It's certainly been popular enough with past audiences to warrant this 10th revival. So why not head along and help then celebrate "10 sidesplitting, thigh-slapping years"