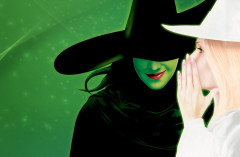 Wicked, the hugely popular West End musical, is currently booking until late May 2022. It also just happens to be celebrating its 15th year on stage, an awe-inspiring achievement in a world here very few shows have this level of staying-power. To help us celebrate, here's a fantastic photo of the great man Stephen Schwartz himself, in London to mark his show's birthday. If you haven't experienced the untold tale of the witches of Oz, now's your chance.
Who's involved in Wicked?
This award-winning production plays a celebratory performance attended by Stephen Schwartz plus a load of former cast members. As he said, "I'm thrilled to be in London and in the audience at the Apollo Victoria Theatre as Wicked celebrates its 15th anniversary. The amazing emotion and euphoria from the audience on the night the show resumed performances on Broadway made clear to us all the magic that only the shared experience of live theatre can deliver. I am so excited to feel the response from London audiences, especially on this landmark occasion, and I very much hope the show will help drive a revitalized West End."
The composer and lyricist is Stephen Schwartz
The UK Executive Producer is Michael McCabe
This is the 9th longest running West End musical... ever
Wicked has been seen by more than 10 million people in London, and 60 million worldwide
This is the proud owner of more than 100 international awards, including two Olivier Awards and 10 theatregoer voted WhatsOnStage Awards
Gregory Maguire's novel, Wicked: The Life and Times of the Wicked Witch of the West, has sold more than 5 million copies
The show's Platinum-certified, Grammy Award-winning Original Broadway Cast recording has sold almost 4 million copies
The production enjoys almost 2.3 million fans on social media
A living legend of a musical you won't want to miss!
Buy Wicked Tickets
Book your Wicked tickets online with us and choose the best seats with our Apollo Victoria Theatre seating plan. We'll send your E-tickets to your email address – simply present them at the door on the day of the performance for a wickedly good experience!
About the Apollo Victoria Theatre
The Apollo Victoria Theatre is the home of Wicked, where it's been on stage since the beginning. You'll adore the remarkable interior, a splendid affair of beautiful fluted lighting, illuminated stalactites, silvery trees and silvered organ pipes - fantasy made real in true Art Deco style. Past shows at the Apollo Victoria Theatre include Starlight Express, Saturday Night Fever, and Camelot.