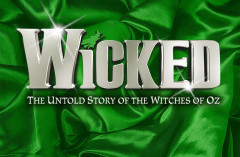 The multi award-winning musical Wicked has announced the new leading cast members, due to join the show from Monday 21 September 2015.
Leading the new company at the Apollo Victoria Theatre will be Savannah Stevenson as the good witch Glinda, and Emma Hatton as the green-faced Elphaba.
Both seasoned West End leading ladies, the pair will stay with the production well into 2016.
Joining Stevenson and Hatton on stage will be Sean Kearns as Doctor Dillamond, Daniel Hope as Boq, Carina Gillespie as the standby Glinda, and Oliver Savile as Fiyero.
Sean Kearns West End credits include The 39 Steps, Billy Elliot The Musical and The Commitments. Oliver Savile has appeared in the West End productions of Les Miserables, Cats and The Phantom of the Opera. Carina Gillespie and Daniel Hope are both no strangers to the Wicked family, with Gillespie having played Nessarose in the recent UK tour, and Hope being one of the current West End ensemble cast.
Staying on with the production are current cast members Katie Rowley Jones as Nessarose, Natalie Andreou as the standby Elphaba and Liza Sadovy as Madame Morrible.
Based on the best-selling novel by Gregory Maguire, Wicked tells the untold story of the witches of Oz in a musical packed full of gravity defying special effects and lavish costumes.
Wicked is currently booking at the Apollo Victoria Theatre, with the new cast joining on 21 September 2015.