28 Old Compton Street, London, W1D 4HS GB
Quick Facts
Largest Ticket Inventory
in the West End
Real time
seat availability
Choose
your seats
Your booking is processed directly into the box office reservation system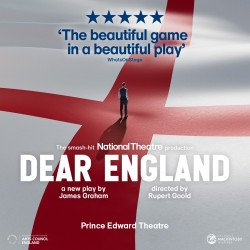 Dear England
Tickets
4.9/5
-

based on

20

reviews

from

20

verified reviews
Booking until: Saturday, 13 January 2024
Running time: 2 hours 50 min (Incl. interval)
Starring: Joseph Fiennes
Tickets from £24.00
Tickets refunded if your event is cancelled
Real time seat availability
Largest ticket inventory in the West End
Secure online booking
Information
Cheap Tickets
Reviews
News
About Dear England Tickets
Starring:
Joseph Fiennes
Dear England description
Time Out says James Graham's new play is a 'wildly entertaining romp through the reformation of the England men's team under Joseph Fiennes' pitch-perfect Gareth Southgate'. And they're right.
DEAR ENGLAND explores the brilliance of the England football manager Gareth Southgate, the pressures faced by those involved in professional sport, and the role the England men's football team played in driving the national psyche. It looks into the way Southgate changed the face of toxic masculinity in football, inspired by the famous open letter he wrote to England fans in 2021 when covid was still raging.
The play, written by James Graham, opened in 2023 at the National Theatre starring Joseph Fiennes as Southgate. It was directed by Rupert Goold. Now the National Theatre's critically acclaimed, sold-out play transfers to theatreland's Prince Edward Theatre from 9th October 2023 for a strictly limited 14 week run. Fiennes plays the role of Gareth Southgate once more, and the rest of the cast will be announced nearer the time.
The Movement Directors are Ellen Kane and Hannes Langolf and the Set Designer is Es Devlin. The Costume Designer is Evie Gurney and Jon Clark is Lighting Designer. Sound Design comes from Dan Balfour and Tom Gibbons and the Video Designer is Ash J Woodward. The Casting Director is Bryony Jarvis-Taylor and the Producer is the National Theatre.
What's the plot of Dear England?
The action follows the team as they play their way through three tournaments. It covers the men's surprise run to the semis during the Russia 2018 World Cup, the awful defeat in the 2020 European Championship final at Wembley, and the heartbreaking quarter final result that ended the team's run to the 2022 Qatar World Cup.
First we see the young Gareth Southgate missing the famous penalty at the 1996 Euro semis, moving on to his time as caretaker manager for the England team, covering his work with Harry Kane, Harry Maguire, and Marcus Rashford.
The emotional drama carries on as the psychologist Pippa Grange joins the drive for the perfect team, the players develop under Southgate's leadership, and black players face racist abuse. Then we see Harry Kane missing that infamous penalty and England losing their place in the 2022 World Cup. It's dramatic stuff – but it's also really funny thanks to the antics of ex-England managers Sven-Göran Eriksson, Graham Taylor, and Fabio Capello, along with a host of famous players and commentators, prime ministers and more.
If you love football and rate Southgate as a sporting hero, you're going to want some of the great quality cheap tickets for Dear England DEAR ENGLAND that we sell.
Buy tickets for Dear England
Our website makes buying tickets for DEAR ENGLAND easy and quick. We'll email your e-tickets to you.
Useful Information
Booking until:


Saturday, 13 January 2024

Running time:


2 hours 50 min (Incl. interval)

Important Information


Joseph Fiennes will not be performing on the following performances: Monday 16th October, Tuesday 17th October, Wednesday 20 December, Thursday 21 December, Friday 22 December (both shows).
Performance Times
Next Performances for Dear England at the Prince Edward Theatre
today
30th Nov 2023
7:00pm
tomorrow
1st Dec 2023
7:00pm
Saturday
2nd Dec 2023
2:00pm
Saturday
2nd Dec 2023
7:00pm
Monday
4th Dec 2023
7:00pm
Tuesday
5th Dec 2023
7:00pm
Dear England cheap tickets
We have a great selection of cheap Dear England tickets. We can help you save up to 70% on Dear England tickets! If you're looking for discount theatre tickets have a look below for our latest offers for Dear England at the Prince Edward Theatre.
-16%
No Booking Fee
Valid for selected performances
No Booking Fee
SAVE ON TICKET PRICES Valid for performances 4 - 22 December 2023. Book by 3 December 2023.
Dear England reviews
4.9 out of 5
based on

20

reviews
What to expect:
Acting
Music
Costumes
Story
Lighting
Recommended for:

Families (85%)

Theatregoers (90%)
Latest customer reviews
insightful
excellent all round performance all round
Reviewed on 30 November 2023 by Maureen, Villars Sur Ollon, United Kingdom
Thoroughly entertaining
A great show. Tempo, emotion, soundtrack. Mesmerising slow mo and freeze frames from an outstanding cast. Loved it. Exceeded all expectations.
Reviewed on 18 November 2023 by Claire, Lincoln, United Kingdom
Dear England 16th November
The show,acting,lighting and everything about the show was brilliant,as a football fan it portrayed a great story which we know about but great to see.
Reviewed on 17 November 2023 by Ian, Doncaster, United Kingdom
So good, so good, so good
As a visitor from across the pond who has cheered on England through heartbreak after heartbreak, this show really provided a better glimpse into the English football psyche. As an avid theatre-goer, I was awestruck by the acting and the technical precision. The lighting, in particular is outstanding, but every element of this production works magically together. I think even a non-football fan (like my husband) would leave Dear England with a warm heart and carry with them the important social message that is at the core of it. Be nice, everyone. Be nice.
Reviewed on 16 November 2023 by Shelly, Flint, United States Of America
Very well executed, full of humour, emotive. Realistic similarities to the authentic people, especially Gareth Southgate. Thoroughly enjoyed it, even though I'm not a football fan.
Reviewed on 11 November 2023 by Maria, London, United Kingdom
The English Football Story
As a foreigner, I found it a bit informative about the behind scenes of English football. I enjoyed the play, but it's really a horror show, because England lose. I don't understand how people can be happy about it. It's like how in the Titanic where all the men die & people call it romantic.
Reviewed on 11 November 2023 by Shaun, Claremont, Australia
football under the spotlight
Really enjoyed the show whilst having absolutely no interest in football. Well worth a visit
Reviewed on 09 November 2023 by Richard, Beckenham, United Kingdom
Great fun
Didn't know what to expect. Can't believe the emotions i felt on reliving these football moments. Brilliantly written and acted. Even if u aren't a football fan you'd enjoy this!
Reviewed on 09 November 2023 by Claire, Rochester, United Kingdom
More than a football show
Dear England is a wonderfully entertaining show. Joe Fiennes is a veritable doppelganger for the England manager, and is ably supported by an excellent cast. Yes it's focus is on football, but the scope is broader than that. Funny, informative, and not a VAR review in sight.
Reviewed on 05 November 2023 by Anderw, London, United Kingdom
Surprising
Really enjoyed the performance. Brought back memories to me. Made me feel nostalgic about the past but positive for the future.
Reviewed on 28 October 2023 by Teresa, London, United Kingdom
Wonderful, a must see!
As a regular theatregoer, this is one of my best shows I've seen in a long time. It has everything, great storyline, humour and coverage of topical issues which leave you thinking. The cast was amazing too. My 15 year said it was his favourite show, high praise indeed!
Reviewed on 27 October 2023 by Harsa, Poole, United Kingdom
If you love football this show is for you.
Reviewed on 26 October 2023 by Jean, London, United Kingdom
The best show in London
This is an amazing show, and I don't like football!! The acting is brilliant and will be going to see it again. There is nothing not to like.
Reviewed on 21 October 2023 by Lilian, Preston, United Kingdom
Reviewed on 19 October 2023 by Vijay Jacob, Kolkata, India
Brilliantly acted play . Well staged .
Reviewed on 18 October 2023 by Roberta, Barnet, United Kingdom
Brilliant
Reviewed on 14 October 2023 by Lyndsey, Reigate, United Kingdom
It's coming home
This show convinced me that we are going to win the bloody thing!! The characters were very believable especially Gary Southgate
Reviewed on 14 October 2023 by William, Barnet, United Kingdom