Quick Facts
Largest Ticket Inventory
in the West End
Real time
seat availability
Choose
your seats
Your booking is processed directly into the box office reservation system
This show is now closed.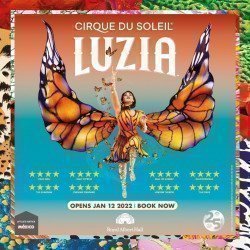 Luzia - Cirque du Soleil
Tickets
4.7/5
-

based on

18

reviews
Information
Cheap Tickets
Reviews
News
About Luzia - Cirque du Soleil
Performance Times
Luzia - Cirque du Soleil description
Discover LUZIA, where a waking dream transports you to an imaginary Mexico. Experience a wondrous world that inspires you to explore your senses, enveloped in light and nurtured by rain.
Freely inspired by Mexico, LUZIA is a poetic and acrobatic ode to the rich, vibrant culture of a country whose wealth stems from an extraordinary mix of influences and creative collisions – a land that inspires awe with its breathtaking landscapes and architectural wonders, buoyed by the indomitable spirit of its people.
The tableaux of LUZIA weave an intricate, contemporary mosaic that awakens your senses and transports you to a place suspended between dreams and reality.
The name LUZIA fuses the sound of "luz" (light in Spanish) and "lluvia" (rain), two elements at the core of the show's creation.
Important COVID-19 information
Mask
You are required to wear a mask at all times while inside this venue.
Proof of vaccine
You must be fully vaccinated prior to this performance in order to attend (Unless lawfully exempt. Under 16s not fully vaccinated must be accompanied by a fully vaccinated adult from their household.)
Covid safety
This venue has additional Covid-19 safety measures in place to ensure the health and well-being of the staff, performers, and guests.
Luzia - Cirque du Soleil cheap tickets
We have a great selection of cheap Luzia - Cirque du Soleil tickets. We can help you save up to 70% on Luzia - Cirque du Soleil tickets! If you're looking for discount theatre tickets have a look below for our latest offers for Luzia - Cirque du Soleil at the Royal Albert Hall.
There are no special offers available at the moment but we still have great ticket prices for Luzia - Cirque du Soleil at the Royal Albert Hall.
Luzia - Cirque du Soleil reviews
4.7 out of 5
based on

18

reviews
What to expect:
Acting
Music
Costumes
Story
Lighting
Recommended for:
Anyone (83%)
Families (83%)
Teenagers (89%)
Couples (94%)
Theatregoers (89%)
Latest customer reviews

Brilliant all round entertainment
We thought the show was thoroughly entertaining, with some great artist that were extremely talented. The professionalism of all of the team down to the changing of the scenes, lighting and costume design were exceptional. Can't recommend it enough!!
Reviewed on 20 February 2022 by Keith, Atherstone, United Kingdom

Wicked
Apart from the rather large head in front of me it was brilliant
Reviewed on 12 February 2022 by Jonathan, Foveran, United Kingdom

It was amazing experience
It was Great show, music and performance. I hate Circus so i never want to go to see it. My sister recommended me to go i went and i was really impressed. It is worth to se it. For everyone.
Reviewed on 02 March 2020 by Renata, London, United Kingdom

Amazing
Reviewed on 02 March 2020 by Amit, New Tredegar, United Kingdom

Amazing
Loved the whole show but there was a long interval between some performances with a man with a whistle act that went on a bit too long... it was so they could clear up stage dry off water. Man with whistle (although funny) was a bit too long and got a bit annoying. Other than that 5 star! Beautiful venue!
Reviewed on 01 March 2020 by Anita, London, United Kingdom

Fabulous family circus fun.
Reviewed on 26 February 2020 by Hayley, Cardiff, United Kingdom

perfect
Reviewed on 23 February 2020 by Itamar, Jerusalem, Israel

Reviewed on 21 February 2020 by Simon, Crowmarsh Gifford, United Kingdom

A wonderful night out
A step into a colourful creative world of music and scenery with breath taking performances by the artists. I took my teenager daughter (14) she absolutely loved it - wonderful to be 'wowed' by a live performance with no digital enhancement. The real thing, go if you can, it's what memories are made off. I wouldn't bring children under 5 - the performance was not ruined by but it was interrupted by some crying children. The staging and music is dramatic at times.
Reviewed on 20 February 2020 by Shoo, London, United Kingdom

Fantastic
Reviewed on 14 February 2020 by Esther, Gloucester, United Kingdom

absolutely brilliant go and see for yourself
Amazing show they just get better and better.
Reviewed on 13 February 2020 by Michael, Cheshunt, United Kingdom

Disapointing
My husband and I have been going to Cirque du Soleil for 10 - 15 years and it is our favourite January/Feburary treat in the dull months after Christmas. Normally we love the show but this year was severely dissapointing. Compared to past years the live music was not nearly as powerful/impactful, not as much acrabatics and quite a few mistakes - ok, not a big deal we are all human. I loved the water element and water show with the music, my favourite part of the show.
Reviewed on 27 January 2020 by Candice, Hemel Hempstead, United Kingdom

Amazing
Fantastic acrobats and story.
Reviewed on 19 January 2020 by M, Haywards Heath, United Kingdom

An amazing impressive experience for the whole family!
Reviewed on 19 January 2020 by Lena, Northampton, United Kingdom
14

Jan
2022

Review: LUZIA by Cirque du Soleil at Royal Albert Hall
by Stuart King | Friday, January 14 2022, 00:31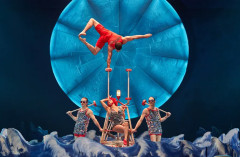 Cirque du Soleil's latest extravaganza Luzia (billed as a waking dream of Mexico) has finally arrivedat the Royal Albert Hall considerably more than 600 days since the troupe last held a residency at the grand arena. Although their sunny return is most welcome, the production is not one of their strongest.
Review: LUZIA by Cirque du Soleil at Royal Albert Hall