Kensington Gore, London, SW7 2AP GB
Quick Facts
Largest Ticket Inventory
in the West End
Real time
seat availability
Choose
your seats
Your booking is processed directly into the box office reservation system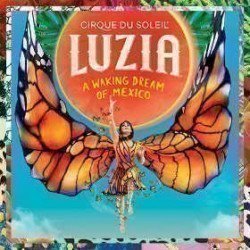 Luzia - Cirque du Soleil
Tickets
4.8/5
-

based on

16

reviews
Booking until: Sunday, 27 February 2022
Running time: 2 hours 5 minutes
Tickets from £58.00
Book tickets
About Luzia - Cirque du Soleil
Important Information
The show starts on time and latecomers are admitted only during a suitable break in the performance or at the discretion of the Head Usher.
Late-coming wheelchair-users can only be admitted at the intermission.
Please note that we issue eticket(s) for all bookings for Luzia. You will receive your eticket(s) via email within 48 hours of booking and will be asked to present them for scanning at the venue to gain access. For purchases made on the same day of performance your eticket(s) will be emailed to you by 17:30 the same day.
Performance Times
Booking until: Sunday, 27 February 2022
Running time: 2 hours 5 minutes
Luzia - Cirque du Soleil description
Cirque du Soleil returns to London's Royal Albert Hall with the European Premiere of LUZIA, a waking dream of Mexico.
Escape to an imaginary Mexico – a sumptuous world suspended between dreams and reality. Smoothly passing from an old movie set to the ocean to a smoky dance hall or an arid desert, LUZIA cleverly brings to the stage multiple places, faces and sounds of Mexico taken from both tradition and modernity. The delightfully imaginative and visually stunning show will see brand new acts and breath-taking production, never before used by Cirque du Soleil at The Royal Albert Hall, including incorporating rain into acrobatic and artistic scenes.
The arrival of LUZIA next year marks 30 years since Cirque du Soleil first brought its captivating magic and awe-inspiring acrobatics to the UK. Cirque du Soleil's World renowned circus has brought wonder and delight to over 150 million people in more than 300 cities and 6 continents.
Book now to see the European Premiere of the spectacular Luzia at an iconic London venue.
Next Performances for Luzia - Cirque du Soleil at the Royal Albert Hall
tomorrow
25th Jan 2022
7:30pm
Wednesday
26th Jan 2022
7:30pm
Thursday
27th Jan 2022
7:30pm
Friday
28th Jan 2022
7:30pm
Saturday
29th Jan 2022
11:30am
Saturday
29th Jan 2022
3:30pm
Luzia - Cirque du Soleil reviews
4.8 out of 5
based on

16

reviews
What to expect:
Acting
Music
Costumes
Story
Lighting
Recommended for:
Anyone (81%)
Families (81%)
Teenagers (88%)
Couples (94%)
Theatregoers (88%)
Latest customer reviews

It was amazing experience
It was Great show, music and performance. I hate Circus so i never want to go to see it. My sister recommended me to go i went and i was really impressed. It is worth to se it. For everyone.
Reviewed on 02 March 2020 by Renata, London, United Kingdom

Amazing
Reviewed on 02 March 2020 by Amit, New Tredegar, United Kingdom

Amazing
Loved the whole show but there was a long interval between some performances with a man with a whistle act that went on a bit too long... it was so they could clear up stage dry off water. Man with whistle (although funny) was a bit too long and got a bit annoying. Other than that 5 star! Beautiful venue!
Reviewed on 01 March 2020 by Anita, London, United Kingdom

Fabulous family circus fun.
Reviewed on 26 February 2020 by Hayley, Cardiff, United Kingdom

perfect
Reviewed on 23 February 2020 by Itamar, Jerusalem, Israel

Reviewed on 21 February 2020 by Simon, Crowmarsh Gifford, United Kingdom

A wonderful night out
A step into a colourful creative world of music and scenery with breath taking performances by the artists. I took my teenager daughter (14) she absolutely loved it - wonderful to be 'wowed' by a live performance with no digital enhancement. The real thing, go if you can, it's what memories are made off. I wouldn't bring children under 5 - the performance was not ruined by but it was interrupted by some crying children. The staging and music is dramatic at times.
Reviewed on 20 February 2020 by Shoo, London, United Kingdom

Fantastic
Reviewed on 14 February 2020 by Esther, Gloucester, United Kingdom

absolutely brilliant go and see for yourself
Amazing show they just get better and better.
Reviewed on 13 February 2020 by Michael, Cheshunt, United Kingdom

Disapointing
My husband and I have been going to Cirque du Soleil for 10 - 15 years and it is our favourite January/Feburary treat in the dull months after Christmas. Normally we love the show but this year was severely dissapointing. Compared to past years the live music was not nearly as powerful/impactful, not as much acrabatics and quite a few mistakes - ok, not a big deal we are all human. I loved the water element and water show with the music, my favourite part of the show.
Reviewed on 27 January 2020 by Candice, Hemel Hempstead, United Kingdom

Amazing
Fantastic acrobats and story.
Reviewed on 19 January 2020 by M, Haywards Heath, United Kingdom

An amazing impressive experience for the whole family!
Reviewed on 19 January 2020 by Lena, Northampton, United Kingdom
14

Jan
2022

Review: LUZIA by Cirque du Soleil at Royal Albert Hall
by Stuart King | Friday, January 14 2022, 00:31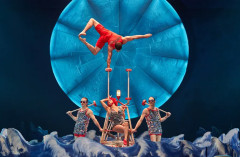 Cirque du Soleil's latest extravaganza Luzia (billed as a waking dream of Mexico) has finally arrivedat the Royal Albert Hall considerably more than 600 days since the troupe last held a residency at the grand arena. Although their sunny return is most welcome, the production is not one of their strongest.
Review: LUZIA by Cirque du Soleil at Royal Albert Hall