Peninsula Square, London, SE10 0DX GB
Quick Facts
Largest Ticket Inventory
in the West End
Real time
seat availability
Choose
your seats
Your booking is processed directly into the box office reservation system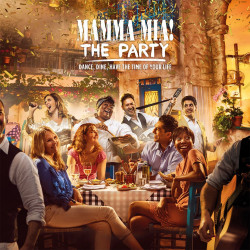 Mamma Mia! The Party
Tickets
4.9/5
-

based on

15

reviews
Booking until: Sunday, 2 October 2022
Running time: 4 hours
Tickets from £125.00
Book tickets
Information
Cheap Tickets
Reviews
News
About Mamma Mia! The Party
Performance Times
Booking until: Sunday, 2 October 2022
Running time: 4 hours
Mamma Mia! The Party description
You've seen the musical. You've watched the films. Now you can experience MAMMA MIA! THE PARTY. Spend a magical summer evening with friends in a special Greek island taverna, where the host's only rules are dance, dine and have the time of your lives!
Meet taverna owner Nikos and his family as their story unfolds in a glorious night of song, dance and celebration. Featuring your favourite ABBA songs performed by actors and musicians all around you, soak up the island atmosphere and feast on mouth-watering Mediterranean food & drink!
Join us for this unforgettable experience when MAMMA MIA! THE PARTY opens its doors within London's The O2 from Summer 2019.
Age restrictions
Five years and over. There are no reductions for children and there is no specific children's menu.
Important Information
Premium: Best seats
Band A: Excellent seats, in the heart of the action
Band B: Great seats overlooking the courtyard
Includes:
Entertainment lasting around four hours that includes an immersive theatrical performance, a three-course sit-down meal, and the opportunity to dance to ABBA music after the show. You can arrive up to one hour before the start of the show to mingle with your guests, have a shot of ouzo, and enjoy the appetisers. Drinks may be purchased separately. Please contact us if you have any dietary requirements.
Not suitable for children under 5
HOW ARE GUESTS SEATED?
The seating policy at Mamma Mia! The Party is similar to that which you would experience in a restaurant: you make a reservation for your group in advance, give your name to the host on arrival at Nikos Taverna and then are directed to your table.
Nikos Taverna is a sociable place so you may find yourself sharing a table with other guests depending on the size of your party.  We can't guarantee that groups will be able to sit together due to table sizes, but we will aim to sit you on adjacent tables.
Towards the end of the evening some Band A tables will be cleared and moved to create a spectacular dance floor, and Nikos will invite those lucky guests to join in with his fabulous ABBA finale.
It is not possible to book specific tables, and we are unable to guarantee availability of any particular size table.
Tables are reserved in the order of receipt of booking. Group bookings will be seated together, with smaller groups or couples allocated seating on tables of up to 8 and larger groups allocated across adjacent tables. The largest tables seat 10 people.
Mamma Mia! The Party cheap tickets
We have a great selection of cheap Mamma Mia! The Party tickets. We can help you save up to 70% on Mamma Mia! The Party tickets! If you're looking for discount theatre tickets have a look below for our latest offers for Mamma Mia! The Party at the The O2.
No Booking Fee
Valid on all perfs from 4 May - 28 Aug. Book by 31 May 2022
Mamma Mia! The Party reviews
4.9 out of 5
based on

15

reviews
What to expect:
Acting
Music
Costumes
Story
Lighting
Recommended for:
Anyone (100%)
Families (100%)
Teenagers (100%)
Couples (100%)
Theatregoers (100%)
Latest customer reviews

Excellent fantastic waiting staff , fantastic singing , fantastic cast my mum has been twice and would go back again I'm so glad I got to see it one word AMAZING
Reviewed on 08 March 2020 by Carole, Ferndown, United Kingdom

Enjoyable and good fun
Good immersive show wth action all around you. Good blend of ABBA music and some theatrics.
Reviewed on 31 January 2020 by Derek, Oxford, United Kingdom

Great Fun
Reviewed on 24 January 2020 by Jennifer, Oxted, United Kingdom

Wow
As good as you could ever get. This is simply a stunning production. The staff, the food, the themed room. It was a breath taking show and not to be missed. Get booking. After show party also brilliant. Shame the evening at to end.
Reviewed on 13 January 2020 by Paul, Liverpool, United Kingdom

Unusual but fabulous theatre experience
We paid for premium tickets for the best experience but I think some of the seats higher up that were not as expensive probably had a better view.
Reviewed on 09 January 2020 by Mary, Chislehurst, United Kingdom

Fantastic Fun Night Out
Really great fun, an absolute must if you are an ABBA fan. Food was plentiful and very tasty and service was excellent. Brilliant view of the show - we were on 2nd tier on what was numbered table 71 on that night. I did feel that the couple next to us at the end of the row had a slightly limited view (Category A). I had been slightly concerned having seen comments where customers had complained that they had been told to sit down and stop dancing during the show but saw none of that and from what I could see there was full audience participation all evening. We also enjoyed the fact that waiters and cast members mingled with customers throughout the night and engaged fully with them in the downtime between the different courses being served. One point I would like to make is that it was not clear on the website that doors open at 6.30 and show commences at 7.30. We were not alone in reading it starts at 6.30 and 'to make sure you come early' so there was quite a number already queuing when we arrived just before 6pm and some very confused foreign tourists who were wondering if the show had been cancelled.
Reviewed on 12 December 2019 by Joan, Cardiff, United Kingdom

Brilliant
Ad a amazing entertaining evening I would recomend people 2 c this show as its funny and very enjoyable anf most of a we. Eet the stars after show
Reviewed on 05 December 2019 by Carol, Wakefield, United Kingdom

Fantastic
Reviewed on 28 October 2019 by Paul, Burton On Trent, United Kingdom

Feel good
if you love Abba your in for a treat, if you love a few good show go for it
Reviewed on 22 October 2019 by Deborah, South Woodham Ferrers, United Kingdom

Don't miss this awesome show!
We arrived not knowing what to expect. First impressions were amazing; you are instantly transported to a Greek taverna and welcomed with a drink. Tables are beautifully set out with appetisers waiting. And so the entertainment begins whilst a wonderful, authentic, meal is served. I do not wish to spoil the surprises- suffice it to say, there are plenty , and you will be left full of amazement . It is impossible to sit in your seat, you will be bopping the night away, your cares left behind. A wonderful, joyous, experience.
Reviewed on 20 October 2019 by Janet, Bedford, United Kingdom

Must see
The show was incredible I would suggest to invite people to dress up in ABBA style . This would be a big bonus and more special ... also bigger selection in Abba's songs were repeated to often. However the show was brilliant and will highly recommend.
Reviewed on 23 September 2019 by Dagmara, Surbiton, United Kingdom
25

Mar
2022

MAMMA MIA! The Party - A dazzling new cast at the O2
by London Box Office | Friday, March 25 2022, 08:11
Created by ABBA's Björn Ulvaeus, MAMMA MIA! THE PARTY is a brilliant complement to the musical itself, the audience's chance to become part of a story that has charmed millions around the world. The show brings ABBA's hits to life more vividly than ever thanks to four magical hours of spectacular musical extravaganza, a four-course Greek feast, plus an ABBA disco. Are you ready to eat, drink, sing, dance and be merry?
MAMMA MIA! The Party - A dazzling new cast at the O2
01

Jun
2021

Mamma Mia! The Party – 2021 West End Dates
by London Box Office | Tuesday, June 1 2021, 12:23
Update for Mamma Mia! The Party at the O2 London
You're going to adore MAMMA MIA! THE PARTY, London's premier themed dining experience. It's back at last, and it's on at the O2 London from Friday 1 October 2021, with seats available until 3rd April 2022. If you love the stage show and want more, you'll really enjoy the sheer escapism of a Greek Island holiday, bang in the middle of the capital. Very cool!
Mamma Mia! The Party – 2021 West End Dates