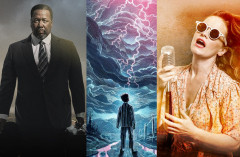 Fortunately three of last year's top productions are currently still running in London so grab the last few tickets to celebrate the new year.
I thought I never needed to see Arthur Miller's often revived, weighty, mid 20th Century parable about the hollowness of the American Dream again. But Marianne Elliot's pacy revival with a black cast let by an exceptional Wendell Pierce and Sharon D. Clarke. made me see it afresh. This story of an "ordinary joe" salesman who's reaching the end of his working days and is crushed by the weight of life's disappointments feels particularly apt when set amongst the post-WW2 Afro-American community. If this is your first Salesman there's also plenty of twists and turns in the plot to keep you gripped.
Still playing in the smallest of the three theatres in the National Theatre this adaptation of a Neil Gaiman novel met with universal critical acclaim. It's utterly beguiling in the way it uses simple stage magic, puppetry and choreographed movement to sweep you up in it's tale of teens versus monsters in the English countryside. The actors are great too and bring the story and it's themes of love, loss and memory to vivid life. It lost my attention in the second half when I couldn't followed the internal logic of it's fantasy plot but if you know or read the book you'll give it ten out of ten. Few tickets are left but it's bound to transfer to a bigger venue in 2020.
This musical, drawing upon the songs of Bob Dillon to tell an American Gothic haunted house story of the Great Depression, is deeply moving. It cast quite a spell as the dark secrets of it's guest house residents tumble out and drag them to their doom, to the accompaniment of the beautifully arranged and delivered songs. There are lighthearted moments but this is a show that finds richness in melancholy and the blues. It will haunt you long after you leave the theatre. There's something very rewarding about facing the winter blues head on with a show that doesn't sugar coat life's hardships.