Quick Facts
Largest Ticket Inventory
in the West End
Real time
seat availability
Choose
your seats
Your booking is processed directly into the box office reservation system
This show is now closed.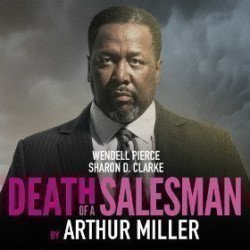 Death of a Salesman
Tickets
4.7/5
-

based on

31

reviews
Starring: Sharon D Clarke, Wendell Pierce
Information
Cheap Tickets
Reviews
About Death of a Salesman
Performance Times
Starring:
Sharon D Clarke, Wendell Pierce
Death of a Salesman description
Death of a Salesman – "Attention must be paid"
When you want more than a fun night out, this is perfect. If you want more meaning and depth in your theatre, this one's for you. It's the US playwright Arthur Miller's masterpiece, Death of a Salesman, and it has barely been off the stage since it was first produced in 1949. This is a Pulitzer Prize winner, it deals with "the tragedy of a man who gave his life, or sold it" in pursuit of the American Dream, and it remains a powerful classic of our times, a requiem to the main character and to everyone like him.
Following a smash hit sell-out of a run at the Young Vic theatre, this critically acclaimed production of Death of a Salesman transfers to the Piccadilly Theatre for a limited ten week season. And it's not to be missed. In Miller's words, describing Willy Loman, "I don't say he's a great man…but he's a human being, and a terrible thing is happening to him. So attention must be paid. He's not to be allowed to fall in his grave like an old dog. Attention, attention must finally be paid to such a person."
The brilliant Marianne Elliott and her team sit at the heart of this splendid play, and true to form they've messed with our heads in the most wonderful way. The play is now an African American tragedy and the results are remarkable. The staging is dazzlingly good, the perfect backdrop for Miller's words that, while written in 1948, are still just as relevant to our modern world.
The star of the show is salesman Willy Loman, played by the exceptionally talented Wendell Pierce. Loman has travelled the roads for thirty five years selling his wares, and he is exhausted to the core, tired to the very bottom of his soul. A shadow of his former self, he never did make it to the top spot and his two sons, for whom he was once everything, are less than impressed. Linda is Willy's wife. She knows he isn't a great man, no matter how much he'd love to be.
The staging, which is suitably grey and dull, reveals both of the Lomans as trapped by a dream-gone-bad that's incredibly potent, which millions fail to achieve. The Lomans have almost paid off their mortgage but the house feels like a trap too, adding to the daily drudgery of just about managing, under constant pressure to do more, do better. Now Willy has finally reached his breaking point.
At the end of the day this is a beautifully observed family tragedy, and a fabulous cast adds to its appeal. Pierce is stunning. Sharon D Clarke as Linda in awe-inspiring, revealing how her quiet determination holds everything together. Arinzé Kene and Martins Imhangbe are off-the-scale cool as the brothers Biff and Happy. Add jazz music and it's more or less perfect. What a totally fantastic play.
Who is this show for?
Death of a Salesman is an adult play dealing with adult themes, probably best for teens upwards, and under fives won't be admitted into the theatre.
Death of a Salesman cheap tickets
We have a great selection of cheap Death of a Salesman tickets. We can help you save up to 70% on Death of a Salesman tickets! If you're looking for discount theatre tickets have a look below for our latest offers for Death of a Salesman at the Piccadilly Theatre.
There are no special offers available at the moment but we still have great ticket prices for Death of a Salesman at the Piccadilly Theatre.
Death of a Salesman reviews
4.7 out of 5
based on

31

reviews
What to expect:
Acting
Music
Costumes
Story
Lighting
Recommended for:
Anyone (52%)
Families (58%)
Teenagers (65%)
Couples (74%)
Theatregoers (94%)
Latest customer reviews

Remarkable acting.
I was left wondering how much was Arthur Miller and how much Marianne Elliott. The translation from poor blacks to poor whites was certainly intriguing, though the stature and power and exuberance of Wendell Pierce made the character of Lomas unconvincing, lacking the pathos and sad inadequacy remembered from an earlier production. Lomas had to be somewhat overacted to make its points, along with intrusive visual effects to signify moments of despair. His wife was beautifully acted.
Reviewed on 03 January 2020 by Michael, London, United Kingdom

Riveting performance by all on stage
Reviewed on 17 December 2019 by Gabrielle, Crans Montana, Switzerland

Must see it
Reviewed on 15 December 2019 by Dolores, Watford, United Kingdom

Bland story line bolstered by sendational acting
The story was boring, it went too long and missed an emotive connection . The actinh was 12/10 good - great work team.
Reviewed on 14 December 2019 by Matthew, Perth, Australia

Great Show!!
Reviewed on 12 December 2019 by Robert, Westminster, United States Of America

Depressing
Reviewed on 11 December 2019 by Bernd, Cadiz, Spain

Harrowing and thought provoking. A must see.
Reviewed on 07 December 2019 by Holly, London, United Kingdom

Creative
The theatre was too hot... the show is long and the room temperature really affected our concentration!
Reviewed on 05 December 2019 by Carol, Romford, United Kingdom

Fabulous and moving performance
Reviewed on 03 December 2019 by Sarah, Bournemouth, United Kingdom

Excelkent
A brilliant play, in a very interesting setting in a back family. Brilliantly performed.
Reviewed on 23 November 2019 by Margaret, London, United Kingdom

A powerful refreshing performance
I was transfixed. The show "worked" extremely well. It helped that I haf read the programme in order to gain a better understanding of the context of the time and the Blacked lived experience in the USA during the times both portrayed and referred to. The show was gripping and highly recommended. I had a ticket in the area with the faulty ceiling and was moved to the stalls in K10. This seat was dreadful. It sloped downwards and I was immensely uncomfortable and l left with backache.
Reviewed on 14 November 2019 by Jill, East Grintstead, United Kingdom

death of a salesman
Reviewed on 06 November 2019 by Patricia, Milton Keynes, United Kingdom

Classic play! Must see
Wendell and Sharon really brought the 1940s to life
Reviewed on 03 November 2019 by Miranda, London, United Kingdom