Quick Facts
Largest Ticket Inventory
in the West End
Real time
seat availability
Choose
your seats
Your booking is processed directly into the box office reservation system
This show is now closed.
Girl From the North Country
Tickets
4.4/5
-

based on

32

reviews
Information
Cheap Tickets
Reviews
News
About Girl From the North Country
Performance Times
Girl From the North Country description
Girl from the North Country – With music by Bob Dylan
Love Bob Dylan? You're going to adore Girl From the North Country. Dating back to 2017 with a book from Conor McPherson and tunes by Dylan himself, it has already enjoyed a limited 12 week run in theatreland. Now it's back in the shape of a revival at the Gielgud theatre, having already delighted audiences Off-Broadway at New Yorks's Public Theater.
The story? Your destination is Duluth in Minnesota. It's 1934, the winter is harsh, and the USA is struggling to deal with The Great Depression. Dr. Walker, physician to the Laine family, is our narrator. Pessimistic Nick Laine runs a tatty guest house on which the bank is threatening to foreclose. Nick is desperate to save his family from homelessness. Elizabeth, Nick's wife, suffers from a kind of dementia which sees her swinging from odd detachment to weird outbursts that are increasingly hard to handle. Gene, the son, is in his early 20s and the adopted daughter Marianne is just 19 and five months pregnant.
Marianne won't reveal the father of her child. Nick wants her to marry the town's shoe mender, Mr. Perry, but it's tricky. Marianne is a black girl living with a white family, abandoned as a baby and brought up by Nick and Elizabeth. The Burkes also live at the guest house. Mr. Burke lost his business in the financial crash, and he's accompanied by Mrs Burke and their son Elias, who has a learning disability.
Gene can't seem to handle life. He's keen to become a writer but alcoholic binges hinder his progress. No wonder his fiancée leaves him for a man with a better future. Nick has an intimate relationship with Mrs. Neilsen, a guest and widow, a woman waiting for her late husband's will to go through probate. Together they fantasise about a better future. One night during a storm, a dodgy 'reverend' and bible salesman called Marlowe and a boxer, Joe Scott, arrive and catalyse change for everyone who lives in the guest house.
With 19 Bob Dylan songs to enjoy, played on instruments from the 1930s, no wonder the cast recording is such a hit. The tunes include Sign On The Window, Went To See The Gypsy, Tight Connection to My Heart (Has Anybody Seen My Love), Slow Train and more. Why not buy the CD, called The Music Which Inspired Girl From The North Country: The Original Bob Dylan Recordings, and sing your heart out at home, too?
Who is this show for?
This show is ideal for people aged 13 or more.
Girl From the North Country cheap tickets
We have a great selection of cheap Girl From the North Country tickets. We can help you save up to 70% on Girl From the North Country tickets! If you're looking for discount theatre tickets have a look below for our latest offers for Girl From the North Country at the Gielgud Theatre.
There are no special offers available at the moment but we still have great ticket prices for Girl From the North Country at the Gielgud Theatre.
Girl From the North Country reviews
4.4 out of 5
based on

32

reviews
What to expect:
Acting
Music
Costumes
Story
Lighting
Recommended for:
Anyone (59%)
Families (59%)
Teenagers (66%)
Couples (72%)
Theatregoers (88%)
Latest customer reviews

A must for Dylan fans
Powerful voices interpret songs from a master songwriter. Conor McPherson has invented a believable story of poor folk in the depression-hit America of the 1930s, giving a new interpretation to Bob Dylan's songs, which are wonderful, anyway. Fully recommended for content and quality, plus the friendly atmosphere of the atrium and bar. A great night out, especially for Dylan fans, but worth a visit by anyone who loves powerful singing.
Reviewed on 22 January 2020 by Nicola, Leek, United Kingdom

Wonderful use of Bob Dylan songs
As a long time fan of Bob Dylan I don't usually like covers of his songs but I was blown away by the way they cover his music in this show. I loved the music and the story moved me to tears. Absolutely loved it. Recommended for fans of Bob and also those who don't know his music will find plenty to engage in this moving wonderful show.
Reviewed on 17 January 2020 by Karen, London, United Kingdom

Awesome must see....
Absolut Amazing... The Show... the Music... Just everything
Reviewed on 17 January 2020 by Nadine, Neu Isenburg, Germany

powerful storyline with great music
Deep and powerful insights into the lives of small town American folk, during a depression. Universal truths. Wonderful acting and singing, with lyrics of songs very aptly chosen to accompany the storyline. Plenty to think about afterwards. It might suit people who are willing listen hard, and to make the effort to put themselves in other people's shoes.
Reviewed on 15 January 2020 by Sally, Berkhamsted, United Kingdom

Bad acoustics first half, not able to hear the storyline clearly. Improved in the second half. Good music, singers and band. Advantage to read the storyline before going. Not uplifting.
Reviewed on 13 January 2020 by Valerie, Sutton, United Kingdom

Excellent show with new cast
Third time we have seen this show and it did not disappoint, singing was excellent. Would watch again. Lighting was a bit too dim in some scenes.
Reviewed on 12 January 2020 by Malcolm, Axmouth, United Kingdom

A fabulous evocative show
A good story well told about 1930s America Excellent interpretation of Dylan songs A show really worth seeing
Reviewed on 10 January 2020 by Selene, London, United Kingdom

Seriously different and wonderfully directed
This show was not my usual show to see. However, I found it very refreshing and so very powerful. The story entwined with the music was clever, and my goodness the actors and musicians were INCREDIBLE! For anyone who enjoys country and gospel style music (and doesn't mind emotion!) this is a must see!
Reviewed on 02 January 2020 by Kaye, Darenth, United Kingdom

Not a musical, but the best live music in a play you will ever hear
Gloria Obianyo has the most beautiful singing voice I have ever heard.
Reviewed on 02 January 2020 by Peter, Worcester Park, United Kingdom

This is an excellent show with superb singing and great acting. A great story as well. Unable to fault this production. The visitors to London with me thought it was super. and praised the quality of the singing of Dillons songs
Reviewed on 28 December 2019 by Catherine, Wallington, United Kingdom

A really weak play with great music
The story is bitty & weakly strung together - such that by the end one didn't really know what had happened or much cared. The music - and especially the singing - was first class. so good to be able to hear all the words of Dylan's songs.
Reviewed on 26 December 2019 by Andrew, Plymouth, United Kingdom

Reviewed on 11 March 2018 by Lilamani, Watford, United Kingdom

Watch it for the music!
Reviewed on 07 March 2018 by Michael, Hamburg, Germany

Good show and great music
Reviewed on 07 January 2018 by Rosaleen, Warlingham, United Kingdom

A stunning gift to theatre
Brilliant story, fabulous acting and amazing vocals. Any lover of the theatre who also appreciates Bob Dylan's work, should not miss this treat.
Reviewed on 24 September 2017 by Gloria, Bournemouth, United Kingdom

Amazing
Reviewed on 16 September 2017 by William, Crested Butte, United States

A great night out in the theatre
Reviewed on 12 September 2017 by Donna, London, United Kingdom

American classic with a great moving story
A really top class evening; a moving storyline with excellent music and singing. Hope Bob Dylan visits the show. It is deserving of his accolade !
Reviewed on 17 August 2017 by Michael, Whitstable, United Kingdom

Creative, excellent music and great voices. a must see.
Reviewed on 06 August 2017 by Adela, Sevenoaks, United Kingdom

Buy a Dylan CD and listen at home
Thank you for your email . It is not customary for me to comment about anything at all but you have asked. The performance last night moves me to do so . I write not simply out of sympathy for (in the main) a delightfully talented cast obliged now forever to be associated with this train wreck but out of genuine astonishment that anyone could seek to call this watchable drama blend it with a musical and end up with a contradictory mess that is markedly less than the sum of its parts (and that given the evident quality of some of the singing and the choreography was the real tragedy of the evening ). If you have nothing to say about a character that reveals any insight into the human condition introducing (yet) another character about whom you have nothing to say does not develop a meaningful story line and generates no empathy for any of the characters whatsoever . Nor when you have nothing to say does introducing a song which for the most part neither advances the story line nor bears any relevance to it . So in synopsis we have: bad thing happens to mentally or financially impoverished(or both) person ,marginally relevant or irrelevant Dylan song and repeat (interpolating" All along the Watchtower"? Really ?Because it made for a jolly good singsong ? ) No wit ,no charm no humour and strangely the dramatic twist of having a narrator speak from the grave saves none of this . More than the cursory knowledge of the Dylan songbook evidenced would have stood the effort in better stead . And that may have led to the understanding that almost no vocalists can cover a Dylan song for want of his vocal range . One or two did so admirably .One or two did not. A wasted opportunity that needed more than a cluttered and paper thin story line and needed a script ,
Reviewed on 05 August 2017 by Anthony, Liss, United Kingdom

Incredibly original
Wonderful rivetting entertainment with orginal use of Dylan's music and storytelling. Loved it!
Reviewed on 25 July 2017 by Sandra, Milsons Point, Australia
20

Dec
2019

Review: GIRL FROM THE NORTH COUNTRY at the Gielgud Theatre
by Josephine Balfour-Oatts | Friday, December 20 2019, 22:25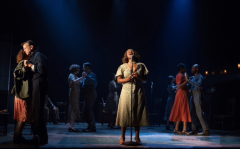 Connor McPherson's Girl From the North Country returns to the West End with an all-new cast - this time, at London's Gielgud Theatre.
Review: GIRL FROM THE NORTH COUNTRY at the Gielgud Theatre
19

Dec
2019

Review: GIRL FROM THE NORTH COUNTRY at The Gielgud Theatre
by Phil Willmott | Thursday, December 19 2019, 10:45
Look, this isn't for everyone. The young girl next to me was bored waiting for some funny bits or some Razzamataz. In vain. (Although there's some up tempo numbers at the top of Act 2)
But this isn't a piece you watch for a night's diversion. This is a show you watch with your heart and your soul, you let its melancholia seep into your bones and you emerge understanding that felling blue can be enriching and that down-beat can be majestic.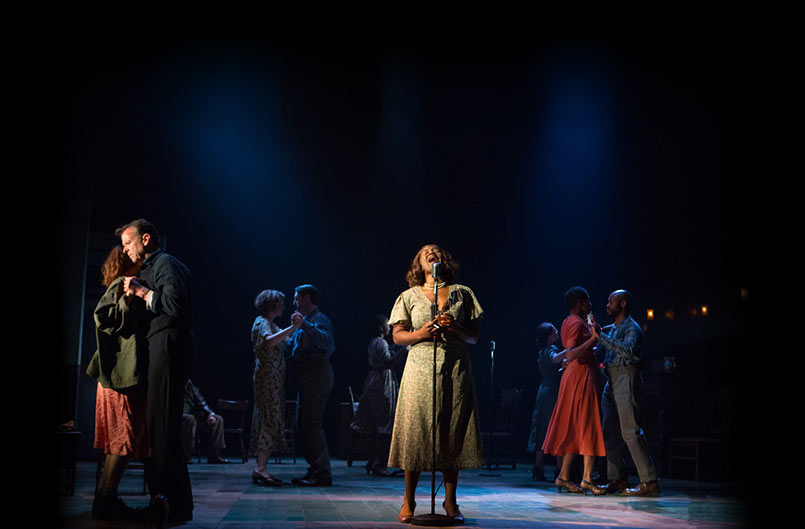 Rachel John (Mrs Neilsen) in Girl from the North Country. Photographer: Cylla Von Tiedemann
Review: GIRL FROM THE NORTH COUNTRY at The Gielgud Theatre
31

Aug
2017

Review: GIRL FROM THE NORTH COUNTRY at the Old Vic
by Phil Willmott | Thursday, August 31 2017, 07:48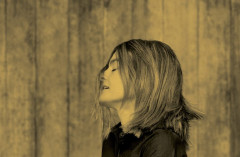 I'd heard conflicting things about this show, most of the reviews have been glowing but the New York Times critic and a few of my friends had been less enthusiastic.
I'm glad I didn't listen to them and checked it out for myself because I thought it exceptional.
Review: GIRL FROM THE NORTH COUNTRY at the Old Vic