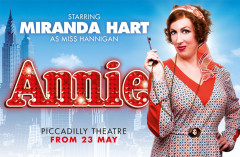 There's no bad news about the musical Annie. I absolutely love it so it's exciting to learn that rehearsals have started and to learn a little about what we can expect when the vintage Broadway show is revived again at the Piccadilly Theatre, starring TV favourite Miranda Hart, who's best known for her role in drama Call the Midwife and for her own, much loved sit-com Miranda.
Annie is unashamedly a family show which did for little girls in musical theatre what Oliver did for little boys – namely put them centre stage.
The scruffy tom-boy orphan was originally the star of a comic strip before clever Thomas Meehan adapted it for the stage and composer Charles Strouse and lyricist Martin Charnin contributed a series of big, brassy, toe-tapping, show tunes in the style of vintage Broadway.
Every song is a treat from the intoxicatingly percussive Hard Knock Life through a fascinating taste of depression era America, on the streets and in the Whitehouse, via songs like We'd Like to Thank you Herbert Hoover and You're Never Fully Dressed Without a Smile, to one of the greatest villain songs of all time, Little Girls, sung by the cruel and drunken custodian of an orphanage. The score also contains the swinging show stopper Easy Street but perhaps its best know song is the plaintiff The Sun'll Come Out Tomorrow in which our young heroine longs for a better life for her and later all America.
The musical goes on to tell how Annie escapes Miss Hannigan's orphanage when her luck changes and she is chosen to spend Christmas at the residence of famous billionaire, Oliver Warbucks, who gives her a taste of the high life and the delights of Manhattan. Unfortunately a pair of scheming con-artists plot to bring Annie's dreams crashing down. Of course all ends happily, even for the stray pooch that Annie rescues from the city's dog catcher, en route to the pound.
For this latest production the grown-ups will be lead by Hart who will play Miss Hannigan, with Alex Bourne as Warbucks and Holly Dale Spencer as his secretary, and Jonny Fines and Djalenga Scott as the crooked Rooster and Lily. The ensemble will feature Keisha Atwell, Sophie Ayers, Bobby Delaney, Nic Gibney, Patrick Harper, Ben Harrold, George Ioannides, Megan Louch, Benjamin Mundy, Ben Oliver, Heather Scott-Martin, Anne Smith, Kate Somerset How, Katie Warsop and Russell Wilcox.
The title role of Annie will be shared by Madeleine Haynes, 13-years old from Hadley Wood, Barnet, Lola Moxom, 12-years old from Rochester, Kent and Ruby Stokes, 12-years old from Hampshire. They will be joined by three teams of young performers who will play the girls in the orphanage.
Amber, a 4 year-old Labradoodle, will play Annie's dog Sandy.
Annie begins previews at the Piccadilly Theatre on 23 May 2017