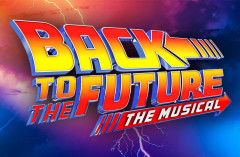 Following the announcement that the long awaited stage musical of the iconic 1980s film BACK TO THE FUTURE will open at the Adelphi Theatre on 14th May, 2021 here are ten fun facts about the original.
Writer Dan Gale was inspired to write the screenplay after considering whether he would have befriended his father if they had attended school together.
Consequently the plot concerns a modern day teenager who travels back in time to meet his parents at the same age. It's set in 1955 because when it was written in 1985 an 18-year-old making that journey would land in that decade.
1955 is also an appropriate era in which to set the film because it saw teenagers become key characters in fiction, the birth of rock 'n' roll, and the rise of American suburbia. All of which feature in the narrative.
It became the highest-grossing film of 1985, cost $19 million to make and thus far it's earnt a staggering $388.8 million.
There a two movie sequels and an animated TV series based on the characters. It's also inspired a theme park ride, several video games, a series of comic books and now... after a long wait, a stage musical.
Michael J Fox, then a big TV star from his appearanvce in FAMILY TIES was the first choice to play the lead role of Marty, but Eric Stoltz was cast after Fox was unable to commit due to scheduling conflicts. Fortunately when filmmakers determined Stoltz was wrong for the role, a deal was struck that allowed Fox to film Back to the Future without interrupting his prior commitments.
John Cusack and Johnny Depp also auditioned for the role of Marty McFly.
In an early script, the time machine was a refrigerator but it was changed to the iconic DeLorean car following concerns that children would accidentally lock themselves in fridges trying to copy Marty.
Five years ago almost the entire original creative team of the stage musical, led by its then director Jamie Lloyd, left the project citing creative differences with Dan Dale.
The version opening at the Adelphi is a transfer of a try out production from the Manchester Royal Opera House directed by John Rando with choreography by Chris Bailey and set and costume design by Tim Hatley.