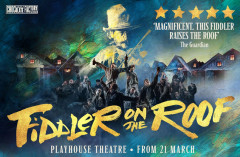 Full casting has been announced for the transfer of classic Broadway musical Fiddler on the Roof, a revival which is moving from the little Menier Theatre near London Bridge to the Playhouse Theatre in the West End.
From its very first production in New York in the 1960s it's always been a massive hit and is revived regularly everywhere from school halls to major UK and US theatres and indeed across the world.
But what is the secret of the show's enduring appeal? After all its obscure setting in pre-revolutionary rural Russia should be alienating along with its rather gloomy story of a community, led by its avuncular milkman, being driven from their home town by anti-Semitic persecution.
Well, there are two reasons it retains its place in the hearts of theatre goers.
The first is that it's a story of two generations of a family adapting to change. Anyone who is a parent, or has lived with parents can relate to the household upheavals which stem from children seeing the world differently to their father.
In Fiddler both he and they learn to adapt to each other's viewpoints, and Milkmen Tevye, through his travails dealing with wayward daughters, is sorely taxed.
The first wants to marry for love, breaking with the village tradition of arranged marriage, and the second and third opt to marry men whose political view points are in opposition to their father's beliefs.
But they all work through what ever challenges divide them - because of the love they all share for their family traditions, which always win out, even when the way ahead seems uncertain.
Which of us hasn't argued with their parents only to find that a renewed mutual understanding pulls everyone together again. Or that's the hope.
It's a timeless theme and the wit and wisdom with which the Fiddler patriarch deals with the splits in the family home tugs at our heart strings even when he's being stubborn. Things are not always harmonious in his marriage either. There's a quiet and beautiful duet between husband and wife in which they attempt to analyse their long relationship; concluding, very simply that it just works, reassuring each other that it's based on that gentle, day to day love that powers such long-term couples through the ups and downs of life.
The village where all the characters live is also an extended family where everyone knows everyone, with both the irritations and sense of community that this brings. Its principles are steeped in Jewish tradition encapsulated in the beautiful, evocative music.
And that's the second reason the show retains its appeal. The masterpiece of a score, including 'Tradition', 'Matchmaker, Matchmaker', 'Sunrise, Sunset' and 'If I Were a Rich Man' is so sweeping, romantic and often funny that you're easily transported to another time and place where things were simpler even if enemies were crueler and survival tougher. We all long to be part of something so loving and supportive of our successes and failings.
Joining Andy Nyman (Tevye) and Judy Kuhn (Golde) to complete the West End company of Trevor Nunn's critically acclaimed production are Nicola Brown (Chava), Harriet Bunton (Hodel), Dermot Canavan (Lazar Wolf), Stewart Clarke (Perchik), Joshua Gannon (Motel), Matthew Hawksley (Fyedka), Louise Gold (Yente), and Molly Osborne (Tzeitel), as well as Miles Barrow, Sofia Bennett, Philip Bertoli, Lottie Casserley, Elena Cervesi, Lia Cohen, Talia Etherington, Shoshana Ezequiel, Isabella Foat, Fenton Gray, James Hameed, Adam Linstead, Adam Margilewski, Robert Maskell, Benny Maslov, Robin McIntyre, Gaynor Miles, Ellie Mullane, Tania Newton, Craig Pinder, Valentina Theodoulou and Ed Wade.