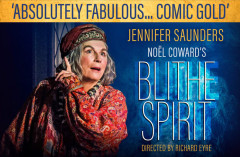 Update for Blithe Spirit at the Harold Pinter Theatre
Imagine how the infamously brilliant Noel Coward would feel if he knew so many of his remarkable plays were still on stage, still loved by millions all these years after his death? This one, written in 1941, remains one of his best-loved, a hilarious and hysterical play that delves deep into the bizarre world where an angry ghost, an eccentric medium, and the sabotage of a perfectly good marriage are laid out to entertain us. Splendid!
Who's involved in Blithe Spirit?
The writer Charles Condomine and his second wife Ruth are haunted by his first wife thanks to a medium, who manages to conjure her up during a séance. She's called Elvira and she proves determined to mess with Charles' second marriage. No wonder life – and the afterlife – quickly become so horribly complex. Here's confirmation of the cast for you:
Madeleine Mantock plays Elvira in her West End debut
Jennifer Saunders plays the crazy medium Madame Arcati
They're joined by the brilliant original cast members Geoffrey Streatfeild as Charles Condomine, Lisa Dillon as Ruth Condomine, Simon Coates as Dr Bradman, Lucy Robinson as Mrs Bradman, and Rose Wardlaw as Edith
The show is directed by the former National Theatre director Sir Richard Eyre
The design is by Anthony Ward
The lighting is by Howard Harrison
The sound comes from John Leonard
The illusions are by Paul Kieve
Blithe Spirit is presented by Theatre Royal Bath Productions, Lee Dean and Jonathan Church Theatre Productions
Buy Blithe Spirit Tickets
Book your Blithe Spirit tickets online with us quickly and easily, picking your favourite eats using our handy Harold Pinter Theatre seating plan. We'll send convenient E-tickets to your email address – simply present them at the door on the day of the performance for some seriously funny classic stage entertainment.
About the Harold Pinter Theatre
Originally the Comedy Theatre, the Harold Pinter Theatre is a gorgeous three tier venue with curved balconies, renovated in the mid-50s. It has kept its original classical exterior. This was home to the hugely popular 'Pinter At The Pinter' season, showcasing Harold Pinter's extraordinary work. Other past shows at the Harold Pinter Theatre include Oslo, The Birthday Party, Mojo, Consent, and in late 2021 it'll be home to Four Quartets starring Ralph Fiennes.