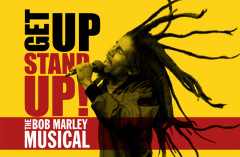 Get Up, Stand Up has already created media waves around the globe on TV and online. Now booking has been extended to 18th September 2022 in a move that proves the production's merit. Last week's world premier rocked the West End. It's already being widely hailed as a major cultural event and landmark production, not to be missed. Tickets are on sale now.
Who's involved in Get Up, Stand Up! The Bob Marley Musical?
Free access to Bob Marley's songs of love and unity. A book by the award-winning Lee Hall. The acclaimed director Clint Dyer, plus Marley's blend of visionary musical talent and revolutionary zeal. The combination is undeniably good. The musician's militant spirit shines through this moving story and the key cast members, Arinzé Kene as Marley and Gabrielle Brooks as his wife Rita, portray the couple with confidence, sensitivity, and soul.
Directed by Clint Dyer
Starring Arinzé Kene (Bob Marley) and Gabrielle Brooks (Rita Marley)
Shanay Holmes (Cindy Breakspeare)
Natey Jones (Peter Tosh)
Melissa Brown Taylor (Marcia Griffiths)
Sophia Mackay (Judy Mowatt)
Jacade Simpson (Bunny Wailer)
The full cast includes Daniel Bailey, Craig Blake Charles Blyth, Maxwell Cole, Athena Collins, Michael Duke, Kimmy Edwards, Raphael Estavia, Henry Faber, Cannon Hay, Savanna Jeffrey, Rohan Pinnock-Hamilton, Cleopatra Rey, Julene Robinson, , Nate Simpson, Archie Smith, Declan Spaine, Jaime Tait, and Teddy Wills
Choreographer - Shelley Maxwell
Musical Supervisor & Arranger - Phil Bateman
Set Designer - Chloe Lamford
Costume Designer – Lisa Duncan
Lighting Designer - Charles Balfour
Sound Designer - Tony Gayle
Sound Effect Designer – Ben Grant
Video Designer - Tal Yarden
Wigs, Hair & Make-Up – Campbell Young
Orchestrator – Simon Hale
Musical Director - Sean Green
Casting Director - Pippa Ailion CDG
Buy Get Up, Stand Up! The Bob Marley Musical Tickets
Book your Get Up, Stand Up! The Bob Marley Musical tickets online with us and choose great views with our Lyric Theatre seating plan. We'll send E-tickets to your email address for you to show at the door on the day of the performance.
About the Lyric Theatre
The Windmill Street side of the Lyric Theatre is actually the facade of the grand London house that once stood there, built in 1766 by a wealthy doctor. It was the family home but also housed a museum and a grisly anatomical theatre. Past shows at the Lyric Theatre include We're Going On a Bear Hunt, The Tiger Who Came to Tea, and Thriller Live, the Michael Jackson Musical.