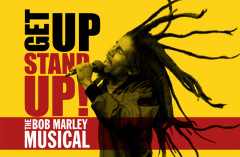 The producers are pleased to announce an extension for the Bob Marley Musical, proving once more that this show is something very special indeed. We also have some inspiring new images for you. The show is on stage until 29th January 2023, giving audiences more time to experience a spectacular production that showcases Marley's extraordinary life and work to perfection.
Who's involved in Get Up Stand Up! The Bob Marley Musical?
New images have been released featuring Michael Duke as Bob Marley, who replaces Arinzé Kene. Check them out below. Duke has been performing for two decades, first starring as Young Simba in The Lion King. Since then he's wowed us in The Inheritance, West Side Story, Beautiful: The Carol King Musical, Thriller Live, and The Rat Pack LIVE!
This week sees the show nominated for 4 Olivier Awards including Best New Musical, Best Actor in a Musical for Arinzé Kene, Best Actress in a Supporting Role in a Musical for Gabrielle Brooks and Best Original Score or New Orchestration for Orchestrator Simon Hale
The award-winning Clint Dyer directs
The book is by the award-winning Lee Hall
The cast comprises Gabrielle Brooks (Rita Marley), Shanay Holmes (Cindy Breakspeare), Sophia Mackay (Judy Mowatt), Melissa Brown-Taylor (Marcia Griffiths), Jacade Simpson (Bunny Wailer), Natey Jones (Peter Tosh), David Albury (Alternate Bob Marley) Daniel Bailey, Craig Blake, Charles Blyth, Luke Buck, Maxwell Cole, Athena Collins, Viquichele Cross, Kimmy Edwards, Raphael Estavia, Henry Faber, Cannon Hay, Llewellyn Jamal, Savanna Jeffrey, Kieran McGinn, Rohan Pinnock-Hamilton, Cleopatra Rey, Julene Robinson, Lawrence Rowe, Nate Simpson, Amarra Smith, Archie Smith, Declan Spaine, Jaime Tait, and Teddy Wills
Buy Get Up Stand Up! The Bob Marley Musical Tickets
Book your Get Up Stand Up! The Bob Marley Musical tickets online with us and choose the best seats with our Lyric Theatre seating plan. We'll send E-tickets direct to your email address for you to show at the door on the day you've booked.
About the Lyric Theatre
The Lyric Theatre is unusual, in that it was funded by a successful light opera. The opera was called 'Dorothy'. It generated so much profit the show's producer, Henry Leslie, financed the build of the Lyric and eventually moved his show to the new venue. Past shows at the Lyric Theatre include Six, Thriller – LIVE! and a popular revival of Cabaret, the musical.