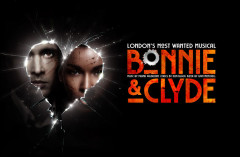 DLAP Group is delighted to announce the West End premiere of the cult smash BONNIE AND CLYDE THE MUSICAL. The fun opens at the Arts Theatre on Saturday 9th April 2022, a brand new production designed to thrill. Tickets are on sale from Friday 28th January 2022. Come along and enjoy the mad, bad and truly wonderful story of two of the USA's most glamorous twentieth century criminals.
Who's involved in Bonnie and Clyde The Musical?
Bonnie and Clyde In Concert at Theatre Royal Drury Lane sold out in just six minutes. It was an extraordinary event. Now DLAP Group is bringing a fresh new full production of the Tony Award nominated show to the West End for the first time. As the Tony-Award nominated composer Frank Wildhorn said, 'The show has built such a wonderful cult following, especially with younger audiences'. Here's who's involved.
Written by Ivan Menchell
Directed by Nick Winston
Set and costume design by Philip Whitcomb
Show tunes composed by Frank Wildhorn
Lyrics by Don Black
The cast will be announced soon
Buy Bonnie and Clyde The Musical Tickets
Book your Bonnie and Clyde The Musical tickets online with us and choose the best seats with our Arts Theatre seating plan. We'll send convenient E-tickets to your email address, which you simply show at the door on the big day.
About The Arts Theatre
Dating back to 1927, The Arts Theatre was originally intended as a members-only club where unlicensed plays were performed. It soon won a great reputation as a venue for commercially unviable plays, including the excellent Young Woodley, which went on to transfer to the Savoy Theatre and enjoy larger audiences. Past shows at the Arts Theatre include Another Country, the Vagina Monologues, and the Jonathan Harvey/Pet Shop Boys musical Closer to Heaven.