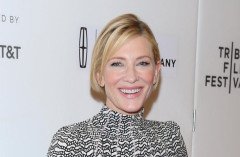 I don't recall another director influencing London and New York Theatre quite as powerfully as Ivo Van Hove has done in recent years.
Ever since he took the capital's theatre scene by storm with his radical cut and paste amalgamation of Shakespeare's Roman plays, recently revived at the Barbican, producers have clamoured to sign him up to bring his starkly staged expressionistic perspectives on classics, new writing and even the David Bowie musical Lazarus.
This year we've already had that Roman revival, his version of Hedda Gabbler at the National and last week he opened the play Obsession starring Jude Law which we'll be reviewing soon. This week it's been announced that he'll be directing the Australian movie star Cate Blanchett in a new stage adaptation of the 1950 film All About Eve. Blanchett will play bullying actress Margo Channing, a role originally played by Bette Davis in the Hollywood film.
I've been blown away by Van Hove's productions of Arthur Miller's A View From A Bridge in London and The Crucible in New York. He daringly stripped away everything we've come to expect from productions of these oft revived plays, setting both in uncluttered non-specific settings which have threw the desperation of the characters into piercing relief. He often casts against type, for instance a weedy John Proctor in The Crucible and a young and overtly sexual Judge Brack in Hedda Gabbler, both choices which made us see the plays as if for the first time.
But is his saturation of theatre in 2017 becoming tiresome? Some reviews for Obsession lamented the coldness of his approach and similarities with his staging of Hedda. To make matters worse so potent is his influence that many, many directors are now copying his style and approach which has become so predictable that it no longer shocks.
The prospect of Blanchett playing the monstrous Margo, brought low by a scheming minion, is mouth watering. The original film of All About Eve with its bitchy central characters has long been a camp classic, oft quoted by gay men of a certain age. We can safely predict that Van Hove will strip all the silliness away to reveal the real suffering behind the battle of wills but I hope he'll take a sabbatical after this production. We'll miss him and the frisson surrounding his work will return when he does.
The production's press release reminds us that "The original film was written and directed by Joseph L Mankiewicz, and produced by Darryl F Zanuck. It follows the tale of an ageing Broadway star and a young fan who meets her. The film won six Academy Awards and was nominated for 14. In the '70s the film inspired the musical Applause with Lauren Bacall starring in the original production as Margo Channing".
Expect the stage version in Spring 2018. We're promised further information on cast, dates and venue will be released soon.