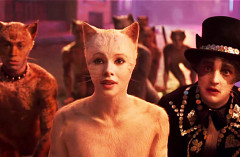 If you follow show business news you can't fail to have noticed the online storm advance clips of the forthcoming film of Andrew Lloyd Webber's CATS has provoked.
It's probably one of the best loved musicals of all time following record breaking runs in London and New York and several recent hit revivals; but more than this, for generations of us, CATS was the first West End show our parents took us to. Also maybe it was the first theatre sound track that we owned, inspiring hours of leaping around the bedroom as jazz dancing felines.
Nobody was convinced the musical would be a hit when it was first announced in the 1980s. A show with little plot, based on a collection of poems, with a cast of humans dressed as cats seemed a very bad idea to many commentators. But they were forgetting out ingrained love of the creatures which sold tickets by the millions and the costumes, all back combed hair and leg warmers fed into the fashion fads of the time. Then there was the experience of seeing it for the first time. From the overture onward the "cats" fitted amongst us, much as our own pets did, and it was love at first sight, in an auditorium that actually moved!
There have been several proposed attempts to film it and there's been a DVD of the stage version but this year it's been given the full on Hollywood treatment in a movie directed by Tom Hooper who did such a great job of bringing LES MISERABLES to the screen.
The star cast is jam packed full of A-listers, including, in alphabetical order, James Corden as Bustopher Jones, Judi Dench as Old Deuteronomy, Jason Derulo as Rum Tum Tugger, Idris Elba as Macavity, Jennifer Hudson as Grizabella, Ian McKellen as Gus the Theatre Cat, Taylor Swift as Bombalurina, Rebel Wilson as Jennyanydots, Zizi Strallen as Tantomile & Ray Winstone as Captain Growltiger.
All very exciting, the trouble is the film's art directors have opted to combine the stars faces with CGI generated cat-like bodies to create figures that still walk on two legs, as always, but with fur that clings tightly to the human form giving an impression of nudity that can feel like the cats have been sexualised. I'm not sure anyone wants to be thinking about a naked, furry Judy Dench!
It's very disconcerting, as is the CGI set that attempts to make the surroundings as big as a cat might see them but too often gets the scale wrong.
If you haven't seen the trailers here it is:
Fans are divided as to whether this looks beautiful and imaginative or contrived and creepy. What do you think?
The film will be in cinemas from December 20th.