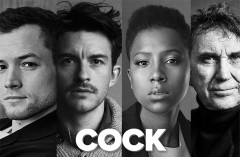 "The fact is that some of us like women and some like men and that's fine that's good in fact that's good, a good thing, but it seems to me that you've become confused." Intrigued? So is the entire West End! This story tells the tale of John, who is happy in himself and with his boyfriend. Then he meets the woman of his dreams and things become very complex indeed. Mike Bartlett's knife-sharp observations redefine the battle of the sexes as we know it. Welcome to Cock, on stage from 5th March to 4th June 2022.
Who's involved in Cock?
As the brilliant Marianne Elliott says, "I feel so excited to be working on this beautifully crafted and hilarious play by Mike Bartlett. It keeps you on the edge of your seat throughout. A truly theatrical piece in that it asks the audience to enter the imagination of the storytelling - as only live theatre can do. It's also all about the acting so to have such a talented, highly experienced, stellar cast is an absolute dream!" Here's who's involved in the magic.
Directed by Mike Bartlett and Marianne Elliott
Starring Taron Egerton, Jonathan Bailey, Jade Anouka and Phil Daniels
The Designer is Merle Hensel
Lighting Design is by Paule Constable
The Sound Designer is Ian Dickinson
The Composer is Femi Temowo
Movement Direction comes from Annie-Lunette Deakin-Foster
The Casting Director is Charlotte Sutton
The Vocal Coach is Hazel Holder
The Associate Director is Chloe Christian
Produced by Elliott & Harper Productions
Buy Cock Tickets
Book your Cock tickets online with us and choose the best seats with our Ambassadors Theatre seating plan. We'll send your E-tickets to your email address – simply present them at the door on the day of the performance to enjoy this wonderful thought-provoking play.
About the Ambassadors Theatre
The Ambassadors Theatre is small yet perfectly formed, a beautiful intimate little venue seating a maximum of 444 people across the stalls and the dress circle. It's opposite the famous theatre restaurant, The Ivy, where you can celebrity-spot glittering stars of screen and stage. Past shows at the Ambassadors Theatre include Baby Reindeer, Kunene and the King, Ghost Stories, and the musical version of The Secret Diary of Adrian Mole Aged 13¾.